This year's NBA might have started with a whimper after a players' strike wiped out half of the season, but the Play-Offs have been going off with a bang - especially in the Eastern and Western Conference.
Both the Miami v Boston and San Antonio v Oklahoma City series are on a knife-edge, with Oklahoma State just a game up going into Wednesday's Game Six and Miami and Boston tied at 2-2 going into Tuesday's Game Five.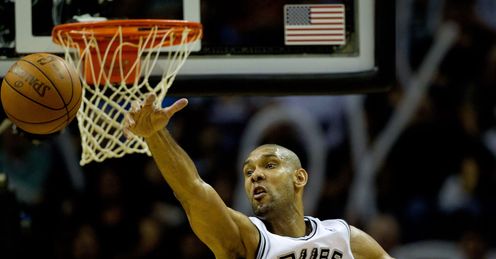 So who is going to make it through? Sky Sports' Alex Ferguson gives you his predictions (and pleads you not to go to the bookies)...
WESTERN CONFERENCE
Why San Antonio will win
If you listen to the critics, they'll immediately point out that the Spurs were not only beaten twice in a row in Oklahoma City, but they were beaten comprehensively. They'll throw up words like 'too old', and tell you that Tim Duncan looked completely out of his depth against Kendrick Perkins, Kevin Durant, and a hostile crowd, who all spent 120 minutes of the games jumping around like hyperactive kids on a sugar high.
But this is why we think they'll win. They may have lost Game 5 at home, but they are more than capable of coming back in Game 6 - despite what everyone has been saying about the teutonic Thunder crowd. Secondly, Tim Duncan can't possibly be as awful as he has been in the last three games, when he's simply missed shot after shot after shot.
And although Perkins and Durant are undoubtedly great players, the Spurs have more depth coming off the bench - and that's going to hurt Oklahoma City late on. Especially if Manu Ginobili can get some more support in the win-or-go-home Game 6 in Oklahoma City on Wednesday.
Why Oklahoma City will win
To misquote a Prince song, Oklahoma City's thundering all through the night is helping the fans to see Jesus in the morning light. And if Durant and Perkins continue to take their fans' hands, they are going to see Jesus (or at least the NBA Finals) in the morning light (see what we did there?).
Before Game 3 in Oklahoma City, the Spurs were 2-0 up, on a 20-game winning streak and looking indomitable. But after losing three straight, the Spurs have looked plain old. Kendrick Perkins, Russell Westbrook and Kevin Durant has been playing out of his mind, the Thunder have had performances from under-the-radar players, ask Thabo Sefolosha (19 points in Game 3) and Serge Ibaka (26 points in Game 4).
And speaking of radar, Durant's a big one on everyone's radar, and hasn't let anyone down in the last three games. Sure, he's been a bit of a slow starter, but what does that matter when the game's four quarters, and he can destroy in the fourth. With the three straight victories at their back, Oklahoma City is going to be unstoppable for Game 6 with THAT CROWD behind them, and the Thunder will be rolling onto the NBA Finals.
EASTERN CONFERENCE
Why Miami will win
What has made this series (and the San Antonio - Oklahoma City one) so intriguing is that both sides haven't been able to forge a road victory in front of a hostile crowd. But Miami could well have won Game 4 in Boston - LeBron James will still be kicking himself for getting thrown out during overtime - and had an incredible 18-point comeback to take the game beyond the normal 60 minutes.
What does this show you? First of all, LeBron James is ready to play (he shot the tying jumper with seconds of regulation in Game 4), and he's playing well, too. Secondly, Dwayne Wade is still frighteningly good. Oh, and Chris Bosh may well be able to come back from injury to hurt the Celtics, be it in Games 5 or 6.
Oh, and the Heat will be playing with no end of fire (Heat? Fire? Geddit?!) after Rajon Rondo's comments to a US radio station about the Heat's "complaining and crying" to the referees for not getting (what they think) are the proper calls. And finally - and this is the main bit - Miami has home court advantage. Miami could quite easily sweep the next two games and it'll be nothing but sweet dreams until the final.
Why the Celtics will win
Boston have played with a lot of guts this series. After going 2-0 to kick off the series, many thought that the Wade & James show would simply roll into Boston, take two more games, and waltz into the NBA Finals Strictly-style. Well, the Celtics fought back.
Kevin Garnett, Paul Pierce and Rondo combined for over 60 points in Game 3 to give Boston a ten-point victory. Then, after blowing an 18-point third quarter lead (Boston simply couldn't hit anything and Miami came on strong), we were convinced that Miami was going to go home with a 3-1 lead. But the fates did not agree.
With that type of gutsy performance, Boston are going to come back stronger than ever in Game 5. They'll go into Miami, score a hatful early on, and drain the confidence away from the Heat's spoiled fanbase, whose white shirts will be drenched not by their players' sweat, but their own tears. Then it'll be back to Boston for a triumphant Game 6, with Paul Pierce staying on the court and Rondo scoring a hatful to send the Dream Team home with a beautiful nightmare.