There were so many question raised by England's opening game. And right now there are not enough answers, I'm afraid.
As a nation we've spent all week trying to work out what went wrong against the USA and where we go from here, but the first thing to say is there is no need to panic.
We've all watched the opening round of games in the World Cup and apart from maybe Germany, everyone has played pretty poorly. Yes you've got to include England in that as well, but I really don't think there is anyone out there to be worried about.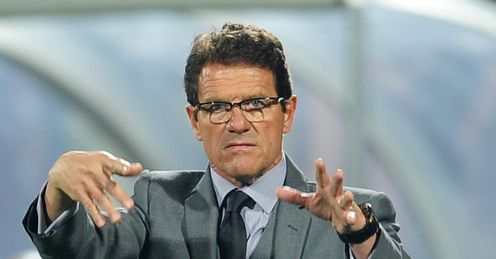 If Fabio Capello can get his side settled we'll be alright. As long as we can get that defence sorted out, get our forwards firing and generally find some rhythm, build up some momentum, England will be OK. I know it's easier said than done in this country, but everyone just needs to be patient.
I would love to see these players playing where they are happiest for England, but can't see that being the case.
Jamie Redknapp
Quotes of the week
Let's be honest, no-one who knows anything about football really expected us to go out and smash the USA. They are a decent side, they beat Spain last summer and they are always well-organised and hard to break down. It will get better for England because I sat and watched Algeria and Slovenia and there really is nothing to worry about there.
That said, it's impossible to sit here and pretend everything is rosy because there are some major concerns that Capello now faces; some of them not his fault, some of them completely his own doing.
For a start, I think he has handled the goalkeeping situation badly - even before Rob Green's error against the States. Here we were, going into a major tournament not knowing who our first-choice keeper was. David James was given the number one jersey - which usually gives you a fair idea - then all of a sudden Green is in.
Admittedly Capello is unlike other England managers in as much that he doesn't really have an established number one, a keeper we know is going to be one of the first names on the teamsheet. I've played with David James and he is fantastic but unfortunately he has made mistakes for England; I don't know Joe Hart but he is a little untested; I suppose Green is a bit of both!
Pressure
For me, the uncertainty meant the manager had to clear it up sooner rather than later. I don't mind players not being told they're in the team until two hours before kick-off, because that happens all the time - it used to happen to us at Liverpool. But in club football, you know who the number one keeper is and although I'm no goalkeeping expert, they are a different breed. They probably do need more time to prepare themselves.
Capello should have come out and said to Green 'you are my number one - unless something drastic happens'. We're not talking about Gordon Banks or Peter Shilton here, these guys are much of muchness in terms of ability - but you need to have a main man, I think. Now he has a situation on his hands and we, like the players, can only guess what he does next.
Who will start in goal v Algeria?
Does he stick with Green and hope that he proves to be a world-beater when in all honesty, the lad's confidence must be in bits? Does he bring in James and immediately put him under more pressure? If he does that, we will lose Green to England forever. It's no time to worry about people's feelings, but I think he has to stick with the lad now.
The Ledley King situation is also a sad state of affairs - and a decision that backfired on the manager. I love Ledley and was so pleased for him when he made the squad; but I was also worried. With Ledley and his injury you cannot build on patterns of play in training, you can't have sessions with the defence and that must be a nightmare for the back four - and the keeper, whoever he is.
It also left Jamie Carragher coming on at half-time in a big, big game and struggling to adjust to the pace. I have no problems with Carra and do think he will start against Algeria - and have no problem with that at all. He defends properly, he is a good talker and while people say he lacks pace, it doesn't matter because he reads the game so well.
And that defence will have the added insurance of Gareth Barry back in front of them. That was always going to happen as soon as he was fit, but sadly I really don't think it will make any difference to the way England line up. Capello is a 4-4-2 man, as he has showed, and I don't see that changing.
Happiest
My dad thinks we should go 4-4-2 because this group is there for the taking, but I would love to see something different. Frank Lampard is at his best when he's playing off Didier Drogba; Steven Gerrard at his best when he's playing in and around Fernando Torres; Joe Cole has played left-hand side for England and Chelsea for a while now and knows the role. And Wayne Rooney has just had the season of his life playing up front for Manchester United - on his own.
I would love to see these players playing where they are happiest for England, but can't see that being the case. I think it's an absolute banker that Capello will stick with Emile Heskey and Wayne up top - and probably move Stevie out to the left. I know Stevie and I know he won't be happy there; of course he'll do it and do it well, but I would love to see him down the middle with licence to get beyond Rooney - that happened once against the USA and he scored.
I just wish we could see these players in the positions they play week in, week out for their clubs. Imagine Barry sitting in there, letting Lampard and Gerrard go forward knowing they're covered. Imagine Joe Cole coming in from the left to join in as well, knowing Ashley Cole can attack down that flank. We've got Aaron Lennon and Glen Johnson forming a decent partnership down the right as well. And five across the middle would allow us to do one thing England can never seem to do - keep the ball.
Thankfully I don't think it will be a huge concern against Algeria though, because they really have nothing to worry England. I think the best they can hope for is to stay compact, frustrate and close down - and hope their keeper doesn't make another howler. The longer they keep it goalless the better, because there is real pressure on England here.
See Jamie Redknapp's latest batch of Red-Hot Tips
We drew the first game of Euro 96 against the Swiss and it does change things, straight away. You know you have to go out and win the next game or that's likely to be the end of your tournament before it's even begun. The players will have seen the reaction back here; I know for a fact that they only have a few TV channels out there and one of them is Sky Sports News, so they will know the mood of the country.
But that's how it is with England; there are very rarely any grey areas with the media. It's black or white; we are either going to win the World Cup or be on the first plane home, end of story. Capello will know that now, but I really don't think he's helped himself so far.
Jamie's Judgement
England win - They have to for a start, but in all honesty Algeria are nothing to worry about. The USA were a decent side, the other two in this group are not. And we should be happy with a win because from now it is all about building momentum and a solid performance will give England a platform to build on as they move on. A clean sheet, whoever it is against, will get that defence settled and a win will get the confidence flowing through their veins again. The last thing we need is more bookings and injuries, so a comfortable, routine win will do me fine. I'll say 2-0 - because if we score any more the press will have us down as world-beaters again!
Jamie's Gem
Wayne Rooney - He'll have seen the criticism from the USA game and it will have hurt him. He's always desperate to do well for England, but this time he will be itching to make a proper impact on the World Cup. I only hope he doesn't try too hard because I think he was guilty of that at times against the USA - and when he gets frustrated, we all know what can happen. We have enough quality in other places not to rely solely on Wayne, but we need him scoring goals again at this level and the sooner the better. He is that good, it only takes one second, one flash of brilliance. Let's hope we get one on Friday.
Comments (31)
Wayne Jenkins (Leeds United fan) says...
So Rooney went on record after the match to complain that the English fans booed the team off the pitch after an abysmal 90 odd minutes of amateur team football. It's amazing that he heard the booing but failed to hear the tremendous support of the fans during the match, singing the National Anthem with pride, above the noise of the Vuvuzela horns! The team lacked pride and commitment and should catch the next plane home before they bring any more shame upon the country.
Posted 23:00 18th June 2010
Lee The makem (Sunderland fan) says...
Well, where do England go from here?? A nill nill with Algeria....Fabio seems far to stubborn to change the formation. Playing players like Gerrard and Rooney on the left wing, is not working. no wunder all of the players are walking arount with there heads down. Rooney should have came off long before the 90, He just was not at the race tonight. The fans get behind the team, spend a fortune to go over and have to sit and watch that. Fabio, next team talk you do, just get the Carlsberg advert on in the dressing room!!! COME ON ENGLAND!!!!!!!
Posted 21:36 18th June 2010
Matt Elston (Manchester United fan) says...
In my opinion England showed next to no effort tonight, rooney was a joke, giving the ball away more often than he passed it to his own team. The team as a whole showed no cohesion at all instead looking more similar to headless chickens running around a field instead of professional footballers. They were outplayed by Algeria at every encounter and showed none of the flair we have come to expect from them, which needless to say left the fans watching a far from stellar match. Capello needed to change the team up more throughout the game instead of allowing the team to become stagnant and boring, there was no passion, no excitement and i for one was completly bored watching the game tonight.
Posted 21:32 18th June 2010
Matt Tarn (Nottingham Forest fan) says...
England line up Hart,Johnson,Dawson,Terry, A. Cole, Lampard, Gerrard, Barry, Lennon, J. Cole, Rooney, standard 4.5.1 with Lampard and Gerrard alternating attack mode. However, I beleive that Green and Heskey will start. Its a shame because England could win this world cup as we have the golden generation with the likes of Rooney etc. Maybe im wrong??
Posted 16:40 18th June 2010
Harry Willetts (West Bromwich Albion fan) says...
there is not much wrong with the england team, the first match against the usa was very tight which you would expect from the yanks,the match against algeria should be easy and against slovenia,both teams are crap so capello should make one change only for both matches bring in gareth barry for milner and make it an attacking 4-3-3, england should win both matches 2-0ther should be no excuses.
Posted 15:42 18th June 2010
Sony Bal (Arsenal fan) says...
Play Rooney up top, with Gerrard and Lampard playing off him! Barry behing them two, joe cole on the left, and lennan on the right and then of course 4 in defence. There is no other way in which we will get the best out of what can simply be our best players.
Posted 15:42 18th June 2010
Bereket Abebe (Manchester United fan) says...
come on guys Today's night will be the night of England.Believe me England will win Algeria at least with three goal difference.
Posted 12:00 18th June 2010
Ben Smith (Chelsea fan) says...
at the moment this is a very difficult situation, i do believe with the squad we have got in South Africa we can win the world cup but sacrifices are going to have to be made. everybody expected us to beat the USA we did'nt, tonight we need to put things right, there is no margin for error. my line up for tonight would be: Green, Terry, A Cole, Carragher, Johnson, Lampard, J Cole, Gerrard, A Lennon, Gareth Barry and Wayne Rooney up front on his own with support from Stevie G, Lampard and J Cole. if we cant beat Algeria then we will not beat anybody. i think england should win quite comfortably tonight i say 3-0 to the three lions. COME ON ENGLAND WE CAN GO ALL THE WAY DO IT FOR . LET HSITORY REPEAT ITSELF, LETS DO IT FOR BOBBY MOORE AND BOBBY ROBSON. TOGETHER AS A UNITED FRONT WE CAN DO IT.
Posted 11:57 18th June 2010
Paul Watts (Liverpool fan) says...
I think Joe Hart should be first choice Rob Green has made mistakes all season David James has had his day Joe Hart has been one of the best keepers in the prem this season give him a chance. Id also start Joe Cole and push Gerrard behind Rooney
Posted 11:20 18th June 2010
Mark Said (Liverpool fan) says...
I think that at this crucial stage of the tournament we should stop to criticize Capello, especially when this is done in an unfair manner. Capello has a job to be done, and he alone can ably handle it. Let us not be armchair critics. He is in full command, knows what he is doing and what has to be done. That's why the FA engaged him in the first place! Let us place our full trust in him....eventually he will deliver the goods, you wait and see! Mark Said from MALTA.
Posted 09:59 18th June 2010
Carl Ravenscroft (Manchester United fan) says...
Fabio please start with this team tonight as a 4-3-3: Green, Johnson, Carragher, Terry, A Cole, Gerrard, Barry, Lampard, Lennon, Rooney, J Cole. i think Green deserves another chance coz if we drop him then his confidense will be low plus we could off got beat off the USA if it wasnt for his important save to make up for his mistake. COME ON ENGLAND! WE CAN WIN IT!
Posted 07:58 18th June 2010
Mark White (Tottenham Hotspur fan) says...
I think the team, when playing to players strengths, almost picks itself! a 4,41,1, formation with Rooney upfront, Gerrard just behind is the same at club level. Lampard and Barry in the middle with Joey Cole and Aaron Lennen on the wings, Johnson-Terry-Dawson- Cole make up the defence and maybe Joe Hart in goal! I don't like predicting England games, so I won't! but I do think with this team we have the best chance of winning!
Posted 06:35 18th June 2010
Peter Cheng (Liverpool fan) says...
Why is it that some of you (and maybe Capello) still want Rob Green to play when there are two much more reliable goalkeepers in Joe Hart and David James? I've been watching Green playing for some years and this is surely not his first howler. How many dreadful mistakes does he need to make before he gets axed? He can't even catch a ball that my mrs. can (as Jamie's father once quoted). One more schoolboy error and England will be going on the first plane home. Come on, Capello, please have Joe in goal!
Posted 05:53 18th June 2010
Jon Doran (Everton fan) says...
100% agree with your line-up, and the formation might force the team to play on the ground instead of long-ball and hope for the best. For the life of me I dont understand how Heskey is in the squad, let alone first team! I understand he gives it his all but the man just doesn't do it in an England shirt. Can any team with aspirations of winning the World Cup really afford to carry a striker who just doesn't hit the back of the net? In terms of defence, I dont really see any need to panic, there's more than enough talent there which means, for me at least, sticking with Green is the way to go. He is a decent keeper but unfortunately had a nightmare, which we've seen from every goaly in the world once or twice. Dont drop him for one mistake, besides .... do you really want James in goal? I honestly believe that the rest of the team would be nervous with him there which would be a disaster ... long-ball inevitably.
Posted 05:12 18th June 2010
Steven Bergg (Leeds United fan) says...
If you're born in old blighty, You wear three lions on your chest, And we all swear to the Almighty, Our National team's the best. We once took home the big one, Way back in sixty-six, But since then there has been none, Our dreams are always nixed. The memories they are steeped in pain, Like when we outplayed the Krout's, I hate to re-live the penalties again, Great team.. came away with NOUT! It was the same against the Portuguese, And Argentina too, No more shoot-outs please, I can't stand to watch... can you? And I certainly don't wanna, Discuss what the cheater got, The hand of Maradona, If I ran FIFA... he'd be shot! Remember the lead against Brazil? God bless you Michael Owen, But we sat back and it came to nil, Home early we were goin'. Every sad and bitter memory, All the glory that could have been, Those thoughts curse men like you and me, That hang on to the dream. Not old enough to recall, The legendary win, Will we live to see us take it all, Or continue suffering? I have to believe we suffer long, So that when our moment arrives, As we sing the victory song, It will be the sweetest of our lives. Brazilians will never know the joy, That follows agony, They win too often those samba boys, It means so much more to me. So stand up all my English Friends, Let's toast... raise aloft your beer, Here's to the pain soon coming to an end... Because I think...THIS IS OUR YEAR!
Posted 03:56 18th June 2010
Danny Bunny (Manchester United fan) says...
I have a feeling it will be a night to remember, do you remember the trashing of Germany in Munich by England 5-1?! I have a feeling Algeria might beat England probably with a heavy score, and make england position simply untenable. Get ready for a big surprise tomorrow night.
Posted 01:40 18th June 2010
Greg Bishop (Wycombe Wanderers fan) says...
I'd like to agree with you Jamie, but I'm painfully aware of just how much Wayne Rooney has struggled on his own up front for England before. It works with Man Utd because he gets the service, and he sees lots of the ball, but whether because England's service is not as good, or just because international football is a different game, he comes looking for it, in essence turning us into a 4-6-0. I'd rather we stuck with 4-4-2 - or possibly go for 3-5-2, dropping Lennon. Capello has to do what he's there to do: make tough decisions. Ideally, drop Lampard to the bench - he was woeful against the USA, and bring in Barry. Put Joe Cole on the left hand side, and (preferably from my point of view) play Crouch up front. (Crouch rarely contributes when coming off the bench, and yet almost always scores when he starts - plus his link up play is usually better than Heskey's, even if he isn't as mobile. And with Lampard on the bench, if things aren't going great, you'll have someone coming on with something to prove.
Posted 00:55 18th June 2010
Jeremy C (Manchester United fan) says...
I used to think like that - what formation England should play. Then I realised that sometimes how England plays depends on what the other teams do. England is not just a one-formation team. Capello probably already has a few options in mind. Against Algeria, which would most likely "park the bus" in front of goal and pack the midfield, England would need numbers up front. Whether in the form of 2 strikers or attacking midfielders, it remains to be seen...
Posted 00:47 18th June 2010
Kevin Smith (Manchester United fan) says...
People saying that it could be 2-0 or even a 1-0 nailbiter!?Come on!This is Algeria!We (Republic of Ireland) beat them comfortably 3-0 a couple of weeks ago,was an easy game.England should play without fear and win this easily.I'd go 4-5-1 if I was Capello or at least if your gonna play 4-4-2 put in Crouch.No team with Heskey in the starting 11 is ever gonna win the world cup.
Posted 00:28 18th June 2010
Dean Atkinson (Tottenham Hotspur fan) says...
Heskey was only in there to let Rooney play, where was Rooney againsed the US ?. SWP on the left i don't think so, Milner was sick, King suspect , so much for Cappello's rules about being fit and playing well for your club. forget all this talk about formations , xmas tree 4-4-1-1 or whatever just play our best players and thats not Heskey, SWP, Milner or Green.
Posted 23:08 17th June 2010