The World Darts Championship is upon us and Sky Sports viewers can expect a feast of sporting drama over the next few weeks.
We will bring you every match as 72 players from across the world fight it out in a bid to claim the biggest prize in darts.
Excitement is guaranteed at every turn, but where will the highlights be found? Where could an upset occur or a classic moment take place?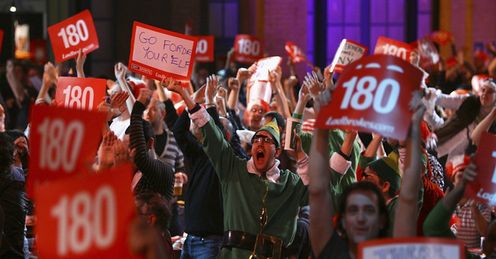 Let Sky Sports expert Rod Harrington guide you through the first four days of the tournament...
Thursday December 15
7pm, Sky Sports HD1
Jamie Caven v Roland Scholten
Paul Barham v Scott MacKenzie (P)
Mark Webster v Richie Burnett
Adrian Lewis v Nigel Heydon
Wayne Jones v Barham/MacKenzie
ROD SAYS: I think Mark Webster v Richie Burnett, the clash of the Welshmen, could be the game of the night. Mark Webster got to the final of the Players Championship last weekend, so will be in a good mood and you'd have to put him down as favourite, but it wouldn't surprise me at all if Burnett pulls something out of the bag like he did in the Grand Prix against Gary Anderson. He's a very experienced player, who has got himself in trim and has been practising more this year and as a result his performances have improved. It's one of the toughest draws Webster could have got, but he takes every game as it comes and will go in there focused. It should be a right old battle.
Adrian Lewis has also been given a tough draw against Nigel Heydon. He hasn't played well this year, I believe that the pressure of being the world champion has had a bearing on his performances at times because not only does he put pressure on himself, but his opponents seem to step it up when they have a chance to beat the world champion. He hasn't had as good a year as I expected, but I think he'll win his first match because of his scoring power. However, best-of-five sets is not a long game so he needs to stay focused against an opponent who is capable of pulling a shock out of the bag.
Friday December 16
7pm, Sky Sports HD1
Justin Pipe v Sean Reed
Haruki Muramatsu v Dennis Nilsson
Co Stompe v Michael Smith
Wes Newton v Kurt van de Rijck
Phil Taylor v Muramatsu/Nilsson
ROD SAYS: Phil Taylor should have few problems with his opener. He'll have been feeling down after losing to Mervyn King at the Players Championship when he didn't play up to his standards, but he will forget about that by Friday night and I don't expect him to have any trouble in his first match. I'm still backing him to win the World Championship, despite his defeat last weekend.
Keep an eye on Michael Smith, who plays against Co Stompe. Smith has hit a nine-darter on the youth tour this year and then the very next day he went on and won a Tour event. He is a very, very good player and although Co Stompe played well in the first round of the Players Championship, in the second round he didn't look great. If he repeats that performance on Friday night he should lose and in any case, I expect Smith to push him all the way - as long as he remains level-headed. Stompe will be odds-on favourite, but you won't go far wrong with a few quid on Smith!
Saturday December 17 (afternoon session)
12pm, Sky Sports HD2
Peter Wright v Jelle Klaasen
Dietmar Burger v Christian Perez (P)
Ronnie Baxter v Steve Farmer
Robert Thornton v Ian White
Alan Tabern v Burger/Perez
ROD SAYS: Alan Tabern has got a lucky draw, but the other three seeds in action could be on the end of some upsets. Peter Wright has been throwing some of the best darts of his life and is rightly the favourite, but you never know what you're going to get with Jelle Klaasen. He's capable of firing off nine legs that nobody can touch and you might as well flick a coin to decide a winner there.
I expect Ronnie Baxter to win fairly comfortably, but Steve Farmer is a very good player on the tour and should push him all the way. Then I anticipate an upset for Robert Thornton because he's been very ill with pneumonia. I don't think he's over that properly and that could have a bearing when you're up there under the heat of the lights. Ian White is a former News of the World finalist and seems to be finding some form. I've watched him on the tour this year and I believe he should win that match.
Saturday December 17 (evening session)
7pm, Sky Sports HD4
Steve Beaton v Magnus Caris
Kevin Munch v Lee Choon Peng (P)
Vincent van der Voort v Mark Hylton
Paul Nicholson v Mensur Suljovic
Denis Ovens v Munch/Choon Peng
ROD SAYS: Denis Ovens shouldn't have too many problems with one of those qualifiers, but the other games are interesting. I've known Magnus Caris for 25 years and he has upped his performance to stay with the new breed, but his opponent Steve Beaton is also playing some great darts and he's probably better than when he won the BDO World Championship in 1996. He should come through, but Caris has experience on the big stage and has been in good form for the last two or three weeks.
Paul Nicholson didn't play well at the Players Championship and has a tough first-round draw against Mensur Suljovic, who knows how to play darts tactically. He will try to slow Paul down and he always kicks his back leg out on his third dart - so if his opponent edges forwards early he might get a kick in the shins! Suljovic will play to the crowd and while I expect Nicholson to come through, if he doesn't stay focused he could be on the end of a shock.
Sunday December 18
7pm, Sky Sports HD1
Brendan Dolan v Kim Huybrechts
Connie Finnan v Warren French (P)
Mark Dudbridge v Dave Chisnall
Raymond van Barneveld v James Richardson
Mark Walsh v Finnan/French
ROD SAYS: James Richardson has been playing well and was the runner-up in a recent tournament in Benidorm. Barney showed some form again at the Players Championship and I expect him to win, but if he goes up there with a negative attitude he could easily get beaten. The viewers may not know Richardson, but I've seen him week-in, week-out and let me assure you he's a very good player. He has achieved more than he expected this year, so will just go up and enjoy himself - and that could be dangerous for Barney if his attitude isn't right. However, I do expect the Dutchman to win it.
Mark Dudbridge is a former World Finalist, but he messed around with his darts to try and make them go in the board like Phil Taylor's and he should never have done that. There are signs of form coming back, but he's up against a real task-master on the treble-20 in Dave Chisnall. Mark has got to make sure he doesn't give his throw away easily because Chisnall is prone to missing doubles. Mark must use all of his experience, but I expect Chisnall to outscore him and maybe win the game.
Brendan Dolan was runner-up in the Grand Prix, but he hasn't shown that sort of form since. Kim Huybrechts is a very good player from Belgium, he knows the big stage and we could see an upset there. Also, I expect Connie Finnan to win his preliminary match but Mark Walsh should have too much for him. He's experienced now and his solid throw should take him through.
Comments (8)
Bob Hunter says...
Enjoying the darts the commentary is brilliant, the atmosphere and the players attitude to making this a fantastic two weeks of exciting darts. What spoils it is the walk on girls, why do we have to see two teenage girls showing everything up front when they have nothing to do with the event. Even some of the players show no interest in them and walk up on stage before them. Get rid of the Dancers and the Walk on girls and complete a good nights entertainment
Posted 12:01 18th December 2011
Michael Dexter says...
Sorry to see Denis Ovens have to retire due to a trapped nerve in his back. I hope it doesnt require surgery to fix. Get well soon Denis. Good luck to those left in the first round and well done those who are into the next round.
Posted 02:18 18th December 2011
Tom Holden says...
Well Rod it is official - I belong to a previous time and generation. You are right in that Magnud should not have given the crowd the pleasure of responding to them. But as a sportsman myself (2:45 marathon and captain of many a football team) I cn not agree with Steve Beatons actions on stage. If I had paid the highest ticket price I would have walked out. If I had been Steve Beaton I would have asked the crowd for a bit better order. No that match spoilt this eveneings viewing v=for me and reinforced tha view that too many spectators are lacking in social graces and too mant commentators are too scared to stand up for xportsmanship - they would rather do as Steve Beaton did - take the money and offer a weak apology. Cheating at its worst.
Posted 20:48 17th December 2011
Nilmar Aballe says...
i come to know Phil Taylor when i started playing darts...can't believe he's so good at it and seems not to miss a target.
Posted 23:00 15th December 2011
Gareth O'donnell says...
Great pity that Wayne Mardle isn't playing this year. He will be missed, hopefully he returns in 2012. Can't look to far beyond the usual suspects: Taylor, Lewis, Anderson but Painter is in good form and could go far if he keeps playing well.
Posted 21:43 14th December 2011
Michael Dexter says...
Met Denis Ovens last week, wished him well in the PDC WC. Such a nice guy, true gent. I would love to see him go a long way. But my money is on Taylor, Wade or Lewis. Correct me if I am wrong, but wouldnt Wade be the first lefty to win this title, if he did? Good luck all of the competitors, play well and give us some memorable matches.
Posted 17:02 14th December 2011
Ray West says...
ade lewis will go very close again to winning it, but one thing i do know the title will come back to stoke-on-trent the home of darts
Posted 10:43 14th December 2011
Mernard Zimunya says...
Dnt wnt 2 mis a game,go guys give us a show.
Posted 09:38 14th December 2011