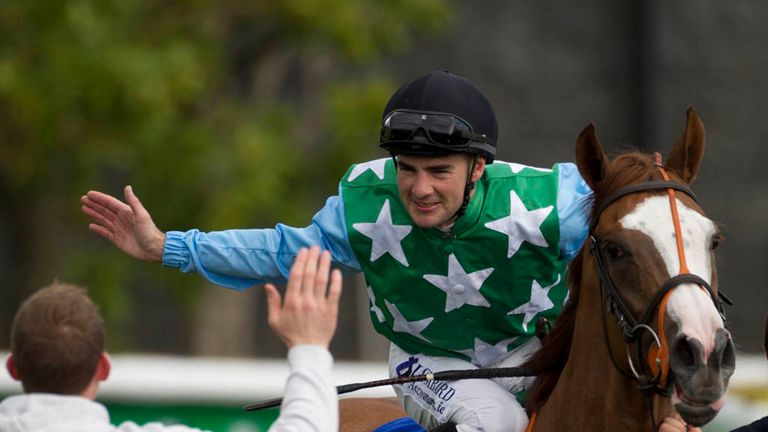 Irish trainer Michael O'Callaghan has confirmed Fergal Lynch will ride his intended runner at Ayr, should the jockey return to British racing on Monday.
The jockey, 36, admitted to stopping a horse, Bond City, from winning at Ripon in August 2004, supplying inside information about six of his rides, and associating with the disqualified Miles Rodgers.
Lynch must firstly participate in a British Horseracing Authority integrity education video, after which his proposed comeback will be earmarked at the Scottish circuit.
O'Callaghan has made two entries at the Scottish track, but only plans to run Mr Bounty in the Danny Tyson Handicap.
The County Kildare handler said: "I won't run the two-year-old (Blue Fragrance), but, all being well, Mr Bounty will run as I want to help Fergal out.
"Fergal has been very good to me, he's been very loyal since I started training and I'm a loyal person myself.
"I have a great relationship with him. He rides out for me in a morning and rides work and we've never had a crossed word.
"I've had 13 winners so far and Fergal will have ridden the majority of them.
"He was very young when all that happened years ago and I firmly believe everyone deserves a second chance.
"The horse (Mr Bounty) bolted up the last time he went to England (at Kempton).
"There aren't many opportunities for him in Ireland with the way the race bandings work and the race in Ayr is more his grade, so hopefully he'd have a chance."
The former champion apprentice was fined £50,000 in July 2009 and agreed not to ride in Britain for at least a year as part of a plea bargain agreement with the BHA.
He has, however, been free to ride in Ireland after he was granted a licence by the Irish Turf Club in April 2012.
He has been granted permission to ride in Britain under BHA rules as an overseas jockey, initially for a probationary period.
Lynch's agent, Ruaidhri Tierney, hopes he can secure more rides for his client on the same card.
Tierney said: "Hopefully he'll ride for Michael O'Callaghan and we've had plenty of enquiries.
"It would be nice to think he might get on one or two horses for English-based trainers as well, but we'll see.
"In all likelihood it looks like Fergal will be riding in Ayr on Monday and I know he is looking forward to returning to British racing."