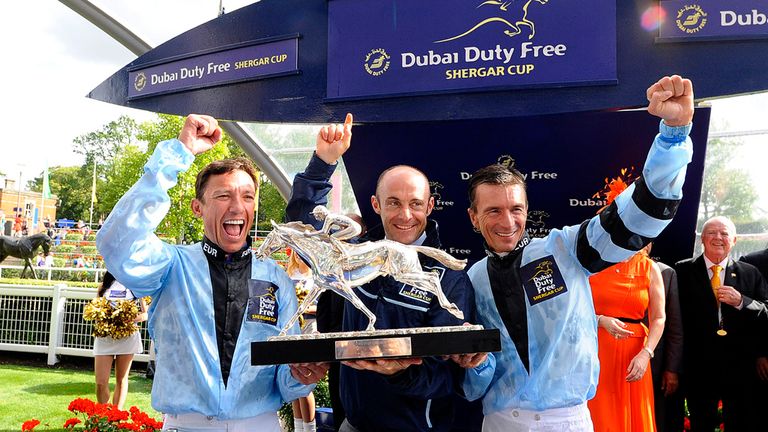 Olivier Peslier's performance helped Europe to defend the Dubai Duty Free Shergar Cup by just a point from an Emma-Jayne Wilson-inspired Girls team as the competition went right down to the wire at Ascot.
Canadian Wilson lit up the event with her enthusiasm and charisma, and was cruelly denied the points for both the team and Silver Saddle leading individual rider awards by Peslier himself in the Classic.
Here's how the action unfolded.
Craig Williams produced Goldream to perfection to claim the Dubai Duty Free Shergar Cup Dash Handicap.
Riding for the Rest of the World squad, Australian Williams knows his way round the Berkshire track as well as most and got a nice prominent position on the Robert Cowell-trained five-year-old as Richard Hughes led for Great Britain & Ireland on Addictive Dream.
As the leader gave way, Olivier Peslier hit the front on Move In Time for Europe, but Williams and Goldream (7-2 favourite) were alive to the move and threw down a strong challenge, getting on terms half a furlong out and staying on strongly to score by a head.
Ballesteros was third and Bondesire fourth.
The early skirmishes saw the Rest of the World top the team table on 20 points, with Europe on 13 and the Girls on seven.
Williams: "It's the third time I've ridden in it, and my first winner so I've probably got more points on the board there than from my other two times!
"I love the concept and the way the public embrace it - it's one of those events you hope to get the phone call for.
"Robert was great to ride for, he didn't tie me to instructions. He just told me 'don't get him covered up and trust in the horse'."
It means absolutely everything, I'm elated. It's not just winning the Shergar Cup for the team, winning a race over here means a lot to me personally. Ten years ago I never dreamed I'd be here in this position. I'm proud to be here, and proud to be a Canadian.
Emma-Jayne Wilson
Emma-Jayne Wilson scored a win for the Girls team as she steered Retirement Plan to a hard-fought victory in the Dubai Duty Free Shergar Cup Stayers.
Adrie de Vries tried to make all aboard 25-1 shot Buckland and he looked to have made a winning move as he kicked for home at the top of the straight, leaving the likes of the well-fancied Hassle toiling in behind.
However, Wilson set out in pursuit aboard the Lady Cecil-trained Retirement Plan (7-1) and the four-year-old showed plenty of resolution to reel Buckland in. While Retirement Plan ran around a bit in the closing stages, Wilson kept him going forward to eventually win by a length and a quarter with favourite Hassle claiming third after staying on well.
Wilson, who punched the air as she passed the post, said: "It means absolutely everything, I'm elated. It's not just winning the Shergar Cup for the team, winning a race over here means a lot to me personally.
"Ten years ago when I started riding I never dreamed I'd be here in this position. I'm proud to be here, and proud to be a Canadian."
Lady Cecil praised Wilson's efforts and is now eyeing some loftier targets for Retirement Paln.
She said: "I thought Emma gave him a lovely ride. He's a horse we've always liked and he just got tired here last time. We know he'll stay two miles now.
"He's in the Ebor, he gets a penalty but I'm not sure he'll get in. I've also entered him in the Irish Leger. I'm not sure about that but we've got a few options."
Buckland and Hassle's placed efforts saw the European team move up to 25 points, sitting in joint second with the Girls behind the Rest of the World on 30.
Tom Queally produced Semeen with a perfectly-timed run to land the Dubai Duty Free Shergar Cup challenge.
Boonga Roogeta set the early pace in the 12-furlong heat, with Queally settling in behind, racing in about fifth place for much of the trip before switching out to challenge in the straight.
Boonga Roogeta folded quickly when pressure was applied but Semeen (6-1) found plenty in the closing stages, sweeping to the front with a furlong to run before keeping on gamely for a length-and-a-half verdict.
Both Proud Chieftain and Communicator finished with purpose, with Steffi Hofer and Proud Chieftain just claiming second by a nose.
Queally said: "It's a unique thing to be part of in Britain, competing both individually and as a team, so it's quite difficult to cover both aspects. It's something we enjoy doing, and it's nice to ride a winner.
"There were three sets of green colours at the front, so we were sort of controlling the race. Luckily I had a horse who appreciated the tempo and it's good to ride a winner for Luca Cumani.
"He's still on the up and there might be more to come."
Queally's win presented the Great Britain & Ireland team with their first points of the afternoon, although the placed effort of Communicator saw the Europe contingent extend their lead to 42 points, ahead of the Girls on 35.
Wilson made it a truly memorable afternoon as Don't Call Me gave her a double in the Dubai Duty Free Shergar Cup Mile Handicap.
Trained by David Nicholls, Don't Call Me (5-1) benefited from a fine ride from Wilson, who settled in behind the early pace set by Navajo Chief, taking up a handy position on the inside rail.
When the pace upped a notch two furlongs from home, Dark Emerald looked a likely winner as he pushed on for Olivier Peslier.
However, Wilson was stoking up Don't Call Me on the inside and racing between Tenor and Magic City, the Canadian ace managed to eke a little extra from her mount to prevail by a neck with just a short head separating the minor places.
Wilson said: "What a race. I said to the trainer if his horse disappears from the yard and is suddenly on a plane to Canada, I've got nothing to do with it!
"Everyone had their game faces on and he probably wanted the fight even more than I did."
Nicholls was impressed, saying: "She'd seen the videos, done her homework and knew exactly what she wanted to do. Fair play to her, she did exactly what she said. This horse is a different beast around Ascot."
That win put the Girls team top of the standings on 50 points, with Europe on 47, the Rest of the World on 41 with Great Britain & Ireland bring up the rear on 22.
Our Gabrial (8-1) and Peslier just denied Wilson a famous hat-trick as the Richard Fahey-trained runner got the verdict in a photo for the Dubai Duty Free Shergar Classic Handicap.
Frankie Dettori had appeared set to play a major part for the first time in the afternoon as the much-fancied Wrangler moved to the front straightening for home, but began to hang as he took the lead and dropped quite quickly out of it.
Wilson got a real tune out of Astronereus towards the middle of the track and may even have nudged fractionally in front at one stage, but in an epic battle Peslier's mount prevailed right on the line, by an official nose.
Wilson lost her whip half a furlong out but felt that it hadn't cost her the race as her mount rallied strongly for hands and heels riding in the closing stages having previously looked held.
Peslier said: "I was told to try not to use the whip as the horse doesn't like it. I just had to push and to ask him. I thought the other horse was stopping but I only won it on the line."
Astronereus, a son of Sea The Stars, holds a St Leger entry. "He's had two quick races and he'll have a break now," said trainer Amanda Perrett. "He's run a really nice race here, just a shame he was a nose the wrong side. He'll be suited by a bit more cut in the ground."
The result left Europe on 69 points, with the Girls on 63.
Richard Hughes and Jimmy Fortune fought out a thrilling Dubai Dutry Free Shergar Cup Sprint as the former, aboard Highland Acclaim, got the better of another tight finish.
The pair, both representing the Great Britain & Ireland team, were neck and neck in the dying strides, with Fortune pushing away on Golden Steps up the stand side while Hughes and Highland Acclaim raced on his outer.
It was tough to call at the line, but the photo showed 7-2 joint-favourite Highland Acclaim had just got up by the minimum margin.
Remember raced prominently and stuck on for third while the other favourite, Telmeyd, conceded a costly couple of lengths when rearing as the stalls opened.
Steffi Hofer tried her best to get back in the mix but eventually had to settle for fourth with the Girls being beaten by just one point into second place in the team competition.
Trainer David O'Meara was full of praise for jockey Richard Hughes following his gelding's victory.
"It was a great ride by Hughesie," said O'Meara.
"I spoke to his agent after he was booked to ride and told him he could be a tricky ride. He doesn't settle sometimes but he's learning with every race and growing up.
"I will probably give him an entry in the Ayr Gold Cup and see. It's the kind of a race that could suit him as he likes a fast pace and plenty of horses to run with. He is a horse that is getting better and may even get seven furlongs next year now that he is growing up a bit."
Hughes was also delighted after the race.
"It's been a great day," said the jockey. "I knew I had some good rides but this was definitely my best ride. I saved the best until last. Just look at the crowd - it's a credit to Ascot that they have made this day what it is."
Europe emerged as champions, with Peslier claiming the Silver Saddle award for the leading rider as Wilson, who needed to finish in the first five to win the title, was down the field on Major Crispies.
Although Europe scored a narrow victory, skipper Dettori was not exactly thrilled with the part he played. "What a captain I am," said the Italian wryly. "I'm different class! Three points and four of my horses lame. 
"Thank goodness for the other two. But in truth we did have the most experienced team. And we just had to beat those girls.
"Olivier has been my good friend for more than 20 years. Just a wonderful natural jockey, cooler than a cucumber when it mattered, as cool as an iceberg.
"Adrie is so talented and as nice a guy as you will meet, and a world class jockey, even if he isn't so well known here as Olivier.
"But that's the great thing about the Shergar Cup, it gives people a chance to see these top riders. It's great fun for us and I hope is great fun to watch."
Peslier said: "I'm very happy. It's been a competition everyone could follow until the end. Everything happened in the last race. I'm at Deauville tomorrow. So we'll enjoy today, and tomorrow's another day."
Wilson was delighted with the day despite narrow defeats in both the individual and team competitions, saying: "I can't describe how happy I am today. It has been an absolutely magnificent day and I hope everybody out there, including all the girls here today, enjoyed it.
"So close but that is what horseracing is all about - a good fight to the finish keeps the crowd cheering and I hope everybody had as much fun as I did.
"I could not have asked for more. To be beaten by one point when we were rank outsiders was just magnificent. The girls are just as good as the boys, even though we have been beaten by one point.
"I hope we showcased that enough today. I feel really privileged to have the success I have had at Ascot today."