Napoli president Aurelio De Laurentiis says Manchester United striker Zlatan Ibrahimovic would be his "dream signing".
Sky Bet
Loading Market ...
The 35-year-old signed a one-year deal with United last summer, with an option for a further 12 months.
He said recently that "nothing is done" with regards to his future, even though he has fulfilled the option needed to extend.
If the Swede doesn't sign, then Napoli president De Laurentiis has suggested he would be keen on his signature.
"My dream signing? I always try to go forward with what I have," he said in an interview with journalist and former mayor of Rome, Walter Veltroni.
"One that I would like, though, is that giant who is at Manchester United now. I had him as a dinner guest in Los Angeles and he's incredibly nice, even though he always seems angry.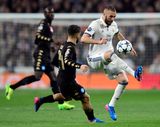 "You know the one I'm talking about, right?"
Ibrahimovic's representative, Mino Raiola, said last summer that the striker was keen on Napoli before he joined United.
Raiola told Italian radio station CRC that Ibrahimovic said he wanted to make Napoli his last club after playing in a farewell match for former Juventus defender Ciro Ferrara.