Motor Sport
Motor Sport Features
Opinion
Upcoming Fixtures
Time
Fixture
9th November 2014
MotoGP
GRAN PREMIO GENERALI DE LA COMUNITAT VALENCIANA
14th November 2014
WRC
Wales Rally GB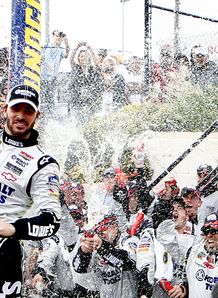 Don't Miss These
Jimmie Johnson is seeking a sixth straight NASCAR title as the Chase gets underway this weekend.
With Kimi Raikkonen set to race NASCAR, we look at other world champions for whom F1 was not enough.
Sky Sports has confirmed a new two-year deal for exclusive live HD coverage of IndyCar.
After fighting to establish himself, racing driver Adam Carroll is hoping to break into IndyCars.
utd fan here IMO i couldn't care less if he never pulls on the 3 lions shirt again he's has hardly done anything to merit the attentions hes getting all i see is a really fast kid running around the pitch like a headless ...
baz the red
Other hot topics:
No Poll has been entered for today