Blogs & Opinion
Features:
Features: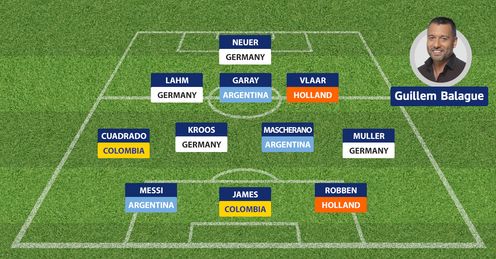 Features
Guillem Balague has picked his World Cup XI - but do you agree with his selections?
Other Football Experts:
Latest Posts in Football:

Guillem Balague
Guillem Balague says Barcelona's stars will suffer gruelling double sessions during their week at Burton....

Ray Wilkins
Ray Wilkins says Wayne Rooney is the "standout candidate" for the England captaincy....

Jamie Carragher
Jamie Carragher says there's no natural replacement for Steven Gerrard in the England team....
Latest News
Liverpool sign Divock Origi, Ross Barkley pens new Everton deal and Hull City land Andrew Robertson and Harry Maguire.
Everton midfielder Ross Barkley has signed a new four-year deal with the club.
Liverpool have signed Belgium striker Divock Origi from Lille for a fee of £10million.
Juventus coach Massimiliano Allegri is convinced Arturo Vidal will remain with the club for the forthcoming season.
Jay Rodriguez and Morgan Schneiderlin will not be sold, according to Southampton chairman Ralph Krueger.
Features

The top value signings of the summer might not necessarily involve the best players. Clearly, James Rodríguez and Luis Suárez are a cut above anyone recently recruited by Real Sociedad.

There's nothing quite like spotting a young talent set to flourish and Sky Sports Fantasy Football managers will be especially desperate to discover the next young star set to shine.

So much can change in a week of sporting action and, sure enough, there have been plenty of highs and lows over the past seven days.