So here we are with the final eight, and what a final eight it is. Looking through the games I think we have one of the most competitive first round of the play-off we have seen for a long time and it should be an intriguing weekend of top-notch rugby.
If you are thinking of having a bet may I suggest you take a long hard look at each team's injury list. At this time of the year that list can make or break a team's chances. Some teams will be missing key players while others will be welcoming back some vital players who will boost their chances. Looking at the list I think we have one of the most competitive first round of the play-off we have seen for a long time and it should be an intriguing weekend of top-notch rugby.
St.Helens v Warrington
7.30pm, Fri, Sky Sports 1HD
This should be a belter of a game. St Helens won a home tie thanks to a late converted try by Keiron Cunningham. The celebrated like they had won the Grand Final - which concerns me a little bit. I know it was the last league game at Knowsley Rd and they celebrated that but I am just a little concerned about that. They cannot have any lapses. Against Castleford they race to a thirty point lead, but then Castleford came back and suddenly it was 30 all. Thankfully the experience of Matt Gidley and Cunningham got them out of it but if they play like they played last week, well I am afraid Warrington will destroy them.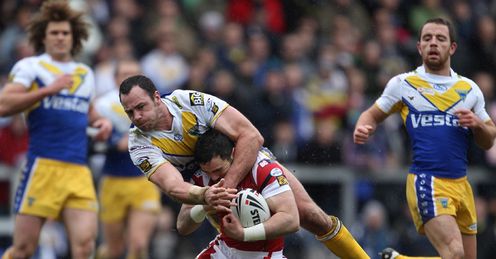 Warrington are a fantastic side and their defence is very impressive indeed. Lee Briers and Michael Monaghan are the men to watch and will run the show for Wolves. They will need some support from their forwards though and they will get that from Ben Westwood who is the grafter. Adrian Morley is also in fine form and his clash with James Graham is going to be huge!
If you are thinking of having a bet may I suggest you take a long hard look at each team's injury list. At this time of the year that list can make or break a team's chances.
Stevo
Quotes of the week
LIVE ON SKY SPORTS
St.Helens v Warrington
7.30pm, Fri, Sky Sports 1HD
Hull v Hull KR
5.30pm, Sat, Sky Sports 1HD
Wigan v Leeds
6.30pm, Sun, Sky Sports 1HD
St.Helens v Warrington
7.30pm, Fri, Sky Sports 1HD
Stevo says: I think Warrington's defence will be the key here. Saints cannot lose concentration as the Wolves will make them pay at every opportunity they get.
Huddersfield v Crusaders
3.30pm, Sat, Sky Sports 1HD
I think this is going to be another great game. Huddersfield are hitting some good form and I think they will have a little too much for the Crusaders. I think their emotional win last week against Hull KR will probably be their Grand Final and it was a wonderful effort. But saying that Brian Noble is a cagey coach and if Huddersfield don't turn up, well then they certainly have the strike power to make Huddersfield pay. They have a very solid pack and they work well as a unit. They play some very entertaining rugby too.
Last year Huddersfield were very disappointing - it looked like they had put their cue on the rack early. However this year I think they could be the underdogs for the Grand Final. If they get their mental state of mind sorted then they could really surprise. There is no doubting their physical presence- they are not called the Giants for nothing and the likes of Eorl Crabtree will lead from the front and they have some good steamers out there. Luke Robinson and Kevin Brown are a great half-back operation, so they certainly have the key players to go all the way.
Stevo says:Huddersfield have got to get off to a good start, they cannot let Crusaders get a sniff in. If they do they could find themselves wanting
Hull v Hull KR
5.30pm, Sat, Sky Sports 1HD
Hull will be boosted by the fact that Lee Radford's suspension has been lifted. Hull really need their skipper for this derby! He is not a spectacular player, he never has been but I tell you what when you don't have him you really miss him!
The value he has of just plugging away and always attacking makes him a real thorn in the opposition's side. He just never stops.
I don't think he will be sucked into anything, he was sucked in by Bailey but he won't be doing that again. He will be concentrating all his energy and power into defence and taking the ball over that advantage line. He will not waste his energy and if Hull KR think they can get him to throw a few punches, then they are sorely mistaken.
Against Leeds you could see that Sean Long and Richard Horne were a little rusty and I guess that was to be expected. They did well considering they were down to 12 men. I think they will be lifted by that performance though and Long and Horne would certainly have benefited from that game.
For KR, well Michael Dobson is their key player. He really needs to get his team moving in the right direction. Clint Newton will be their go to man in the forwards and he will be looking to get them on the front foot.
Stevo says: We know that these two sides lift their game when they meet - and that sometimes overflows a bit. Added to the fact that the loser is out of the Grand Final running, well it is going to be cracker.
Wigan v Leeds
6.30pm, Sun, Sky Sports 1HD
Wigan have scored some fantastic tries and deserve topping the table. Pat Richards has been involved in everything that is good about them. He has been voted the journalists player of the year and I won't be surprised if he wins the Man of Steel, he has equalled Andy Farrell's points record in a season and he has just been phenomenal.
I think the key to it all is that their coach Michael Maguire has been able to get them to play the ball quickly outwide. They do a lot of damage early in the tackle count with the forwards down the middle, but they also have a great linking quality. You look through their three-quarters and they are all in the top ten of the leading try scorers.
Thomas Leuluai has become more of team player for Wigan too, I think that has made a big difference in that linking. The two young Tomkins lads epitomise everything good about Wigan though: they have power, pace and Sam is brilliant outwide.
I think Leeds will target him though. They will apply as much pressure as they can and it will be interesting to see how he reacts.
Stevo says: There are some huge match-ups all over the park but I am especially looking forward to seeing Danny McGuire against Sam Tomkins. Whoever wins this battle will have a huge impact on who wins the game.
Comments (14)
Dave Mckeegan says...
Wondering if anyone knows if and when RFL will actually sit down with referees like Bentham and Silverwood and about their refing abilities. Both of them seem incapable of applying the same rules to both teams. Watching Saints vs Warriors and so far in the first half alone: He gave Warriors a penalty when one of the Warriors elbowed Graham in the face? 3 times Warrington did high tackles, 1 of which was questionably a sin bin, yet Bentham only awarded a knock on?? He done Chris Flannery for knocking the ball out a players hands when his hands clearly dont even touch the ball??? He failed to notice the knock on when Saints kicked on the 5th and hit a warrington player and landed 4 foot infront of him???? And how many of Saints infringments has he failed to notice? NONE! Both this game and Saints vs Wigan with Richard Silverwood reffing, saw that the commentators were spotting obvious offenses that the refs were missing...... SAUGHT IT OUT!
Posted 21:00 25th February 2011
Paul Moores says...
jamie u must be on sum good drugs cause the bulls have much chance of winning the final next year as the titanic setting sail no chance keep dreaming there only 1 team in west yorkshire and that the rhinos up the rhinos
Posted 23:19 13th September 2010
Michael Mchale says...
Well Done to Leeds It was a great match. I think Mr McClennan should now issue an appology over his comments at the end of the match. Mark Riddel was the player standing over Danny Mc and he did nothing to add to the situation, not Sam Tomkins. If DM had not tackled Geo Carment off the ball he would be playing in the semi''s. Don''t like to see players hurt but sorry no sympathy for him.
Posted 18:07 13th September 2010
Malcolm Lucas says...
Here we are again at the play offs with some great Rugby league. The quality has been great from the players but the quality of Refereeing has been very poor and the match between Wigan and Leeds !!! what can you say Thiery Alibert should not have been the Official for this game he is not good enough he even kept asking the Video ref what to do in the end the last decision was incorrect by them both. In the match between Hull and KR if Cockayne had made the head tackle that Manu made Mr Bentham would have slit his pocket open to give Ben the red card it is not what you do but who you are??? Some great matches to come lets have some quality refereeing for these great games Come on refs matche the players for QUALITY and Consistancy Remember this is the greatest game in sport
Posted 16:32 13th September 2010
Brad Murphy says...
Jamie, oh dear not quite on the ball there. Please write all you know on the back of a stamp and mail it to the RL Head Office...don''t forget to include your full name, DOB and address too! Ha ha - Rhinos Saints final again anyone?
Posted 13:48 13th September 2010
Chris Hall says...
I''ve been saying this all season and now I finally have proof. You can never ever write off Leeds. This is what they do. Look, everybody knows at the start of the season that there''s a playoff series. There''s no doubt that Wigan have been the most consistent team but, love it or hate it, the Super League Title doesn''t go to the most consistent team, it goes to the team who knows how the system works, and plays that system the best. Leeds, in recent years, are masters at this and even if Richards had hit the penalty, Leeds would''ve only lost by 1 (which given they were written off completely would''ve still shown their intentions and been a pretty good result away from home). In just 80 minutes of Rugby the fact that they finished 4th is now completely irrelevant as they''ve got a home Semi-Final. Yet again, they''ve shown they have it where it counts. There''s a saying.... "Form is temporary, class is permanent" and despite Leeds not been in the best "Form" this year, Sinfield, McGuire, Burrow, Buderus & Webb once again showed that they are "Class". My best guess... Leeds/Saints final (and we all know how that ends!!)
Posted 12:34 13th September 2010
Matt Summersgill says...
Looks like you''ve lost your fiver Jamie. LOL I wouldnt put any money on the bulls grand final bet either mate. Come on you Rhinos 4 in a row!!!!!!!!!!!!!!
Posted 08:50 13th September 2010
John Sutcliffe says...
To jamie hanslip... warrington ha ha dont make me laugh.... come on the saints..The other 3 that you said are right i think so
Posted 14:59 11th September 2010
Lee Middleton says...
Your having a laugh Jamie!!!Hudders a dead cert in my book...wigan also but warrington lost against saints and rovers will against hull fc. bradford wont win anything next season as the squad will still be rebuilding and getting to know one and other but come 2012 bradford will be a force again
Posted 12:51 11th September 2010
Tommy Mirehouse says...
Watched the Saints blow Warrington away,fine display from the best team in superleague.
Posted 08:00 11th September 2010
Martin Aspey says...
There are 2 ways the playoffs will go. 1. Wigan beat Leeds and make Saints play the Wire. 2. Leeds beat Wigan and Saints pick Wigan in order to avenge losing the last derby at Knowsley road. Either way, I''d love a local side to shut Knowsley Road down and send the saints fans home crying!
Posted 07:45 11th September 2010
Steve Hamman says...
Warrington to beat Wigan in the grand final.!
Posted 19:21 10th September 2010
Darren Slater says...
Leeds all the way ! Big game players who''ll want to prove that the dreadful showing in the challenge cup final was just a blip ! Hopefully it will be a Leeds - Warrington final so we can take revenge and show them who really is the best team in the country. COME ON LEEDS !
Posted 19:09 10th September 2010
Jamie Hanslip says...
Warrington, Huddersfield, Hull KR, Wigan all to win. Get a fiver on it.... Bradford bulls to win the Grand Final next season
Posted 14:08 10th September 2010