I'd love to sit down with the four people who've appointed the new England manager and ask them: "What are you thinking?"
The whole country - and I mean the whole country - wanted Harry Redknapp. I'm even talking about Arsenal fans who don't normally have anything nice to say about a Tottenham manager.
So why have these four people take no notice of the whole country? Apart from Sir Trevor Brooking have the others ever actually played a game of football? I just can't believe the decision they've made.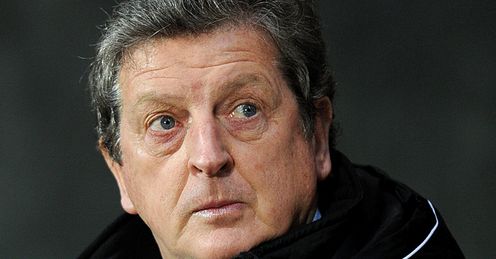 I hope this isn't sounding disrespectful to Roy Hodgson because I'm a big fan of his. He's a lovely bloke, he's a top manager and he's got loads of experience - but he's going to be up against it straight away because everyone wanted someone else.
I said on Soccer Saturday three weeks ago that I couldn't see Harry getting the job. It had gone on too long. If he was going to get it he would have got it straight away and I just felt they were waiting for the bandwagon to slow down and then pick someone else.
Who do these four blokes care about? Do they care about England and their fans or do they care about themselves? They're not listening to the country - otherwise they'd have given the job to Harry.
Paul Merson
Quotes of the week
But I still couldn't believe it when it came up on Sky Sports News on Sunday evening that they were approaching Hodgson. I thought I was seeing things.
Who do these four blokes care about? Do they care about England and their fans or do they care about themselves? They're not listening to the country - otherwise they'd have given the job to Harry.
I've played under Harry and I know he would have been perfect for the job. Firstly, he's brilliant with the press and you need to be able to have a laugh with the journalists. If you stand up and walk out of press conferences like Steve McClaren did then you're behind the eight-ball straight away.
Secondly he always goes out to win football matches. It's very rare that you see a Redknapp team go anywhere and not have a right go. I played for him at Portsmouth and he always told us to go out and play.
Also, all the players want to play for him, so I can't believe the decision they've made.
I just don't get it, I really don't.
Glutton
You can't turn the England job down, but Roy Hodgson must be a glutton for punishment.
He took the Liverpool job when the fans didn't want him because they wanted Kenny Dalglish instead. Now he's in the same situation with England and Harry. I don't see too many England fans who want him.
So I think he's going to be up against it straight away. Every time he makes a decision, people will be asking if it's what Harry would have done.
With Redknapp in charge there would have been no pressure on England at Euro 2012. For the first time in years nobody was talking the team up and nobody was really expecting us to win (although I actually believe we have half a chance). If Harry had got the job it would have been a great opportunity for England.
But now there will be so much pressure on them it's ridiculous. If Hodgson doesn't get the results straight away the fans will be straight on his back. If they don't win the first friendly 3-0 or 4-0 there will be uproar!
I've met Roy a few times. I've played against his teams on many occasions and just before Christmas I bumped into him in a restaurant and we stood outside and talked for 10 minutes. He's a really nice bloke and a top manager.
But I feel really sorry for him because I don't think he's going to be given a chance.
Money
I hope this isn't about money. We've thrown enough money down the swanny with England managers over the years, especially with Sven-Goran Eriksson and Fabio Capello.
Why shouldn't we spend that sort of money on a top English manager? It seems to be frowned upon if an Englishman earns good money, but when it's a foreigner nobody says a word.
Hodgson has been an international manager before, but I don't see how that puts him ahead of Harry. He's been around for a hundred years working with international players. His son has played for England and he's been with top-class players all his career.
I feel absolutely gutted for Harry. When any Englishman starts a career in coaching his dream is to manager the England football team and Harry is English through and through. I'm gutted when I play Championship Manager and I don't get offered the England job, so I can't imagine how he must be feeling.
Seriously though, I'm devastated for him - and I feel sorry for Hodgson too as he's in a no-win situation.
I hope he does well. I want England to win tournaments - and I'm sure Harry Redknapp does too - but he's going to be up against it right from the very start.
Comments (100)
Chris Higgins (Liverpool fan) says...
I don't remember anyone shouting for harry to get the job before capello was appointed,allardyce,curbishley and the like were all being mentioned but not harry.Yes he's done brilliantly for spurs Recently but apart from 1 fa cup what has he done with a so called big club.As an Irishman i wouldn't normally want england to do well but i hope hodgson does well for england because he wasn't given the chance he deserved at LFC.
Posted 12:00 3rd May 2012
L G (Tottenham Hotspur fan) says...
Tottenham's poor form since Capello left the England job has demonstrated that Harry can't really manage a team through media distractions. He's also been on a poor run of form and arguably hasn't over- or under-achieved with a very strong Tottenham squad. Hodgson has massively over-achieved with West Brom and wouldn't get sucked into all the media rubbish. He'll (hopefully) get the England team to focus on their football and get the best out of them.
Posted 10:55 3rd May 2012
Robert Law (Celtic fan) says...
shocked harry never got the job first real candidate since sir bobby. like to see roy do well at the euro,s shut that clown merson up give the man a chance not even played a game yet
Posted 10:39 3rd May 2012
Simon Harding (Middlesbrough fan) says...
Harry would have ended up just like Keegan. Roy is the best man out there that has more to his game than just being able to motivate players. Good luck Roy, and let's get behind him and the team.
Posted 10:17 3rd May 2012
Ian Bryden (West Ham United fan) says...
Surely Harry ruled himself out of the running for the England job when he admitted/claimed in court that he has the reading & writing skills of a 2 year old etc, There is no way the fa could have appointed someone who must have been incapable of passing the exams to gain the coaching certificates required to manage at club level let alone internional football ;-)
Posted 10:10 3rd May 2012
Chris Highton (Burnley fan) says...
Nice to see Merse wriying what 99% of the country is thinking. Totally agree with what he has written.
Posted 08:52 3rd May 2012
Mick Newbery (Portsmouth fan) says...
Merse I agree,everyone I speak to in pompey wanted harry even though he walked out on us for spurs.
Posted 08:00 3rd May 2012
Aid Coleman (West Bromwich Albion fan) says...
A statistical fact for all those Liverpool fans decrying the appointment of Roy Hodgson as England Manager. Roys record at Liverpool P31 W13D9L9. Liverpools record in the first 31 games of the Prem this season under 'King Kenny' P31W11D9L11. Yet Kenny is King and Roy was the worst manager in Liverpool History and as for motivating players Liverpools strike force has a combined value of over £60 million whilst West Broms front two cost a lowly £5 million. Thus far in the prem Liverpool have scored 43, West Brom 41. All fact not whining imaginations. Also to those who habe wrirren her asking what as Roy Hodgson ever won , check you facts and his managerial carrer at wikipedia. You'll see he's done a lot more than you give him credit for.
Posted 07:59 3rd May 2012
Dave Thompson (Leeds United fan) says...
this is about money,nothing else.they will not pay spurs the money they want,so they go for the cheaper option.if you put people in charge of the game that are bankers more than footballers what do you expect.good luck roy your going to need it
Posted 05:16 3rd May 2012
Joss Gurney (Tottenham Hotspur fan) says...
Sorry Merse, usually agree with your perspective but feel you've missed the mark here and so has everyone else. Once again the biggest hindrance to the English team is the media and the fans, condemning Hodgson to failure just a day or two after his appointment. If there is one thing Roy can bring it's organization and that's exactly what you need to be successful at international tournaments. And there will be no room for ego's which is how it should be with the National side. The 'Popular' choice isn't always the best and criticizing someone for not being that choice is absurd. So we all need to grow up, get behind the players and the manager and be patient because who knows in two to four years we might actually have a side capable of winning a tournament and maybe even more importantly a generation of players who'll conduct themselves with a bit more respect than the current crop.
Posted 01:05 3rd May 2012
Jose Marquez (Sevilla fan) says...
Why is it every time i read the headlines a year ago the English were always complaining because they wanted an English manager. Now you have an English manager and you're still complaining! Lets face it, the manager can only do so much, at this level the players should know how to play together and if they still don't.. well, maybe you need to start looking for some new players and not a new manager.
Posted 00:35 3rd May 2012
Kev Mcbride (Newcastle United fan) says...
Is this the same Harry that cannot read and write. He is expected to lead England ? I'm sure there is something false about .
Posted 00:27 3rd May 2012
Charly Loic (Arsenal fan) says...
to be fair I think Roy is a better coach tactically to Harry, Harry is just a better man manager, people should understand that England is not Spain, England hasnt got Modric or Vandervart who can pass the ball blinded all day and tomorrow, England need to get back to what they are good at, that is hard to beat and physical and I think Roy is the person that can do it
Posted 23:43 2nd May 2012
Douglas Mayger (Tottenham Hotspur fan) says...
Enough said.. IF you realy think about it Hodgson has a better pedigree. Furthermore, analysis will show that Hodgon's sides always have more "balance" than do Harry's....YES I love Harry and the way his team's play..... BUT I think that the FA have chosen well between the two. The real question is whether they considered other contenders? There is a very real diffence between managing a club and a country? Why not Sir Alex or Jose "the Chosen One"
Posted 23:41 2nd May 2012
Lee J (Manchester United fan) says...
RH is good choice, he has a good pedigree outside of England, has managed big sides, has tournament experience albeit with a lesser known side, but still experience. He has done well while he has been in england....people need to get off his back and give him a chance...HR is like venables, a loveable wide boy..but he just hasn't got the experience outside of england and we are going to need that. Compare this to Dagleish at liverpool, everyone wanted him to take charge and he did and did the magic happen...no...we have to trust that the FA have finally chosen a english manager with good experience at all levels...the most important bit is he is English for a change and we should be thankful for that
Posted 23:40 2nd May 2012
Aidan Brennan (Liverpool fan) says...
I think Roy is a great appointment for England. He is a top manager.At Liverpool he was always under pressure and King Kenny was accepted with open arms and Kenny is good, but if Roy was still there he would be lynched by now and would never have got the England job. i wish him well. I am from Ireland and we have Trapottonni what a negative #uckr. Never picks a player with flair. We will do ok but we dont play football. I like football its npt ala about results.
Posted 23:36 2nd May 2012
Mark Hirst (Manchester United fan) says...
It stinks................... Why did the FA not even interview Redknapp or any one else ??? Managers throughout the country have publicly said they back Rednapp if he got the job!!!! Players respect him and his decisions and he got tottenham european football. Then you have Hogson - good with mediocre teams like fulham, west brom etc. not so good at liverpool. Also managed some mediocre international teams and did well in the shit that is the italian league. Even Palios stated that the FA would be mad to not even approach harry for an interview. Well if we lose all our games and go out in the group stages we have the world cup to look forward to under hodgson.
Posted 23:02 2nd May 2012
Dexter Cousins (Newcastle United fan) says...
Great Comment Liam Harrison, as a Newcastle fan I have seen first hand what happens to a team when the chairman makes his decision based on what the fans will think. Harry Redknapp has no credentials to support being england manager. What you can't deny about hodgeson is that he will pick players to play a system, his system. Unfortunately it seems that the fans, media and players have way too much say in who and how england should be managed. It is time for us to realise that what we need is unity, spirit, a bit of flair, no egos and strong leadership. These qualities have turned newcastle from a championship side into a champions league chasing team in the space of two years.
Posted 23:00 2nd May 2012
Natalino Bennetti (Liverpool fan) says...
Roy Hodgson is a good manager. Also a gentleman, I have met him at Anfield a few years ago. however I feel he will not get the response or the respect from the players, as it happened at Liverpool. And when Roy comes under perssure he crumbles. Roy was well suited with WBA done a tremendous job and should ve stayed there. Harry has been cleared of corruption and feel the comments above are very unfair. Harry is a great manager and was well suited for England and had all the ingredients to make a successful England team. Passion, drive and can do attitude.One good point above well said the Fa only have one man on the panel that understands football that being Sir Trevor Brooking, The decision was made to cut costs and budget through, but I see a crisis ahead.
Posted 22:52 2nd May 2012
Mark Williams (Tottenham Hotspur fan) says...
Look as a spurs fan and a welshman i can give an honest assesment of england manager thing. Harry rednapp was never going to be england manager even if it was offered to him he would have turned it down. He is at a club on the up with out doubt the best chairman in football who will back him with what ever he wants and would also fight the f a tooth and nail to keep harry! Roy hodgson is a top manager but lets be honest god couldnt manage england to win anything. They are frankly a second rate side with one world class player in wayne rooney, a few second tier players and a whole load of overrated over paid primma donnas. The other so called stars ie gerrard, lampard, cole and terry have never performed in any major competition at any sort of level, thats a fact! How many other top sides around the world can you say that about, answer none. If for example van persie doesnt play well for holland in euros he will be dropped and someone of a similar standard will come in whereas gerrad continues to be automatic choice even though he is inept at international level enough said. Media needs to understand england are not and never have been in top tier of football nations alongside brazil, argentina , italy and germany but can rank alongside sides such as portugal, mexico etc. that is truth of the matter and both the fans and media need a solid dose of realism. This is the real world and not a fairy tale! Know people will say 1966, but lets be honest best two sides of that world cup ie brazil and portugal were kicked out of the tournament by poor referring and very poor pitches prepared purposely to stop footballing sides playing !
Posted 22:30 2nd May 2012