It is unlikely David Beckham's career will be defined by a snapping gesture made to the AC Milan bench, but as tears welled on Sunday night it was hard not to recall Gary Lineker's iconic signal to Sir Bobby Robson to keep an eye on Paul Gascoigne after he ruled himself out of a World Cup final that never was for England in 1990.
Hindsight affords us the sad truth that for Gazza it was the beginning of the end. For Beckham it is likely to be just the end.
As Beckham departed the San Siro on a stretcher in tears mouthing "it's broken, it's broken" he was referring not to a ruptured Achilles tendon, but his dream of appearing in a fourth World Cup finals.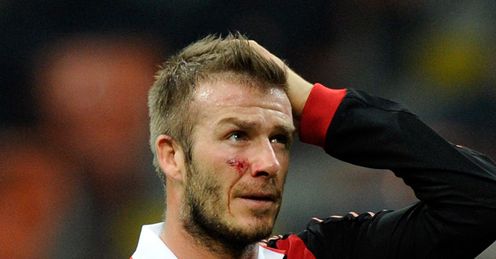 It was a dream that consumed him these past few years as he swapped Los Angeles for Milan in the pursuit of a Hollywood ending.
Throughout his career Beckham has demonstrated a Lazarus-like capacity to beat circumstance and sceptics but with Milan's medical team having already confirmed he has snapped the tendon in his left leg, with a likely five-month rehabilitation period required, there are to be no further miracles for England's renaissance man.
To his detractors, and there are many that have already picked at a carcass still twitching in this morning's leaders, the sight of an England squad man's injury occupying the front pages will nauseate.
To them Brand Beckham is less a celebration of football prowess than it is celebrity; a prime example of where the phenomenon of 'fame beats talent' has permeated sport as it has society.
To the non-believer Beckham is football's Princess Diana, a figure who has always fascinated the masses and divided the bourgeois. What the curmudgeon misses, though, in pointing out that he was hardly a banker to make Fabio Capello's 23-man squad in any case, is that England's 'build 'em up, knock 'em down' obsession is just as nauseating.
Drama
Only those with a heart of stone would not elicit some kind of sympathy for a man who in 115 appearances for his country has always bristled with pride and patriotism, often poignancy, since making his England bow in 1996 against Moldova. For sure some of his antics were ill-advised, lest we forget Diego Simeone, but surely melodrama, villainy and burning effigies are just as much a part of football's rich tapestry as last minute free-kicks.
At 34, Beckham was never going to start for England in South Africa but history suggests he could have played his part. Icons are not made from hoisting one's knackers onto a 20-foot Armani billboard alone.
The early days of his career were characterised by petulance alongside brilliance but his latest bid to make a fourth World Cup was honest, driven and free of ego. Beckham has long-since accepted he is now, like the rest of England's squad, a bit-part player in Wayne's World.
His decision to leave Real Madrid for an American adventure was ill-judged and that he was ostracised during Steven McClaren's umbrella years was perceived to be his comeuppance for chasing the dollar. Lesser players would have kicked back in the LA sun, rested aching joints that had been battered and bruised in an 18-year career and settled for a life not dissimilar to Entourage.
But Beckham's heart, even over Manchester United, has always belonged to England.
Moving to Milan in Galaxy's close-season has necessary to convince Capello he can still deliver on the highest stage and while that he lost out financially does not bring a tear to the eye, that he was prepared to be separated from his wife and three kids says much of his desire to wear Three Lions across his chest again.
It would be cruel to say Beckham, who turns 35 in May, was an ideal fit for Milan's Dad's Army and instead better to focus on that he was welcomed back to one of the world's most prestigious clubs for a second time this season.
His return to Old Trafford earlier this month was an emotional affair and while he was reduced to a cameo appearance off the substitutes' bench, he still did enough to suggest he could have fulfilled a similar mandate in the summer.
England's alternative options on the right-hand side of midfield are plentiful, with Aaron Lennon, Theo Walcott, James Milner, Shaun Wright-Phillips and Ashley Young all younger, faster and just as hungry to make their mark on the international arena.
New generation
Many will point out that, while Beckham's injury is unfortunate, it has opened the door for the next generation; I'd point out that Beckham put in more decent crosses in 25 minutes against United than Walcott and Wright-Phillips have managed between them all season.
Lennon, who looked a definite starter before picking up a serious injury of his own, is said to be 'some way off' a return to Tottenham's first team and, while Milner's infectious enthusiasm and versatility will secure him a spot, Young is not firing as he has in recent seasons and is yet to come close to convincing Capello of his credentials.
Wayne Rooney's new-found love of scoring with his head has only materialised because of the quality of his United team-mates' deliveries and of the aforementioned, only Beckham is currently capable of finding him on a regular basis.
Beckham has already said he has every intention of continuing his playing career but given the seriousness of the injury, doubts will be raised as to whether LA Galaxy and the MLS will provide enough motivation to get him off the treatment table and back onto the pitch.
His return to Old Trafford was supposed to be a swansong to his boyhood club, now it appears to have been his parting farewell to English football period.
Comments (94)
Matthew Roberts (Manchester United fan) says...
David is a fantastic player on the top level, his impact on game coming on as a sub is unbelievable. I think no one in the world can cross a ball near his abilities. He will be greatly missed and I would like to wish him a speedy recovery.....No1 player over the last 10 years in the world.
Posted 06:33 13th May 2010
Jake Davies (Manchester United fan) says...
I'm totally gutted for Beckham! He is, and has been for the last decade, the epitome of English pride. His passion for the game is incredible and the effect his presence would have had on the team in South Africa will be sorely missed. There is no other player in the world with his crossing ability, anyone who watched the Milan v United game will know that the game totally changed when he came on! As it is i'm gutted for him and wish him a swift recovery.
Posted 11:51 17th March 2010
Rob Neary says...
Legend. Gutted.
Posted 17:49 16th March 2010
Sandy Jones says...
Poor wee laddie has hurt his ankle he's not dead !!!!! Enough of the obituaries and tributes he's not a young man and the game certainly doesn't owe him anything. I believe the cliché is that's football.
Posted 17:26 16th March 2010
Mfundo Ngqabishe says...
We will miss u in South Africa,hope a miracle happens and u recover like Rooney did in 2006.You are still the best crosser in the world and I want to see that here in my country.Pray like never before... goodluck
Posted 16:38 16th March 2010
Dazo Marsh says...
Feel so sorry for David and we will miss someone of his talent and experience. Despite what some of the idiots on here think, he is world class and not only that but a terrific role model for kids everywhere. You don't see him falling out of night clubs or getting into fights, the man is a living legend. Btw i'm a Birmingham fan, not a red :)
Posted 16:32 16th March 2010
Karl Connor says...
I think its a good thing that beckham is not going to the world cup,as he is he most over rated footballer in recent history.. He hasnt had a good game for England in years!!!! He needs to stick to playing in america were the standard is to his level (poor!). When He played in the Milan derby its was like wachting a headless chicken!!. James Milner can do a good job on the right!! Beckham should stick to posing in magazines!! and doing promotional tours for the MLS!!! Whoever thinks he should be knighted is a idiot!! people in this country just accept mediocrity!!!
Posted 16:20 16th March 2010
Jacqui Begley (chelsea fan) says...
No matter what is said or written - David Beckham's passion for the game is unquestionable and his dream has been shattered - how would you feel? I would personally like to wish him a speedy recovery and take this opportunity as an England fan to thank David Beckham for his fantastic contribution to the sport and look forward to seeing him again in the Euros.
Posted 15:53 16th March 2010
Adrian Qeraj says...
Its very sad news not only for the english team but for all the fans all over the world , beckham is an icon not only as a devoted father and family man but he is an icon to the english tradition and the sport we all love , it saddens me to read comments such as he is a marketing tool and he went for the money ..to all of you that say that Maybe u should visit the states and see how many young kids he has inspired , how many soccer fields are full of dreams of being a David Beckham , English fans and soccer fans all over the world should be sadden But very proud of their son . I really hope that Capello finds a way for David to be in the team i personaly think that they need that inspiration ....and the sport needs it too ...i hope to see him soon in the pitch and our prayers go to him for a quick recovery
Posted 15:47 16th March 2010
Whiticus Whiticus says...
Beckham is absolutley epic! Rooney wont get half as many goals now that the only decent crosser we had is out, sayin that i think Rooney is just as epic! feel really sorry for beckham as he has put so much into the team and he should be knighted or have a statue like rocky does :)
Posted 14:59 16th March 2010
Gaff 06 says...
Rory delap is irish...capped by ireland 11 times
Posted 13:56 16th March 2010
luke Turner says...
To be honest, i believe David Beckhame will be a huge miss for england in the 2010 world Cup in South Africa, because he is not just a fantasic player, he also can help the young players such as, Walcott, Milner ect.. , with the amount of experience. Not many people get 100+ caps for nothing, he has been a top quality footballer & ambassador in his time as a professional footballer. Another point is that if we have either a free kick or a dead ball situations, in the latter stages of the game, he is the kind of player you want on the ball, because of his second to none rate of long & short free kick accuracy & definition. I really hope the doctors can pull a dramtic & schock recovery on him as he will be a great asset to the england nation team.
Posted 13:41 16th March 2010
Billy Regan says...
at the end of the day all of these comments saying thaqt beckham is useless..... thats a load of rubbish, if it wasnt for his free kick in 2002 against greece we wouldnt have even made the finals... get well sooon becham everyones behind you
Posted 13:32 16th March 2010
Richie Bruce says...
Kenny Dalglish once said. "Everytime the call up came for Scotland i didnt see it as an invitation that i could somehow turn down. It was your country calling you to play and you went with pride and without question" Im Scottish but am also a football fan and have always admired Beckham for his passion and pride for his country. Im gutted for the guy after he worked so hard over the last 2 years to have a chance to go to the world cup. I cant believe the negative comments on here from so called England fans. You guys need to wake up, i would rather have 20 minutes at the end of a game with Beckham throwing in laser guided crosses on to Rooneys head, than 85 minutes of wright phillips and walcot hitting the bye line then putting the ball into row z everytime. You are now relying heavily on Rooney and his job of scoring goals has just been made 10 times harder because no one will get the ball onto his head like Beckham would have. What is it with the english mentality of build them up to huge status and celebrity, then spend the rest of the time trying to knock them back down again? Speedy recovery Becks from all true Scottish football fans
Posted 13:27 16th March 2010
Ole Matei says...
Why would you English people not feel pity for yourselves? I am a Man Untd supporter and would surely have loved to see what Becks crosses and Rooneys now timely head could have done to teams at the world cup. What a combination to Miss! Get well soon Becks
Posted 13:27 16th March 2010
Matt Cannon says...
Personally I think all of you bitter and sad people who have decided to come on here and slate Beckham and England for using him, as a world class servent to this country, might as well not watch football or pay any attention to it. You all must be some of the most deluded people on the planet not to realise what a sheer talent Beckham is. He epitomises passion & pride and has served this country with nothing but love for the game and his fellow englishman. I think you need to take a long hard look in the mirror before you start ripping into a man like Beckham, because I can guarantee you, you will not like seeing half the man he is. He needs to be at the World Cup because his experience and influence on the team alone would be a massive boost. Good Luck David, I hope you recover soon
Posted 13:11 16th March 2010
Nathan Hind says...
To Naoh Wilson what a load of jibberish notice how once again a city fan loves to talk about man utd not city but united. 3 things! 1st beckham never wanted to leae united and was forced out of the club as the majority of football fans in england know 2nd strange how england failed to qualify for a major tournament when beckham was dropped 3 quarters of the qualifying campaign 3rd you contradict yourself yes capello picks players of merit and beckham made close to 20 apperances under cappello so cleary deserved his place in the squad!! Becks was a shoe in for the squad after the utd v milan game last week!! came of the bench with his side 3 down and created two golden chaces which huntelaar and inzaghi both shud have scored also having a cracking effort himself!! becks is not just a utd legend but a footballing legend and it is the bitter fans like you with ur blue nose so far up where the sun dont shine that infuriate so many and us united fans loe to hear waffle on bout utd but neve your own club!! more bothered about utd losing than ur own club winning!!
Posted 13:02 16th March 2010
Jim Byrne says...
A FAIR ASSESMENT A FEW CAMEO APPEARENCES AND A BIT OF SUPPORT FOR CAPELLO WOULD HAVE BEEN ALL HE EXPECTED. BUT AS YOU SAY HE HAD TRIED VERY HARD TO MAKE IT HAPPEN. NO-ONE CAN FAULT HIS DEDICATION IT WOULD BE NICE TO SEE ABIT MORE IN SOME OF THE OTHER PLAYERS. THAT SAID WE HAVE TIME TO PREPARE A NEW FACE TO TAKE OVER THAT SUPER SUB ROLE A NICE CHANCE FOR SOMEONE. RORY DELAP???
Posted 11:48 16th March 2010
Daniel Gower says...
To be quite honest i can't comprehend anyone who does not see what a great influence Beckham had on the team. His sheer drive and enthusiasm for the team inspired the other players who wanted to perform for him. Being a Palace fan, i always had a strong affection for Man Utd and this was due to Beckham. No matter how much money he makes off the field, this doesn't take away from the fact he was still as hungry as an 18 year old on the field. He was one of my heroes as i grew up and can still say that until this day. Why wally McClaren dropped him is past me, but i really wanted him to emulate Shilton's caps record as no one deserved it more. Get well soon David, the whole country's behind you.
Posted 11:35 16th March 2010
David Dublin says...
David Beckham has put money before football for many years now. I couldn't care less that he will miss the World Cup and don't have a bit of sympathy for him. He has already had three which is more than someone so greedy deserves.
Posted 11:33 16th March 2010