Three innings defeats and the Australian media still can't grasp the simple fact that they're just not as good as England,
The TV, radio and newspapers over here are calling for knee-jerk inquiries into what went wrong for Australia in this Ashes series, but most of the complaints assume that the talent is there in the first place.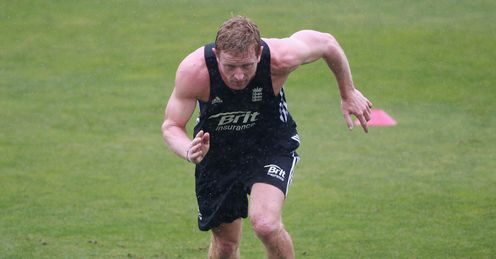 Well I'm sorry folks, it isn't.
A bloke in Adelaide stopped me in the street on Monday and told me they were unlucky. I'm not sure what luck's got to do with it pal, England outplayed you from start to finish.
He then told me they've got some good kids coming through. Are you kidding? This is a nation that has produced Matthew Hayden, Mark Waugh, Steve Waugh, Adam Gilchrist, Shane Warne, Brett Lee and Glenn McGrath - and now they're coming up with Phillip Hughes, Steven Smith and Usman Khawaja.
Ravi Bopara is tailor-made to fill Collingwood's shoes. He's a number six batsman who already has already has three Test centuries and he can also bowl those fill-in overs that Collingwood has given us over the years.
Bumble
Quotes of the week
LIVE ON SKY SPORTS
Australia v England
International t20
8am, Wed, Sky Sports HD1
Follow the ODI series
wherever you are
- on Sky Sports HD1, Sky Player, Sky Mobile and skysports.com
That simply doesn't compare. They haven't got the players and they need to be patient until they find some.
Talent spotting
It's important that they identify the correct talent when it emerges. That's something that England have done extremely well in the last few years.
The chairman of selectors is integral to that. We had a very good one in David Graveney and an excellent one currently in Geoff Miller, who has the right tools and the right finance to get the best procedures in place.
They have the right coaches and the right back-up staff, but the key to it all is identifying the talented players. Miller does that fantastically well.
When you're looking for a player to come forward and step up to international cricket, you have to look at more than what he does on the field. He needs the right temperament, his character has to be spot on and his lifestyle is absolutely paramount. All of those ingredients go into the mix to make a Test player.
We've seen that in guys like Jonathan Trott, Chris Tremlett, Steven Finn, Eoin Morgan and the other players that have broken into this England side. I know Geoff Miller very well and I know how much emphasis he places on temperament and character.
Our selectors are a very thoughtful group. They get the majority of things right and they deserve great credit for this Ashes success.
Following Colly
Some people might question why Alastair Cook, the leading run-scorer in the Test series, has been excluded from the side for the one-day matches.
I remember Michael Slater, one of the biggest dashers in Australian cricket, didn't play much limited-overs stuff. It's the same with Cook and even though he's in great form I think it's better for him to concentrate on his international Test match career. You can easily slip into bad habits.
Equally, there are players who look magnificent in the shorter format who you would never put anywhere near a Test team. I can identify two perfect examples in the Australian ODI side - Cameron White and David Warner - and you could say the same about Michael Yardy. He's one of the first names on the one-day team sheet, but you wouldn't dream of playing him in a Test match.
Eoin Morgan is another who has a bit of work to do to get into England's Test team. Paul Collingwood's retirement will create an enormous amount of competition in the months ahead and assuming Ian Bell will move up to number five, the sixth batting position is up for grabs.
Morgan is in the squad now and would have played against Australia if any of the batters had fallen down, but I'm not sure he's the best like-for-like replacement.
People are talking about James Hildreth, but my pick would be Ravi Bopara, who is tailor-made to fill Collingwood's shoes. He's a number six batsman who already has already has three Test centuries and he can also bowl those fill-in overs that Collingwood has given us over the years.
Jonathan Trott is a magnificent slip fielder, as good as anyone in the world, so he can cover for Collingwood there, but Bopara can do the rest and I do feel we need another bowler in the top six.
I know he struggled against Australia in 2009, but he was batting at number three in a team that was under pressure. He will be much more comfortable slotting into a successful team at his preferred number six slot.
Bopara's the perfect choice in my eyes.
The time is right
As for Collingwood, it was a perfect time to bring the curtain down on his Test career.
He's had a really good run, but when you look at it in the cold light of day, he's 34 years of age and he's no longer producing. It's time to bring a younger player into the side and they are queuing up behind him.
This was perfect timing from a perfect bloke. He said himself that he is not a Kevin Pietersen or an Ian Bell, but he hopes he has contributed in other ways. For me, his no-nonsense approach has been fundamental to the ethics of this England team and he definitely found a way to be effective. He averaged 40 in Test match cricket and he certainly left his mark.
He continues as one-day captain, but personally I don't think he'll be around for too much longer in that format either. However, his off-cutters and his change of pace will be useful in the World Cup.
And I bet his "people" were straight onto the phone to the IPL when he announced his retirement. He didn't get a game the last time he went there, but it was no surprise to see him picked up straight away in this year's auction.
Limited chances
Personally I'm glad to get away from Sydney to the quieter city of Adelaide. Suits me better.
We're here for the first Twenty20 international on Wednesday and I'm looking forward to it. Australia will be looking to their three W's - Warner, White and Watson (rather than Worrell, Weekes and Walcott) - but England are world champions, so we can expect a good performance from them.
We've done the job that we came to do, but the next five weeks should be treated as preparation for the World Cup. The fact James Anderson has been sent home until the last three ODI's suggests that England are concerned with priming their players for February.
Of course we want to win, but these matches are also about gauging performance for the World Cup against the reigning 50-over champions.
We've won the Ashes and the ICC World Twenty20, but I don't fancy us to win the World Cup. Maybe if it was being held elsewhere, but I would be putting my money on India or Sri Lanka on home soil.
I know this England team will have everything in place to go a long way, but I suspect the World Cup might be a step too far.
Comments (22)
Gordon Mccullough says...
Back to the drawing board for the one day team.Time to ditch the old guard and give one or two youngsters a go.Tayor (Leic) Stokes (Durham) and Buttler (Somerset) BIG mistake to bring back Prior ,especially at the top of the order against a moving ball.Two away swingers and he is vunerable against the one that nips back. He also failed as overeseas player for Victoria in their recent 20/20 comp.What happened toKeisswetter ? Saw him recently score a good ton against NSW for the Lions. The biggest mistake in the last one dayer at Sydney ,was not Tremlett failing to ground his bat BUT taking a run off the last ball of the 48th over with Trott 84not out. Imaging Steve Waugh or Alan Border even contemplating a run in their prime? Basics GMc
Posted 01:14 24th January 2011
Doug Agar says...
Does anyone remember Cook and I don't mean Jamie Oliver? They tell me India are dropping Sachin, they think England might have discovered a master plan so they are going to send thier best batsman home as well - there's a Kiwi phrase that goes along the lines of ....Yer right !!!!!
Posted 09:00 21st January 2011
Dan Cohen says...
I personally think England should go another way entirely. Move Bell to 5, Prior to 6, Bresnan to 7 and play Broad at 8. This gives us a good balance, batting all the way down and gives us a lot of variation in the bowling. We'll still have KP to bowl his extra offies but there won't be the added pressure on the bowlers, or even on KP/Trott, to ensure their overs are decent. I'd play this team; Strauss, Cook, Trott, KP, Bell, Prior, Bresnan, Broad, Swann, Tremlett, Anderson
Posted 11:08 13th January 2011
Peter Jenkins says...
no mention for the player of the future!! Josh Butler, first in the 1 day game, then tests, batting together with Morgan would give totals impossible to chase.
Posted 09:43 13th January 2011
David Hughes says...
Personally, I think Stauss should captain us in all forms of the game. Time for Colly to retire from all forms of the game. I also think Prior should be in the one day sides. South Africa are our biggest challengers for the World Cup ... what a great time to be an England Cricket fan!
Posted 09:38 13th January 2011
Ciara Handforth says...
I love watch England beating the Ausies it was so close last Night it was great to watch and i love England wining i hope they win the twenty twenty series and the 50 over match good luck England for the next match of the series Ciara :)
Posted 09:24 13th January 2011
Dale Deplitch says...
I just can agree with all this "bopara deserves a chance" talk, he had his chance and repeatedly failed, and his 3 hundreds were against a poor west indies attack on a flat wicket, I think Morgan has more than earned a right to have a go at test matches, for the last couple of years he has been an absolute sensation in our ODI squad and has repeatedly dug us out of trouble, I'm positive he will mature into a fantastic test match player
Posted 03:01 13th January 2011
Noel Ward says...
I love watching Cricket but regretfully I do'nt know enough about the game. Can you explain why all the successful Ashes heros were not selected to play T20, especially AllisterCooke Thank you. I'm watching to-day's match so maybe one of your capable pundits could explain
Posted 10:25 12th January 2011
Adam Cloonan says...
I totally agree with the comment about Australia not producing anywhere near the top notch talent associated with them over the past couple of decades however, the issue over Ravi Bopara i just really can't agree in the slightest. Bopara has only ever scored his runs when England are in control not when they are under the pump and in my opinion is in the same mould as Mitchell Johnson who gets very down on his performances as a result of lack of confidence, something that comes straight to mind when you think of Bopara. I think the next in line will be Morgan but his performances are needed far more in the one day arena and test matches may just throw him off his game particualar;y outside his off stump as highlighted in the last English summer. The more long term talents will be James Hildreth, who i would prefer, and Jimmy Adams.
Posted 15:37 11th January 2011
Jack Corbett says...
I would agree with the fact Collingwood has retired the way he has, and it's a super way to end his International test career. But I'd personally like to include him in part of the backroom staff as i believe he's a fantastic motivator. Too the option of his replacement, i agree again Bell should move up to five as his improved alot over this last year! I'd love to see Ben Harmison have ago for england, he's played brilliantly up at Durham recently, also he can bowl and bat!
Posted 14:19 11th January 2011
Ricardo Williams says...
Your only mentally strong If you're south African or Irish? What aload of rubbish I'm hearing on here about Bopara, please grant this guy the same opportunies as Alaistar Cook got during the last english summer, when he failed in 10 test knocks but still kept getting picked over guys who were scoring a truck load of runs!!!!!!
Posted 13:19 11th January 2011
Martin Hicks says...
Bumble - I agree with your 3 choices and wonder whether it is quite as simple. as you suggest. Bopara has some Test experience and is in a similar position to the Bell of 18 months ago. If we are looking for someone who can provide a few overs to supplement a 4 man attack then Bopara is your man. Morgan has only played a few Tests at a time when England's batting was brittle but has also scored a Test century. He needs to curb some of his one day shots when England is in trouble but he is younger and open to much improvement and importantly shown in one day cricket that he can bat with the tail. (Our next task is India and Morgan reminds me of Laxman in the way he manouvres the ball).If we can rely on Trott, Bell and KP to provide supplementary overs then I would favour Morgan. Hilditch and AN other are new kids on the block who have unproven potential and I think they must wait to fulfill it. Australia must envy our dilemma as it seems we have a squad of batsmen bowlers and wicket keepers and can rest players..
Posted 12:52 11th January 2011
Andy North says...
I think Morgan deserves a good run in the test side. He could be the man to stop the middle order collapses we are prone to. Bopara is just not mentally tough enough to 'improve' the team.
Posted 12:07 11th January 2011
George Dean says...
morgan is more a one-day player then bopara. borpara has 3 centuries and has been in great form since that ashes ashes series, he had one blip and was harshly treated he deserves another shot.
Posted 04:40 11th January 2011
Chris G says...
Sorry Bumble you were spot on with your assessment of Australia's lack of talent but as far as Ravi goes he just isn't Test material. Ravi has been in the setup already 3 or 4 times and each time there has been a mental frailty discovered and exploited by decent sides that has cost him his spot. Sure he scored runs against a less than mediocre West Indian attack with even worse fielders. Ravi was brought back into the limited overs setup most recently and looked like a fish out of water to be honest. Morgan has a confidence about him and doesn't let the opposition dictate his demeanor and that alone puts him heads and shoulders over Bopara. Plus Morgan has scored runs against quality opposition something as I said Ravi is unable to do.
Posted 00:55 11th January 2011
Peter Byrnes says...
David Yes we did not identify our talent - and ask the west indies - when you are on top for 20 years - people become lazy and blase about success. You have defeated us fair and square and deserve all the plaudits - BUT - lets see if this is sustainable. see if you can win 3 world cups in a row - see if you can come back here another 3 times and flog us - as we did 89 93 ,97 and 2001 . well done but we are wounded and will bounce back - dont forget 1989 - "worse team ever"
Posted 00:29 11th January 2011
Allan Gobey says...
I don't think Morgan is the long term answer but I believe he did enough in the summer to be given first crack at replacing Collingwood. Long term I think Bopara needs to show he has improved both his temperament and technique - as Bumble says these selectors value both temperament and character, these are areas where Bopara has slipped down the pecking order. If Morgan fails I'm assuming Hildreth will be in the frame as should Michael Carberry, Jimmy Adams and James Taylor. If you're good enough, you're old enough.
Posted 23:16 10th January 2011
Simon Higgins says...
Bopara is an excellent shout. I love the six batters plus Prior but we do need someone else except KP to be able to bowl a few overs. Morgan is a cracking player and it shows just how strong we are that he may still not get in the team.
Posted 20:32 10th January 2011
Amrit Dedyal says...
Bumble, you mention that Geoff Miller likes to pick players with the right character....I think that is why Morgan should be put in, he is a very mentally strong player who produces results when England need them most unlike Bopara. Morgan like Pietersen is a player who will drag you out of a hole when needed he has proven that as has KP, so my choice is Morgan.
Posted 20:16 10th January 2011
Michael Gibbs says...
I think that Eoin should get his chance as Ravi is more of a one day player. Despite this, I think that Ravi would be next in line after Eoin should Eoin struggle at number 6.
Posted 17:02 10th January 2011