Every Saturday afternoon, Chris Kamara heads to stadiums up and down the country to deliver his unique match reports for Soccer Saturday.
On Sundays you can see him back in the Sky Sports studios as he brings you all of the highlights on Goals on Sunday.
And then on Mondays you can find Kammy right here on skysports.com as he brings you his picks of the weekend. Join us every week as he runs through his highs and lows as well as answering YOUR questions...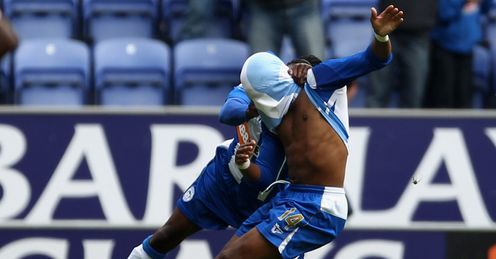 GAME - Wigan 3-2 Arsenal

This was such a dramatic comeback! Wigan were dead and buried but showed tremendous character to come back in the way that they did. I think Arsenal's hopes of winning the Premier League were already over - they were over at White Hart Lane - but this defeat reaffirmed it. Wigan have beaten Chelsea and Liverpool at home already this season, but this one was slightly better because of the circumstances. To be honest, you wouldn't give them a prayer at 2-0 down. The win also moves them away from the relegation zone as well. I thought they would only need three points from their remaining games to be safe and they have that now - this win should see them over the line now. We've had a few great games this weekend. Manchester United v Manchester City was settled by a dramatic late goal and Spurs produced another fantastic performance to beat Chelsea. We were spoilt for choice with good games this weekend!
TEAM - Spurs

There are plenty to choose from but I am going to go for Spurs because of the week they have had. You would say the easiest of the three games they've played this week was the FA Cup semi final against Portsmouth at Wembley. Once they lost that you think 'what chance have they got against the two big boys, Arsenal and Chelsea?' But they came through brilliantly and finished the week off with an absolutely fantastic win over Chelsea. They will have no fear going into their game with Manchester United now - but be warned Spurs fans, football is a funny game: who would have predicted the one Spurs would lose this week would be the Pompey one?
PLAYER - Gareth Bale

My Player of the Week is Tottenham's Gareth Bale. He is back to the marauding best he was when he was at Southampton. When he was with Saints he treated the Championship with contempt and now he is treating the Premier League with contempt as well. He is almost unplayable at times and scored a fine goal as well.
GOAL - Paul Scholes v City

I'll go for Paul Scholes' header in the last few seconds of the Manchester derby. It was an unsaveable header. This week he was given another one year contract. We've seen in under-achieve in some recent performances - he wasn't great at Bayern Munich or in the league game against Blackburn after that but once again you have got to admire Sir Alex Ferguson - he knows what he's doing! He believes there is plenty of life left in Scholes' tank and he proved that by popping up with another great goal. It's the importance of the goal, as well, which makes it so good. It keeps the Premier League alive. One bookmaker paid out on Thursday - I bet they're regretting that now!
GAFFER - Harry Redknapp

Harry Redknapp is definitely my pick for the manager's prize this week. He's helped them pull off two amazing wins after the disappointment of the FA Cup defeat to Portsmouth at Wembley. Few would have expected them to get maximum points from their games with Arsenal and Chelsea. A top four finish is now back in their hands and it would be amazing for them if they were to do it.
GRIPE - No second chances

There haven't been any major problems popping up this week but I would say one thing about the John Terry sending off. I think it is unfortunate for centre halves, or any player, for that matter, that once you have picked up a yellow card you can't miss-time another challenge for the rest of the game. I'm not saying miss-timing tackles is part of the game but unless John Terry gets the ball fully he gets sent off, which is wrong. Referees should be saying 'do another one and you're in trouble but unfortunately it doesn't happen that way, it's straight off. It's sad for the game which is meant to be a contact sport that defenders have such small margins for error.
Kammy answers your questions...
Do you want Chris Kamara to answer YOUR question? Email him at skysportsclub@bskyb.com or use the feedback form at the bottom of the page.
CREDIT TO AVRAM
Chris, I'm an Arsenal fan but I would like to say a massive well done to Avram Grant. He could have walked away amidst the mess but he carried on and led them to an FA Cup final. For all the mess he has had to put up with this season as manager of a cash strapped club he, more than anyone, deserves to lead a team out at Wembley for an FA Cup final. I hope he is proud because despite them going down just for the sheer determination and loyalty through the mess I would class him as Manager of the Season. How many others would do what he has done this year? Now go on Pompey, win the cup for him! Paul Collins

KAMMY SAYS: Hi Paul. Avram Grant has done a great job, no doubt about that, especially in the circumstances he's involved in. The circumstances have made it even more difficult for him to be manager. It's not too often a manger who gets relegated will be Manger of the Season, but I admit it is through no fault of his own Portsmouth are relegated. It is down to the situation he found the club in and the situation which has developed since he has been there. To take that team to a FA Cup final is an outstanding achievement. There've been lots of good performances this season: Roy Hodgson has done a fantastic job, Mick McCarthy has done a great job under difficult circumstances and Harry Redknapp has done a great job as well. There are lots of contenders, but you wouldn't rule him out of making the shortlist.
Got a question for Kammy? The use the email link above or the feedback form below...
Comments (21)
Gary Wilde (Manchester Utd) (Manchester United fan) says...
Man United deserved to win on saturday. City were poor. They had too much respect for United. We controlled the midfield again and they were frightened.
Posted 12:16 21st April 2010
Jack Curtis (Manchester Utd) (Manchester United fan) says...
To the comment of Zain Khan, yeah maybe we cannot play without Wayne Rooney but I didn' expect us to be fighting for the tittle this year. It takes time after getting rid of key players like Ronaldo and Tevez to get used a new system! And you can't say that things would have been different if you had all of these players. You never know what could have happened, that's why we all love footy! Come on Stoke this weekend, get the points from the Blues! United for the title.
Posted 16:45 20th April 2010
Paul Fleming (Manchester Utd) (Manchester United fan) says...
How Manchester United are still in this title race is beyond me! Apart from a few games, we have been second rate all season. Just goes to show that even when we are not at our best, we are still gonna be champions of England yet again! What does that say for Chelsea??? Not much!
Posted 12:09 20th April 2010
James Loftus (Wigan Athletic) (Wigan Athletic fan) says...
i am a wigan fan and it was a great win for us. wigan deserve to stay in the premier league and i think they will have a great season next year. roberto martinez has done a great job with wigan and they now play a passing game instead of a long boot up field. it is the first year wigan have beaten three of the top four teams and that is down to the team and manager.
Posted 11:32 20th April 2010
Conor Neville (Blackburn Rovers fan) says...
Can someone please tell me why Arteta is not being investigated by the FA for poking pedersen in the face on the weekend? had that been a Blackburn player doing that against one of the bigger clubs or in fact Everton, he would have been sent off and if not there would be an investigation into it. Blackburn take alot of criticism for being a dirty team but when Arteta pokes someone in the eye nobody says anything about it. In the words of a former Blackburn manager Roy Hodgson, "It's a disgrace!"
Posted 10:14 20th April 2010
Nick Pegg (Tottenham) (Tottenham Hotspur fan) says...
man united deserved to win the derby and as for chances, you only have to look at the missed ones from rooney and giggs near the end of the first half, as well as the early attempts from fletcher and gibson which had given worried. I am really hoping that spurs go to old trafford on saturday and play with the same intensity that they do at home, kaboul has been great at right-back as he gives us more power and pace at the back, would also be nice too see aaron lennon on the bench, bale and lennon on either wing would worry any team in europe.
Posted 10:09 20th April 2010
Dave Hughes (Chelsea) (Chelsea fan) says...
I have to say as a Chelsea supporter, well done Spurs, but it annoys me watching Chelsea. earlier in the day i watched the Man utd vs City game and although City were hard done by losing in injury time, United fight until the final wistle, where as Chelsea seem to carry little fight and get beaten by teams who hustle them. at times it almost looks like they're too scared to get into a battle but to be champions that is what you need. i still feel United will finish top because of this, i also feel Chelsea need some flair brought in next season, the likes of Defoe, Lennon, Bale, Modric for spurs can unlock a defence with a turn of pace that excites the crowd and lights up a match, whereas Chelsea are like a well-drilled machine with no creative ideas. Bring on Aguero next season and also i'd like to see some English talent, the likes of Everton's Gosling and Rodwell would be welcomed, and some of the other youth we have at the club should be given the chance, Kakuta looks the part and Borini should have a bright future, out with the old....in with the new!!!
Posted 09:31 20th April 2010
Sean Jones (Manchester Utd) (Manchester United fan) says...
Typical of Chelsea to say we were lucky. city had no clear cut chances, except for the one that was cleared off the line, and even then but we had a row of defenders there. United 100% deserved the win with Rooney and Giggs missing clear cut chances. if Chelsea don't win against Liverpool it's United's again.
Posted 22:28 19th April 2010
William Green (Manchester United fan) says...
@ Abdinajib Arten- man utd arent really lucky because we were the better team and had way more chances, and also the fergie never say die mentality almost always prevails
Posted 21:48 19th April 2010
James Hopkins (West Ham) (West Ham United fan) says...
As a West Ham fan, I am asking for your opinion on who will stay up and who will go down to the championship. do you think Hull and/or Burnley will dramatically come back like West Ham did in the season when Carlos Tevez kept us up, or do you think West ham can remain where they are?
Posted 21:04 19th April 2010
Paul Dickinson (Tottenham Hotspur fan) says...
Terry got 4 chances on Saturday! The foul on Defoe and the handball went unpunished without cards. If you go to ground you are taking a chance. He threw himself at ball knowing that if he missed the ball Bale was going down. After his earlier tackle he should have had the discipline to stay on his feet
Posted 19:32 19th April 2010
Danny Burke (Morecambe) (Morecambe fan) says...
Kammy, I dont agree with your assesment of the John Terry situation. He has his warnings, about four of them in fact before getting booked the first time, he should have been booked much sooner. He got his second booking for what would have been a bookable offence had it been his first. The ref got it right. Going into that tackle down the line with Bale, Terry being the experienced international he is knows he's on a booking and knows he's in trouble and shouldn't dive in. I would say the same for anyone, not just centre halves. I am glad to see Bale firing in the premier league, a lot of people wrote him off after his spell of indifferent form and I hope he can continue to show his quality
Posted 19:16 19th April 2010
Babalola Abayomi (Manchester Utd) (Manchester United fan) says...
I think my own major interest for this last weekend was how livid Carlo Ancelotti was while his players were losing out to Spurs. Who says defeat is sweet? Also, maybe Fabio Capello now has a solution to his goalkeeping problem or perhaps even more of a headache, as I would suggest that JT be given a look in for the man-in-gloves position for the Three Lions. What a weekend for the London Blues ( who in actual sense I am not ruling out for the title yet)
Posted 19:16 19th April 2010
Zain Khan (Arsenal) (Arsenal fan) says...
Arsenal would have won the title or would have been closer to the top had there not been so many injuries. i mean this has been the worst season for injuries, Arsenal's physio was saying that normally there are one or two fractures per season but this season there were seven fractures, i mean who can survive with that. it was miraculous arsenal were still in the title race with all those injuries, missing six or seven main players, and Man U. can't even survive with just Rooney out, or Liverpool with torres out. if robin hadn't been injured for 5 months , things would have been so much different. having said that i do accept there are still a lot of weaknesses in the team that were exploited by the big teams, a goalkeeper and a striker are a musts this summer, and a defender too! and Arsenal will be ready next season. hopefully!
Posted 17:24 19th April 2010
Lee Jones (Sunderland) (Sunderland fan) says...
Really suprised at Chris' thoughts on John Terry's red card on Saturday. He made numerous niggly fouls before he got his first yellow for that foul on Pavlyuchenko. That second booking was a disgraceful challenge. Bale had him for pace and Terry took him out. If Terry hadn't done so, Bale would have had a great opportunity to set up his team mate. So technically, Terry played a part in illegally preventing a goal-scoring opportunity - definite yellow card. Kammy - I think you are very much on your own on this one. Just one addition - Michael Dawson was phenomenal and in front of Capello as well. Outside of Terry (ha!) and Ferdinand, he has to be the next choice. Upson who?
Posted 16:22 19th April 2010
Tom East (Manchester Utd) (Manchester United fan) says...
@MR ARTEN, You mention City's great chances but i fail to recall any that were as 'great' as Giggs or Rooney's chances, United also had more possession, all of this despite playing away in a heated derby game on the back of bad results! It was a great united performance with Scholes back to his best and controlling the midfield, we've needed him to do that more this season, but we can't complain, he's a utd legend. We do need to replace him quickly though, Carrick and Anderson aren't good enough and Hargreaves will never be able to sustain long periods of fitness.
Posted 16:18 19th April 2010
Alyn Evans (Liverpool) (Liverpool fan) says...
No Chris, you're wrong. If a player commits two fouls which are worthy of being yellow cards, then he deserves to be sent off. John Terry has been woefully out of form all season and could easily have been booked in the first ten minutes of the game. He should be experienced enough to know that he shouldn't have dived in the way he did against a player who was always going to get to the ball first.
Posted 15:32 19th April 2010
Nick Hartley (Blackburn Rovers) (Blackburn Rovers fan) says...
How come hardly anything has been mentioned about arteta's eye poke on pedersen? If this was say, John Terry, it would of been blown out of the water or if pedersen did it to arteta. I for one think he would of seen red, the referees are being so inconsistant and favour the big boys.
Posted 15:23 19th April 2010
Tom Nolan (Manchester United fan) says...
Man utd were 100% the better team on Saturday.totally deserved the victory.do beat city by scoring late THREE times this season is an amazing feeling.I was at the game & I have to say the city fans behaved worse than they usually do.chanting about Munich nearly the whole game.to beat them like that in front of their own fans was bitter sweet.they thought they were going do united over & to see their heads drop at the end was great.Chelsea underestimated spurs like they did with city and paid the price big time.terry definately deserved to be sent off.that BLATENT handball against Bolton came back to him.when bale ran on to that ball,you knew what was coming.terry was not getting there before bale and took him out.the ref had a good game.there is not much to be said about arsenal.easiest run in,couldn't take advantage of it.don't have the quality/heart/steel to see the games out now.the pretenders in every sense.
Posted 14:30 19th April 2010
Shuja Ahmad (Manchester Utd) (Manchester United fan) says...
Sorry Kammy, i understand your point about players getting second yellows for a normal free kick or tackle but you are wrong about the Terry incident. John Terry had four or five bookable offences (handball penalty, dragging Defoe down as last man and the two cards he did get) in the game & got booked for the last two. Both were clear yellows and his second one was really reckless andunprofessional. He's already on a yellow, Bale is going down the wing to nowhere & terry was never going to win the ball! Why jump in for the tackle there? Bale wasn't going to score a goal from there!
Posted 13:04 19th April 2010