Try as you might, you can't hide from destiny. For 67 minutes and 39 seconds of the Men's Ice Hockey Olympic final in Vancouver, Sidney Crosby did his best to hide from his. One second later, destiny caught up with him.
When Crosby took a give-and-go from Jarome Iginla and fired the puck past US goalie Ryan Miller, destiny came crashing around him, sending a sonic wave of celebration across Vancouver, and reverberating throughout Canada. It was one of those unforgettable sporting moments.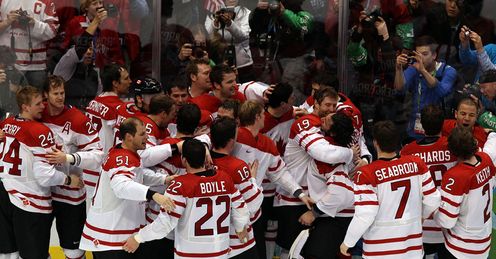 And until that moment, destiny was just toying with us.
It was quite surreal Sunday night, watching the game and listening to commentators and pundits discussing the anonymity of Crosby during the intermission between the end of regulation and the start of OT. Never thought I'd hear such a conversation.
Crosby had been on the periphery of the game, but one of the true marks of greatness is to shatter the silence. The ability to come from nowhere to strike the most telling blow, the final blow. Crosby delivered it.
Everything else in the Olympic Winter Games was done. No more figure skating, no more curling and no more snowboarding. All eyes were on Canada vs. USA. And as soon as Zach Parise sent the game into sudden death with only 25 seconds remaining, nobody dared blink, let alone channel surf for a while.
It only ended when the USA turned their heads for a split second. That was all he needed.
Effective
Somehow, Crosby had convinced them that he no longer existed. Was he just off-form? Was he carrying an ankle injury? Was shouldering the expectation of a country too much for him? There are few national sporting burdens that weigh heavier than hockey in Canada. Crosby's performance in the game only served to amplify the arrival of his destiny when it happened.
When the moment arrived it was like a premonition, an odd feeling of déjà vu. You knew it was going to happen, but Crosby had created just enough doubt to make the possibility of a Canadian loss a real threat. By diminishing his impact throughout the game and the entire tournament, Crosby bought himself that extra second, that extra step, that extra space which would be all he needed.
Take a look at the goal again.
As Crosby approaches the left-wing boards with Brian Rafalski shadowing him, the three other US players on the ice at the time are Ryan Suter , Zach Parise and Jamie Langenbrunner. Suter was tied up with Iginla in the corner, while Parise was on the other side of the ice looking at the right D-man Drew Doughty and Langenbrunner was in front of Crosby watching the left side D-man Scott Niedermayer.
With Crosby and Iginla on the boards and the other players dotted near the blueline and opposing wing, a gap appeared at the centre. There wasn't much empty ice to see in the defensive zone throughout the game as nobody took a risk and with Canada stacking up the blueline to protect their lead in the third period. With 4-on-4 OT though, there was space to be found, or for Crosby - space to be created.
As Crosby played the puck to Iginla, neither Langenbrunner or Parise moved. They stuck with their assignments. That's fine, but there 's always an exception. No matter what coach Ron Wilson had said about protecting the point, they had to know who they were dealing with. But after Crosby ghosted through the first 67 minutes and 39 seconds, they figured it was ok to stick.
Switch Crosby with Ovechkin.
Do you think Langenbrunner and Parise stay put then? Of course they don't. He would be their first priority; worry about the D-men later. That's why Crosby's so effective. He doesn't waltz past three players and score while he's falling over. He just arrives at the crease when the time's right.
Naturally, Crosby left Rafalski behind him. When he tapped the puck to Iggy, it looked harmless enough, but take a look at the replay and see how quickly he jets off towards the net. He saw it coming. In a way, we all saw it coming, we just didn't know how or when.
By the time Parise could react it was all over. Miller never stood a chance.
Brent Pope summed it up best when he declared: "Sidney Crosby was born for this moment."
There was no escaping destiny.
Comments (3)
Carey Wright says...
Great game! I agree, I cant see why sky don't do a hour highlights show every Sunday focusing on the Elite league games from that weekend and play a live game in the week. Its all very well having one game on a Friday but I don't watch it because I already know the score and am often out.
Posted 16:16 9th March 2010
Steve Rowe says...
Absolutely agree. Great game! The sport NEEDS to be advertised and marketed better in the UK. I dare anyone to go to a Panthers / Steelers game and not be hooked! The amount of football news that suffocates the rest of sport headlines is far too much, and that coming from a big football fan. Sky needs to show more up-to-date coverage, or at the very least Goal highlights on Sky Sports News.
Posted 13:35 9th March 2010
James Woods says...
This match was absolutley fantastic it had everything, great for the ice hockye game. If only Englands ice hockey could grow and get a big interest with the public as it IS a million times better than football where absolutley nothing happens for 90 mins, i think sky sports should televise more ice hockey either english or get NHL rights so interest can grow.
Posted 12:20 1st March 2010