Scoring heavily in the first innings of a Test is no guarantee against defeat, as England found out on their last visit to Adelaide in 2006/07, but as Andy Flower admitted this week his batsmen can do much more to put Australia under pressure for the rest of the series starting with the second Test.
England suffered a number of batting wobbles against Pakistan this summer and have looked vulnerable at some stage in each of their matches on tour so far and it's hard to come up with a cast-iron reason why.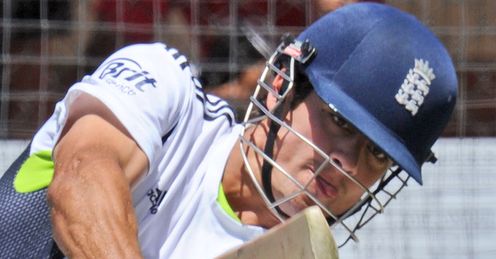 All of the batsmen to a man said that the seam-friendly conditions they encountered this summer were the most difficult they had encountered in their careers so far and therein perhaps lies part of the answer.
Moreover, as the Duke ball continues to move around as it gets older it is possible that batsmen who play a higher proportion of their games in England never quite feel as 'in' as those who bat elsewhere and consequently aren't so adept at turning starts into big hundreds.
Strauss' attitude - one that he has helped to foster throughout the team - showed that he is prepared to take on Australia whatever the situation; that is a very important message for any captain to convey.
Mike Atherton
Quotes of the week
SECOND ASHES TEST
Australia v England
11pm, Thu, Sky Sports HD1
Follow the Ashes
wherever you are
- on Sky Sports HD1, Sky Player, Sky Mobile and skysports.com
We have also seen a lot of pitches recently that have started with a little bit in them before becoming flatter rather than deteriorating and it may be the case that it is becoming more difficult to bat first than last.
Confidence
Whatever the cause of the deficit, England will take an enormous amount of confidence from the manner in which they recovered from conceding a first-innings deficit of 221 to draw in Brisbane.
Flower is right to stress that England shouldn't get carried away with the result - after all the game was drawn and the bowlers only took 11 wickets, the same number as Australia.
Nevertheless it was wonderful to watch English batsmen play with the authority that Alastair Cook, Andrew Strauss and Jonathan Trott displayed on the final two days.
Strauss played as well as I've ever seen him play and I was particularly impressed by his aggressive intent; it's easy when you are well behind in the game to dig yourself into a deeper hole but he gave off a vibe that suggested there wasn't much to worry about.
His attitude - one that he has helped to foster throughout the team - showed that he is prepared to take on Australia whatever the situation; that is a very important message for any captain to convey.
Cook responded with a mammoth innings of the type that England have been crying out for in recent years. Technically he played better than I've seen him play in the last two years; he forgot some of the things he's been working on in the last few months and went back to some of his older methods of play; he looked a lot more instinctive and natural as a result rather than someone who has been over-coached.
His back foot play has rarely deserted him in the difficult times but in this innings his driving and solid forward defensive play demonstrated that he has rediscovered his balance and weight transfer.
Equally, Trott's fluent driving through the off-side was particularly impressive for a player who more often than not likes to shovel the ball through the on-side.
Uncomfortable
As a unit England are more than capable of putting a substantial first-innings score on the board and now they need to because Adelaide has a reputation as a bit of a bowlers graveyard; the batsmen can't afford to sell the seamers short.
Bowlers have to show more heart and stamina here than normal to keep running in and possess plenty of skill besides because once batsmen get in at Adelaide they will punish you.
It is a tremendous place to bat and if the wind blows off the desert as it did in 1998/99, raising temperatures into the early to mid-40s, life can become very uncomfortable for bowlers indeed.
Four years ago England were mesmerised, then destroyed by Shane Warne; while Graeme Swann is not in Warne's class, England will hope that he can get a lot more out of this pitch than he did in Brisbane.
If they do get themselves into a position where they are 200 runs up on Australia after the first innings then I'm convinced that Swann will have far more of an impact than whichever spin option the home side go with.
Laboured
For England the only selection issues are whether Steven Finn might need a rest and whether a shorter, more skiddy bowler like Ajmal Shahzad who reverse swings the ball might be more effective on this type of wicket.
I suspect the selectors, unlike Australia, will stick with the same side.
It is a big call for the hosts to drop Johnson because he has 166 wickets behind him and without him at No 8 the tail looks very long indeed.
On present form, though, it was hard to see how he could get any of England's right-handers out.
England left the ball well outside off-stump and coped with the short stuff thrown at them more than adequately; with Johnson unable to swing the ball back into the right-handers, his effectiveness will diminished considerably.
While he remains a very decent cricketer, Johnson's low-arm action means he has minimal margin for error and he doesn't possess express pace either.
Without him Australia lack a potential wicket-taker but, as Cook proved in Brisbane, Test cricket is about making the most of your ability when your team needs it most and with the series level neither side can afford to carry any player.
BEEFY'S BETS: Find out more about Beefy's charity Ashes bets by clicking here!
Comments (9)
Rod Long says...
I cannot wait for Belly to get in and get going. I think that he and Cook are going to become true English legends and this Ashes series is going to be the platform to relaunch both of their careers. Well done to the selectors for sticking with the pair of them.
Posted 21:43 4th December 2010
Dada Mavado says...
the england selectors and andrew strauss have justified their reason for sticking with cook and pietersen even when they were believed not to be in form.they are shgowing their worth in this ashes series they should keep it up.
Posted 08:05 4th December 2010
Simon Adamson says...
Can we now have another comment from one chapple brothers about how weak Cook is. Was it Ian Chapple that said he wouldn't pick Cook? Was he worried?
Posted 07:15 4th December 2010
Matt G says...
Sunil - Colly is our allrounder...... the Aussies have Marcus North, who hasn't exactly set the world on fire, and Michael Clarke, who can't bowl, due to a degenerative back injury. We also have Broad and Swann, who are exceptionally talented bowler/batsmen, and Trott, KP, and Belly, who can all bowl a bit. Face facts - for the first time in many years we have a side that on paper is the better, if only slightly, than the Aussies. Add to that that the tremendous team spirit that Strauss and Flower appear to have engendered, and Australia quite rightly are worried. I don't believe for a minute that this series will be won 3-0 or 3-1 by either side, but I do honestly think that at this moment England have the momentum and the self-belief to take a lead away from this match. It will then be very interesting to see how Australia react to being behind in their own country with their own media on their backs, and Ponting under pressure. Ricky has shown in the past that he is a less than imaginative captain - I for one cannot wait to see how he reacts when the likes of Jeff Thomson and Ian Chappell start seriously questioning his position as skipper. Strauss may be a little cautious for most people's tastes (mine included at times), but I suspect that come the middle of January, we may well be toasting him and his "middle England" attitude. Add to this a KP who is due a headline grabbing performance, and the Ashes are there to be regained. For the first time in many years, I can honestly say that there is not one Aussie I would swap for one of ours. COME ON ENGLAND!!!!!
Posted 02:30 4th December 2010
Chris Williams says...
Can anybody tell me why the so called men of the Australian cricket team wear that sun block face make up? Sure you need to block the UV's, but the fact that it only seems to be the bowlers suggests to me that it's done in an attempt to put the batsmen off. It should be banned in my view.
Posted 00:21 4th December 2010
George Staples says...
Aren't we forgetting what happened at the Gabba? This seems to be a reversal of that game and yet these England sup[porters are already chalking up a victory. Don't forget there is the England middle order ready and able to fold up as they usually do. The Aussies mad a mistake in batting, just like Nasser did all those years ago,. BUT they won't fold up and lie down. George Staples
Posted 16:52 3rd December 2010
Loz S says...
Hi Sunil, Australia 245 all out. On a typically flat Adelaide pitch. Hmmm... Now if Anderson can't swing it in Australia, Finn & Broad bowl too short and not quick enough and Swann has never troubled Australia, what exactly does that tell us about the Aussie batting line up? Need I say more? Nope, don't think I do.
Posted 09:38 3rd December 2010
Elly T says...
Ok lets analyse australia for you "Sunil G". They have simon katich who fails if you bowl round the wicket to him, watson is a make shift opener and his highest score isn't even past 140. Ricky Ponting is getting on and can be got out by a decent short ball, clarke has back issues, hussey is inconsistent and marcus norths head has gone. As for the bowling it speaks for itself. Poor. And nothing ryan harris or doug bollinger can do will change. There not international test level bowlers. And the spinner, doherty, very poor.
Posted 16:22 2nd December 2010
Sunil G says...
As bad as Australia's bowling attack seems to be, well England's doesn't represent anything threatening either. Anderson can't swing it in Australia, Finn & Broad bowl too short, and not quick enough to trouble the Aussie bating lineup. Swann has never troubled Australia. Australia don't fear off spinners on home soil, not matter who they are whether it's saqlain or Murali, no off spinner has ever taken many wickets in Australia. And then you have Collingwood as your allrounder.. need i say more?
Posted 12:17 2nd December 2010