Every Saturday afternoon, Chris Kamara heads to stadiums up and down the country to deliver his unique match reports for Soccer Saturday.
On Sundays you can see him back in the Sky Sports studios as he brings you all of the highlights as well as in-depth analysis of all the action on Goals on Sunday.
And then on Mondays you can find Kammy right here on skysports.com as he brings you his views on the weekend.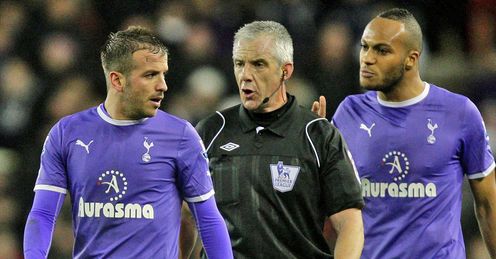 Join us every week as he runs through his highs and lows of the Premier League...
After last weekend's controversies, you'd think the referees would make sure it would all go smoothly...
... but it was back to square one in the Stoke v Tottenham game. There's three officials on the pitch and a fourth official, so how could they all miss a definite handball on the line and Emmanuel Adebayor being two yards onside? It doesn't make any sense. When it's borderline you can forgive human error, but they gave that offside when it wasn't even close. It's baffling. I just wish it had happened on Saturday so we could have digested it in detail on Goals on Sunday.
Why were people slagging off Stoke's style of play on the radio on Monday morning?
Stoke aren't given enough credit. The reason we've got the best league in the world is because our teams don't all play the same. You have to deal with different styles and situations every week and that's what makes it great. There's no bigger lover of football than me; Barcelona are my favourite team and I love watching them, but I also love watching Stoke when they set their stall out to stop teams and you find out how their opponents react. If all 20 teams in the Premier League played like Barcelona, after a while I think we'd get fed up.
What on earth did Chris Samba do wrong?
The answer is nothing. Blackburn had a perfectly good goal disallowed before half-time because of a supposed foul by Samba. That was another poor decision and it could have been game over by half-time. That would have been a huge result for Steve Kean, but it seemed to be written in the stars that Martin O'Neill was going to get a win in his first game as Sunderland manager. I'm delighted for them, but it was a bad decision.
There's no way that Bolton are relegation fodder
I was at their game against Aston Villa and neither side looked like relegation material. Villa have too much pace and while Owen Coyle could do with adding a bit of that, there's enough good footballers in his team. They're bottom of the table, but I would still back them to stay up. Aston Villa didn't allow them to play for the first 45 minutes, but Bolton weren't bad in the second half. The injury to Ivan Klasnic possibly killed their chances of getting back into it because he was their best player, but they look short of confidence, that's all.
Paul Lambert deserves credit for some clever management
Norwich can play various ways, but on Saturday they exploited the fact Newcastle had no recognised centre-halves. Every goal came from a header or resulted from a header and it's clear the manager weighed up the situation and told his players to get more crosses in and to exploit them in the air. They caused problems all game long with that approach.
Wayne Rooney is still the spark for Manchester United
I said on Goals on Sunday that I thought Wayne Rooney didn't perform against Basel and as a result, the rest of the team wasn't ignited. I got a few Tweets back saying they're not a one-man team and Nani has been their best player this season, but the thing I spotted from the European game was that if Rooney had been on fire then the rest of them might have been also. I'm not taking anything away from the other players but, for me, he's still the one that sparks it all off. On Saturday, he played well against Wolves - and the rest played well, too.
Arsenal keep soldiering on
I'm not sure you could describe their victory over Everton as an "ugly win" when you see the goal that Robin van Persie scored, but they have toughened up. Earlier in the season they looked vulnerable every time the opposition attacked, but they don't look that way now. They've sorted themselves out and Alex Song deserves some credit. It was a wonderful finish by Van Persie, but the pass and the vision from Song was tremendous.
You can't keep Luis Suarez out of the news
We saw another goal from him against QPR and it will be interesting to see what happens over that charge for his gesture after the Fulham game. Obviously he shouldn't react to supporters, but when there are mitigating circumstances I think he should only get a slap on the wrist. If there was only one fan hurling abuse at him as he walked off the pitch it would have been out of order, but there was a whole load of them. Obviously it can't be tolerated if he does it again, but I'd like to see a slap on the wrist on this occasion.
Comments (16)
Joshua Flint (Stoke City fan) says...
I'm a season-ticket holder at Stoke and I have no complaints. I'd rather watch Stoke's football more than Barca's when Barca play all their short patient passing nonsense. Yes it's a good talent, but after seeing Xavi pass to Pique, back to Valdes to Abidal etc I get a bit bored. In the El Classico on Saturday we saw a prime example of why Stoke play like they do. Long goal kicks are safer than shorter ones. It just so happens that we have a 6"7 striker up front now who is good at heading the ball which helps when we do go long.
Posted 16:54 13th December 2011
Lee Mufc (Manchester United fan) says...
Stoke aren't getting criticized for the style of play it's the cheating part that leaves a sour taste. There's these stupid comments that keep cropping up in football when talking about Stoke like 'that's a good hard challenge' or they're such a strong team which really means they use dirty tactics when playing especially at home and referees seem to give less at Stoke because it's expected. Jay Spearings challenge against Fulham or Cahills at Spurs wouldn't have even been a booking if Shawcross, Woodgate or Huth did them at the Britannia stadium and I know Stoke fans will start going on at this comment but I'm correct on this matter and like it or not everyone agrees after years of watching players from our teams limp off the pitch without your player even getting booked.
Posted 13:14 13th December 2011
Andy Kondratiuk (Stoke City fan) says...
Please, please, please keep blaming Stoke for the deficiencies of your own teams. None of you stood up and admitted when all the decisions went against Stoke, now your all blaming the referee's. Stoke have no control over the referee, we don't surround him when one of our players falls over pleading for a card to be shown. We just get on with it. Keep on moaning, when you are, Stoke will be winning.
Posted 12:38 13th December 2011
Danny Bland (Manchester City fan) says...
There havve been refereeing mistakes galore every single week. Nobody seems to be mentioning that on Tottenham's penalty, there was absolutely no contact. I'm a Man City fan and have no problem with not getting the penalty yesterday when silva was clipped as it took 8 or 9 views just to show there was the smallest of contacts, but that also was a wrong decision. As was not at the very least talking to and booking Yaya yesterday for ridiculous behaviour. The Blackburn game ruined by refs. They just need more help. Technology and possibly more referees? Look at other sports, they get decisions correct because they have a higher refs/players ratio and technology as well. Basketball has 3 referees for 10 players on the court. And video replays. American football has up to 7 referees for 22 players, and video replays. Take a leaf out of there book and half one referee for each half along with the touch judges? I don't care how but they need to help them.
Posted 11:32 13th December 2011
John Kenny (Liverpool fan) says...
I like Kammys comments on the Suarez 'finger'. Here's a different take on it. If he was to do it in the street to a load of people giving him abuse the most he would face is an £80.00 fine from the boys in blue, but then the group giving him abuse would also face some kind of punishment. Doesnt make it right but lets keep it in perspective. Too many 'sensitive' people out there that need to man up a little.
Posted 10:50 13th December 2011
Chris Jones (Middlesbrough fan) says...
Can't believe the fuss about Stoke Spurs yes there were 2 poor decisions however even the commentators never saw the handball until the replays!! Referee mistakes happen all the time and until the sport makes a call that a 4th officail can watch on TV and call a mistake nothing will change. The game is high speed and the poor ref has a dozen things to pick up on all without the super slow mo replays
Posted 04:31 13th December 2011
Paul Avery (Stoke City fan) says...
I'm a proud Stoke fan and have got used to fans like John Smith slagging us off. If we are such a cheating, violent team, why have we not had one single player sent off in the PL this season? We play the game to our strengths and people don't like it, but I won't lose any sleep! Cup finalists, first team to qualify (through leagues) in Europa League. Not bad for such a terrible team!!!!!! Of course, all other PL teams are so perfect. Whelan nearly had his nose broken against Blackburn due to a seemingly deliberate elbow, but that's not mentioned. People also forget, Spurs cleared a certain goal with a hand against Stoke last year.....so why are they not cheats???? Keep going Tony........
Posted 22:12 12th December 2011
Whistleblower ref Ref (Manchester United fan) says...
I¿ll say again until the FA implements a true system where the BEST referee from lower level is promoted due to his marks and not because of who the referee is then we will continue to get the same rubbish week in week out. Referee like these officials have only got where they are on the select list due to favouritism from persons like Neil Barry. The thing they should do to these officials is deduct wage from them as they are earning £60,000 a year pulse expenses. A further point these referees are there to administer laws of the game but they put their own interpretation of the laws instead of doing correct thing in law. Moreover due to these referees getting to the top they perceive themselves better than any other person on the day of the game. A further point is these referees should be made to explain there decision after a game to the press. managers should also be allowed to critise match officals and the making system that is done throughtout the lower leagues should be done to these officals only they are assessed by several assessors
Posted 19:38 12th December 2011
Jim Davis (West Bromwich Albion fan) says...
I see Liverpool were at it again on Friday, moaning about not getting a fair deal from the officials. I'd just like to point out to Kenny that even his lot were able to get a penalty down at the Hawthorns!
Posted 17:38 12th December 2011
Sean.p Murphy (Manchester United fan) says...
VERY VALID POINTS I HAVE JUST READ-- but unfortunately until video technology comes into the game and stops "the bickering" i"m afraid we will all argue til we"re blue in the face.. I mean RUGBY has had technology for (seems like donkey) years,and when watching a game on sky sports we can see "incidents" from at least 4 different angles in a matter of seconds -SO ! for people to call on this as " slowing the game down" is well out of order !
Posted 17:23 12th December 2011
Tony Spurano (Tottenham Hotspur fan) says...
Honestly, with multiple decisions wrong yesterday, some like the hand ball off the line (as opposed to the handball stoke goal!) and the offside, it is truly hard to be suspicious of either the match day official's motives, or their agenda. It's also worth noting that the eagle eyed 4th official noticed Kaboul complaining about the handball, but missed the handball, offside, penalty shouts etc.. A poor day for refereeing, and Rednapp will end up charged. What a joke, at Stoke
Posted 17:05 12th December 2011
Sam Wezzo (Chelsea fan) says...
Completely agree with Kammy - if all teams played like Barcelona we'd get fed up! Playing against teams who don't play total football really shows the class of teams who can break them down and secure points. Teams should play the style of football they need to survive, hence why Stoke are such a success. They don't pretend to be something they are not, they recruit and sign players who compliment their style of play. A David Silva or Mata just wouldn't suit them, but throw in the hard grafters such as Walters and Crouch and they become a tough outfit to get points at. If teams such as Blackburn, Bolton, Stoke and Wigan for example (no disrespects) started playing possession football, they'd struggle for points. Fair play to them, I know from being a Chelsea fan I'm never confident when we go to the Britannia. Bolton used to be our annual banana skin, but it's the sign of a good team who can beat the opposition playing in the styler of their club, not somebody elses.
Posted 14:13 12th December 2011
Jeff Walker (Oldham Athletic fan) says...
Yet another Premiership match ruined by dreadful referee and assistant referee decisions. So bad that Mr Foy and his colleagues should in my opinion be banned from Premiership matches for 3 games and made to sit and watch continuous replays of the Stoke v Spurs game. All made worse when Managers like Tony Pulis start crowing about how good his team are, when in fact he only appears to have around 4 decent Premiership class players in his side, the rest are dubious contenders I'm afraid. Sorry but once again my viewing of what should have been a top quality football match was spoiled because the end result was totally wrong. And I'm not a Tottenham fan.....but this will simply encourage me to have Sky Sports removed from my home at the end of this season, because the result was wrong, the officials wrong and the game therefore nothing more than a lottery result. Referees, like Managers and players should be made to pay for their mistakes by suspensions etc.
Posted 13:05 12th December 2011
Walid H (Arsenal fan) says...
If the Fulham fans were hurling personal abuse towards poor Suarez then the gesture may have been a tiny bit understandable. But I'm sorry, there are players get called a 'Cheat' week in week out all across the Leagues in England by opposition supporters and they all seem to be able to behave so why is it so difficult for Suarez?
Posted 12:46 12th December 2011
Daniel Burke (Norwich City fan) says...
As a football fan first I would love to know why officials performances at the top level are not scrutinised in the same way as the players. Yesterday, a great footballing team in Spurs were robbed of the chance to beat stoke, as they had every right to do. Take nothing away from stoke's effort throughout the match, undeniably superhuman. But until we start rewarding quality instead of work rate we will be in danger of a lower standard in the game. Being a Norwich fan I found myself wondering how the 'assistant referee' somehow missed the blatant handball at carrow road on saturday, the only act the defender didnt do was catch the ball. The official is even on that side of the pitch, his view in no way obstructed, yet on goals on sunday, a bigger issue was made out of the corner that wasn't, and I have to say, it was another poor decision from that same official. On that same side (ironically against stoke) the official waves his flag for a penalty when the challenge was 3 yards outside the box, with the ref's decision influenced to send our played off also. There are no excuses for such poor officiating and yet their title has somehow increased to assistant referee, when there is no assistance provided at all, the penalty for newcastle at Old Trafford yet another example. We all crave consistancy in a league that should be the pinnacle of all football around the world. This said, the officials are just as much an advert for our game as the players on the pitch.
Posted 12:34 12th December 2011
John Smith (Fulham fan) says...
"Why were people slagging off Stoke's style of play on the radio on Monday morning?" Because they don't like to see cheating, time wasting and violent behaviour
Posted 12:21 12th December 2011