I was shocked and disappointed to hear that Harry Redknapp had left Tottenham.
I was lucky enough to be at the San Siro when Spurs beat AC Milan in the last-16 of the Champions League the February before last. It was an incredible night and terrific to share it with them.
That was just one highlight of Harry's four-year spell at the club - one he has left in a far better state than he found it in 2008.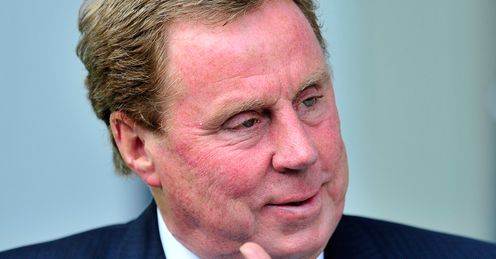 It's well-known that Spurs were bottom of the Premier League at the time but last season they finished one point off third place.
Quite simply, Harry did a fantastic job at the Lane - with a win-rate of over 50 per cent in all competitions he's Spurs' most successful manager since Bill Nicholson.
Harry says he isn't one for sitting at home and I certainly hope we haven't seen the last of him because he is one of the great characters of our game.
Nobody in their right mind could blame Harry for wanting the England job - you'd have to be very narrow-minded and short-sighted to deprive him of the opportunity - but that wasn't the decisive matter in all this.
Harry Redknapp
Quotes of the week
Forget what people say; he knows the game inside-out, is tactically astute and more than capable of doing some great business in the transfer market - the signings of Scott Parker (around £5m) and Emmanuel Adebayor (free) being two of the more recent examples.
Wherever he ends up he'll do a brilliant job.
Future
In some respects, though, Harry's departure isn't as surprising as it first felt.
It's well-documented that he had issues with chairman Daniel Levy - and also owner Joe Lewis for that matter - and that it could end this way.
But any on-going negotiations weren't just about Harry's future, they concerned the future of the club as a whole.
The feeling is that there'd be no funds to spend on new players if Spurs didn't qualify for next season's Champions League.
That would have concerned Harry and I suspect he fought that corner.
So when Chelsea won the title and forced Spurs to settle for Europa League football, the dye had effectively been cast.
That's the key factor in all this, I think, rather than the substantial speculation linking Harry to the England job at such a crucial period of the season.
Nobody in their right mind could blame Harry for wanting the England job - you'd have to be very narrow-minded and short-sighted to deprive him of the opportunity - but that wasn't the decisive matter in all this.
Popular
Naturally a whole host of names have been mentioned as potential successors to Harry, with David Moyes, Roberto Martinez and Andre Villas-Boas leading the field.
In some respects I find all the talk a little distasteful, coming so soon after Harry's exit, but if Lewis wants a young, modern-thinking manager, he might take a look at Gus Poyet.
With his Spurs connections I'm sure Gus would be massively popular with the fans and his work at Brighton has certainly put him on the radar.
I know the bookmakers don't consider him to be a candidate but Spurs could do a lot worse.
Comments (9)
Ryan Jackson (Tottenham Hotspur fan) says...
I dont see why everyone thinks its such a bad thing Harry is gone. Tactically that was very little there from him - he even said himself that he is more a man manager. Spurs have a good squad but we seem to get undone when the opposition dont want to openly play against us..hence why we didnt pick up results against 'easier' teams. Personally I would like to see Klinnsman or even Hoddle. I very much doubt Guardiola is a option but why not at least ask. AVB looks like it is pretty much a done deal, hopefully will work better than at Chelsea purely for Spurs being a younger team.
Posted 15:12 18th June 2012
Steven Sutton (Tottenham Hotspur fan) says...
daniel levy is a joke. harry redknapp was the best tottenham manager since bill nic in my opinion. he took the club from nowhere to the champions league and produced the best football tottenham have ever played in my time. i cant put into words how angry i am at the so called chairman who hasnt got a clue about football. im so glad i got to see them play football under a man who to me will always be the best i will ever see. good luck to harry and i cant wait to see the back of the disgrace that is dippy daniel levy
Posted 17:16 17th June 2012
Zarak Dm (Tottenham Hotspur fan) says...
my opinion avb gus poyet tactially are better then harry and atre younger options
Posted 19:10 16th June 2012
Dave Alty (Everton fan) says...
I feel so sorry for Harry Redknap but I think the writing has been on the wall since the England job became vacant,I didn't think Harry was the best choice ,Harry has always been one of the most respected managers in the premiership for years, an other is David Moyes who managers my local Team Everton, so Spurs please keep you'r hands off him ,,,I don't think he will go any way, He is on a good deal where he is,He has so much control over club and team issues , he answers only to Mr Kenwright
Posted 13:49 15th June 2012
Mo Jama (Tottenham Hotspur fan) says...
Disgusting long live king harry the best english manager in a decade playing the best football in the country and players like parker and bale into worlkd class talent i hope spurs dont regert this but i think they will he picked us up out of the gutter and thats were we will go if we appoint a bentiez type manager or moyes (good but not harry)
Posted 11:44 15th June 2012
Simon Warner (Manchester United fan) says...
Harry doesn't need to rush into management just yet. Judging by the contenders-if Villas-Boas gets the job then Spurs will be in the relegation zone. He was hopeless at Chelsea and likewise at Spurs. David Moyes is a good choice after Everton finished in a good position. Redknapp should try abroad if he wants to continue into management.Give him a break after all he did get Spurs into the Champions League
Posted 03:43 15th June 2012
Niall O'loughlin (Tottenham Hotspur fan) says...
Let me be the first to congratulate you on naming Gus Poyet as a contender for the position. If David Moyes or Roberto Martinez can be linked with my beloved club then why not G.P. who has more affinity with the club and fans as a player and on the coaching staff. Oh for a time machine and beating Norwich to Chris Hughtons signature, no better man IMHO...
Posted 22:56 14th June 2012
John Barnes (Tottenham Hotspur fan) says...
I truly agree with you Jeff and Harry shouldn't have left. :(
Posted 19:15 14th June 2012
Timbo Wilderbeeste (Manchester United fan) says...
This is why clubs like Spurs will always struggle along, especially with self-aggrandizing morons like Levy at the helm. The ingratitude for the work Harry has done for the team is beyond measure, and it's well worth pondering the comparisons between Redknapp and Ferguson at the same point in time for their respective clubs. As everyone knows, Fergie was not on the most solid ground 3 - 4 years into his time at Old Trafford, but the board held firm, looked at the work he'd done to revamp United from the bottom up, and gave him the time he so desperately needed. Look at the results! Spurs are simply symptomatic of the problems with modern football and clubs - if they don't get instant or improving results, the manager gets canned. Never mind that Harry has been getting by on a shoestring budget relative to many of the club's chief rivals. All in all a sad day for football, and as a United supporter all I can say is to wish Harry well wherever he ends up, because he's a fine manager who deserved a hell of a lot better than what he got from Levy and Co.
Posted 18:31 14th June 2012