Defending champions Pakistan have flattered to deceive at stages of this year's ICC World Twenty20 and yet have reached the final four.
Now Michael Clarke's Australia await them - a side that is keen to add the 20-over title to their haul of 50-over World Cup achievements.
It's a match that should bring the best out of both sides and who knows, says Sky Sports commentator Bob Willis, it could go down to the wire.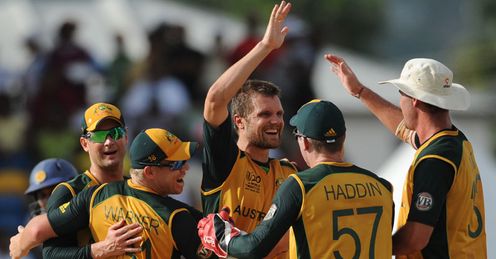 If you've got a question for Bob, send it in here.

Australia v Pakistan: 4pm, Fri, Sky Sports 1
The formbook says unbeaten Australia should waltz through this one in some comfort.
Pakistan lost every match on their most recent tour Down Under, which led to a carve up of their side and the start of what could be a lengthy rebuilding process.
We're still awaiting with some eagerness a batting blitzkrieg from Shahid Afridi.
Bob Willis
Quotes of the week
LIVE ON SKY SPORTS
Australia v Pakistan
4pm, Fri, Sky Sports 1
So it would seem that Pakistan don't have much of a shout and yet, given their unpredictable nature, the longer their run of defeats against Australia goes on the more you should expect a surprise.
Blitzkrieg
I'm sure they'll be the first to admit that they played some poor cricket against England, particularly in the field, but New Zealand only just managed to nudge them out in Bridgetown and then proved to be far too canny for South Africa.
We're still awaiting with some eagerness a batting blitzkrieg from Shahid Afridi and perhaps we will be treated to a similar show to the timely one he put on in the climax to last year's competition. His team is certainly as unpredictable and unreliable as it was back then.
Salman Butt opened the tournament in style and they'll need more of the same from him against Australia, while the Akmals - as South Africa found out to their cost - are exciting talents. There's definitely more to come from both of them.
I selected Umar as my batsman to watch ahead of the tournament and he stepped up against South Africa.
Adventure
The bowling attack still looks a bit iffy to me and lacks a spearhead of the likes of Shaun Tait.
Australia clearly have a plan and they are bowling to it - Tait, Mitchell Johnson and Dirk Nannes are not afraid to stick it up the batsmen but have also shown great variety in the way they go about their business too.
They are now experienced bowlers in this form of the game and, while they will go for runs from time to time, they've been rewarded for their adventure because I don't think England would have the nerve of going for someone like Tait on a regular basis.
Steve Smith is the latest blond wannabe to step into the sizeable shoes of Shane Warne and like everyone who comes to the fore in the Australian set-up he's shown he is a force to be reckoned with if he can find a little more control.
Destructive
He should have enough runs on the board to play with if Australia bowl second because the batting line-up is up there with the most destructive around.
Not only do they have players who can clear the boundary with ease, they have some who can do so with miss-hits as well!
Cameron White perhaps hits it further than anybody, which is saying something, and was phenomenal as he blasted his way to 85no against Sri Lanka.
Throw in Shane Watson, who gives Australia the perfect springboard at the top of the order, and David Warner who - a true 20-over specialist - and you have a line-up to frighten most attacks.
It would be great if England and Australia could get to the final; that's what I'm expecting will happen so that means it will probably be Pakistan against Sri Lanka!
Bob's delivered his verdict on the second semi-final - now give us yours by filling out the feedback form below...
Comments (8)
Ali Danish says...
Pakistan is only team who give Australia a tough time in this 20-20, only luck was not there. England is hot favourite this year, Keiswetter is attacking stylish batsman.... i love to watch it..............
Posted 22:10 15th May 2010
James Mcvey says...
England better win the icc world 20-20
Posted 15:03 14th May 2010
Rukhsar Ahmed says...
come on pakistan you can do it boom boom afridi
Posted 14:31 14th May 2010
Fergus Welsh says...
Pakistan can and will beat Australia. I think 20/20 is Pakistans strongest form of the game and like you said, Afridi owes someone a gubbing. The Akmals also seem to thrive on aggressive bowling and in this tournament, i think their best knocks have been when they are under pressure from an aggressive bowler like Tait. I don't think I could stomach it if the Aussies got to the final annd somehow beat England. I think England have good momentum going into this and they're due a Tournie win. COME ON ENGLAND DO IT! Not all Jocks hate you!
Posted 11:43 14th May 2010
Andrew Connor says...
Just to clear up, England arent undefeated, they lost there first game against the West Indies! But other than that we have looked good, infact we looked good against the west indies too!! SO come on england, whoever we play against if we perform like we have been doing then we have a great chance!
Posted 11:26 14th May 2010
Connor Young says...
Whoever wins out of the two England will still dominate with Craig Kieswetter and now KP is back England have no worries!
Posted 08:52 14th May 2010
Shona Khan says...
i think pakistan will win!!! inshallah they will win! :D :D GOOO PAKISTAN!
Posted 08:22 14th May 2010
Adam Whiteley says...
well if this tournement has shown us anything, its shown us anything is possable, and of course pakistan can win, there defending champions, so they dont have to "pull it off" at all, they already have done in the past, so why not now. i hope australia make it though, so england can thump them too
Posted 07:54 14th May 2010