I don't believe some of the rhetoric that is going around at the moment about Mohammad Amir's supposed involvement in the Pakistan spot-fixing allegations.
"The poor young lad," they say. "He's only 18, he must have been sucked in."
I don't care if he's only 18. At that age you're old enough to make decisions and know the difference between right and wrong. This is not a child, this is an international cricketer.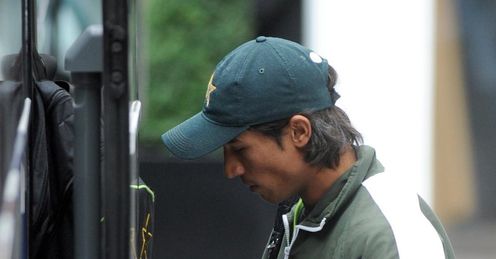 Every single international player has been conditioned through the ICC and through their own boards to report any approach - however innocent it may be - to their line manager. That is absolutely drummed into them.
It doesn't matter if somebody asks you what you think of the pitch, what you think of the weather, whether you want to bat first, what the team will be... any approach whatsoever should be reported. Every international cricketer knows that.
In these circumstances, if he found guilty, then I like the suggestion of a suspended life sentence. If he steps out of line again he's out.
Bumble
Quotes of the week
LIVE ON SKY SPORTS
England v Pakistan
First T20 international
2pm, Sun, Sky Sports HD1
Watch online with
Sky Player
How to
remote record
In the last couple of days Shane Watson and Brad Haddin of Australia have explained they were approached by somebody and they reported it to their team manager, Steve Bernard. All of the Pakistan players will be aware that they should do the same.
Amir has not appeared from nowhere. He has played quite a number of matches now and before his very first game he will have been made fully aware of what he should do in that situation.
At the moment these are just allegations and it's sad that he has been caught up in them. But if he is found guilty of any wrongdoing then he must face the consequences.
In these circumstances, if he found guilty, then I like the suggestion of a suspended life sentence. If he steps out of line again he's out.
Investigation
Don't blame the ICC for not acting straight away over this issue because they're not in a situation to do anything.
There are two aspects to this investigation; the criminal law handled by the Metropolitan Police and the sporting law, handled by the governing body. The governing body can't do anything until the police have completed their inquiries.
The Metropolitan Police are a fine organisation and will be methodical in their approach. I fully expect this to take a long time and a lot more will probably come out.
The ICC have put lots of measures in place with the anti-corruption unit, but eventually this all comes back to the home boards to deal with.
Have the home boards done enough? I don't think they have.
There are people who are playing or are involved at the highest level of the game who have been cited for similar allegations to those facing Pakistan right now. In my view, that suggests the home boards haven't done enough.
There has always been rumour and innuendo about cricket, as in all sports.
That's one of the reasons why the IPL leaves me cold. The commissioner of that tournament has been suspended over alleged financial irregularities and having spoken to players and people involved in the IPL, there is a lot of rumour about it.
But 't this is not a problem for cricket alone. Paul Condon, the outgoing head of the ICC's anti-corruption unit, has said there have been several sports targeted by unscrupulous gambling syndicates.
Snooker has had troubles recently, while golf and tennis have also been mentioned. Just last year, players from the football team I support, Accrington Stanley, were suspended after being accused of betting on their own team to lose.
Let's not be too naïve about this, there will always be an element of this in every sport, and I'm sure more could come out about the Pakistan situation in the weeks and months ahead.
I don't think for a minute that Pakistan have thrown any game, but there appears to be quite damning evidence that they've played about.
I look forward to the conclusion of the investigations because every wrong-doer that you catch is a deterrent to the rest of the players.
A rare Tweet
I hate those newspaper columns that England cricketers write, which are always vetted by the ECB.
"Me and Billy had a pizza and then we went to bed. Then we woke up and walked to the ground...."
Great stuff lads. Why don't you tell us what you really think?
That's why I enjoyed Kevin Pietersen's Twitter page on Tuesday when he expressed his anger at being left out of England's one-day squads. I'd rather hear his real emotions than the bland statement that came out through the ECB afterwards ("I fully understand the reasons blah, blah, blah...")
I don't agree with the bad language he used, but otherwise that was just what I want to hear from cricketers. He'll get his wrists slapped, but I say good on him.
The ECB will have been upset because they like to control when the announcement is put out to the media. They'll probably be more upset about that than about what he actually said.
More importantly, I want to know why they're sending him to play for a team that's second bottom of Division Two. Is that really the best way to prepare for the Ashes?
In my opinion, the best thing for him would be to clear off with his family for a while. He looks like a troubled lad, so why not send him for some time away with his new baby and come back with a smile on his face.
He'd need to maintain his fitness levels, but I think a break from cricket would benefit him a lot more more than playing for Surrey.
On tour
I'm off to do a Q&A session up at Cockermouth Cricket Club on Wednesday to help them out after all the trouble they've had with flooding. It's a nice part of the world and I hope the town is getting back to normal.
And I'm pleased to report that tickets for 'The World According To Bumble' theatre tour are selling well.
Peter Hayter from the Mail on Sunday will be joining me on stage and the audience will be able to ask my opinions on cricket and more. Expect plenty of ranting!
I'm doing 22 nights across the country starting in Leamington Spa on October 26 and finishing in Morecambe on November 19. Click here for ticket details.
Comments (32)
Hamza Tariq says...
This is something I wrote for Mohammed amir Amir, Amir, Amir! We cheer his name for a magical, breath taking wicket. The lion of Pakistan, the protégé of the great Wasim Akram. He came from nowhere, not even placed of the map. He won our hearts, he won our country. Started every match, also ended every match. 18 year old brilliant bowler, ever to take 50 wickets. You couldn¿t handle the fame, money, and acknowledgement. Top of the world you were, until devastation happened. 25th August, when News Of The World illustrated your other side. What will happen to your young, guilty soul? Your simile would light up the whole stadium and also would light up our hearts. Hopefully it will light up the courtroom. We pray for your soul, we pray for your passion. Hopefully, we will see your magic again, hopefully. Inshallah
Posted 13:22 3rd October 2010
John Kniveton says...
Bumble has just remarked that the Scarborough Cricket Festal used to be "great". Please ensure him that the Cricket is alive and well but is missing his presence.
Posted 14:34 11th September 2010
Barbara Frost says...
After living in Australia for 40+years i am still an England supporter, even though so many matches are watched overnight. can you tell me if there have ever been two wicket keepers as opening bat?. The 20/20''s I have just watched is the first time I have ever noticed it. Keep up the good work
Posted 11:05 8th September 2010
Kath Mather says...
hit a button!! Doesnt matter who you are it should be about the people watching aswell!! It is hard to watch a match & think was that genuine or not!! I enjoyed the match in Cardiff but was that a clean match because of the circumstances!! donot like that feeling!!!!! I dont understand cricket that much but love watching & dont want to loose the enjoyment! As fo KP think good move to go to a club as have to have time in middle to get big runs in long format of game. Ye he can do it in short form but that s no good in Ashes!!!
Posted 23:59 5th September 2010
Kath Mather says...
Never wrote bfore but have to comment!! Not a great understander of cricket but was dragged into it it in 2005(watch or suffer ashes) now watch quitE a bit but still ask lots of questions!!!
Posted 23:51 5th September 2010
Philip Deakin says...
I have thought this for a long time, Bumble should be allowed to commentate on other sports. Can you imagine him commentating on football/ motor racing/ boxing or anything. IT WOULD BE A RIOT!!!!!!!!
Posted 15:12 5th September 2010
The Guj says...
Do you not think it is all about money, Pakistan players have been paid not so well and also they have been denied access to play in IPL to make money. Can you compare say a top batman in England or India earn compare to Pakistan player per year? Just like PCB and ECB are worried about loosing money rather than saving cricket (by cancelling the rest of the tour), Players are thinking about them self. I think IPL and tournaments like this will sort the corruption problem if all of these players are included. Let the Australians and England player choose if they wish not to take part in it, but let those who wish to make money legally play. Sure there may be same spot fix issues in IPL but one can force BCCI to ban players hence their earning potential. This will mean more to players when they are earning top dollar.
Posted 14:40 5th September 2010
Robert Farooq says...
These guys do not come from the slums of Pakistan ..where did that one come from?....Amir is not innocent, there is no such thing as an innocent 18 year boy any where in the world ...if he was a British boy he would have been charged and kept in custody...enough of all this b... sh.... These guys are greedy, have big houses and ride around in pajero cars. IIt''s the same old Pakistani excuses maine nahi maine nahi (not me) even when they are caught in the act
Posted 14:00 5th September 2010
Irfan Khan says...
What on the earth is going on with pakistan cricket, it is not just to leave all the burden on the pkistan cricket board when we are discussing the present plight of the Pakistan cricket one haveto stroll through the string of the series , i would like to throw the light on the Indian rage towards Pakistani players , look what they did in the IPL the way they insulted the Pakistani players during the ipl auction, then the incident against srilankan team in lahore just to humilate and deprive Pakistan from hosting any international cricketing event,either its taj mahal hotel incident or any terror activity in india , they just don¿t leave any chance in blaming Pakistanis, what a pity , I must urge here even there is a very little evidence which adds the ivolvemnet of Pakistani players in the present crickret scandal but international cricket community have to consider that all of these spot fixing and other cricket related bookies are based in india where international cricket council is blatantly blaming Pakistan and its players they have to uproot the Indian bookies element first.
Posted 12:55 5th September 2010
Andrew Lyall says...
I think your comment on Mohammad Amir is unfair and premature. We don''t know the truth as yet. More generally, if the cricket wrold wants to get rid of this kind of thing then get rid of the temptation. It is a disgrace that Pakistan players, including the brilliantly talented Amir, are paid far less than England players, Australians or South Africans. Cricket is a world game. Pay them all the same. And if Amir never plays cricket again, which is unthinkable for any cricket fan, and team X them in a test, how will anyone know if team X would have won if Amir had been bowling? It wouldn''t be a genuine contest.
Posted 11:09 5th September 2010
Matt Johnson says...
Bumble I know you''re from ''the Other Side'' but why can''t you venture across the Pennines. We don''t all hate you across here you know, And besides the banter would be great!
Posted 23:14 4th September 2010
Mustafa Ahmad says...
I don''t agree at all with any form of cheating at any circumstances at all. However, these guys have grown up in the slums of Pakistan, they''ve played cricket barefoot on the dirty streets of Pakistan. What i''m trying to get at is that never in their lives have they seen and experienced "the good life" until now. They were asked to do something in exchange of huge sums of money, i really doubt they would think ahead and think about the consequences that they could face.
Posted 13:50 3rd September 2010
Patrick Miller says...
Bumble, ive just looked at the venues for your tour,is lincolnshire to cold for you,even the great SIR IAN would go to Scunthorpe.p.s,absolutly love your guys knowledge and banter when your on tv,is nasser as tight as you all makeout.Many thanks for all hard work you guys do. PM
Posted 10:08 3rd September 2010
Azi Khan says...
fair enough david your right no excuses but let it come to a conclusion first, if that had been broad or Finn in Amir situation i wonder what your comments will be like? technology is everywhere today and maybe in future someone could do a similar video with england or any other teams allegations are allegation. i know curruption does accur but not just in pakistan but all over world look at recent match between Sri lanka and india when sehwag was denied on the last bowl for a century simply because the bowler bowled a wide look at fernando dead ball scenario in west indies 2007 that cost england the match what happend nothing? all it is they wernt pakistanis Amir and Asif and this time are the leading bowlers in world you tell them any deliveries they will bowl in the book to me i think its all a trick to get rid off them. As a pakistani british i think the best games always in england are england vs pakistan and australia vs england i love watching both and england is perfect for pakistan home venue but one must understand that these allegations have always been with pakistan like shoib aktar her clearly bowled 100mph before 2003 world cup but they blamed the speedometer were not working so he eventually proved in south africa icc need to make rule for all nations if warne took drug drugs he only got banned for 1 year didnt that bring shame to cricket? collingwood and flintoff got done for drinking wasnt that shame for cricket? i hope the conclusion comes out very soon and the remaining tour be a good 1 for all the pakistanis out there i know not all players and management are clean but every problem has a reason and a soloution we need to think about the future of pakistan cricket.
Posted 04:00 3rd September 2010
Richard Kenyon says...
You want to get rid of betting scams institute full life bans for players that are caught plus a 5 year ban from all international cricket for the country where the player comes from
Posted 18:47 2nd September 2010
Meryl Foster says...
KP - I agree with the "burst the ego bubble" comment! He''s not a team player at all. I wonder how many counties were approached before one was found to take him? Pakistan players - I find it hard now to watch ANY cricket without wondering whether I''m watching a genuine contest - what a terrible shame! Ban them for life! And no-one banned should be allowed anywhere near cricket in any capacity - execpt merely spectating.
Posted 14:59 2nd September 2010
Rob Horspole says...
The 3 players will prove their innocence - well we have all seen the overstepping several times. Has anyone looked at where the bowlers started their run-up in relation to the markers placed on the outfield? Hopefully one of the Sky cameras will have picked that up. If a bowler has commenced his run-up well within the marker, or even changed the number of steps in what is a measured approach to the crease, at what point does an innocent overstepping become a deliberate act to comply with a request to influence a betting outcome?
Posted 12:15 2nd September 2010
Jon Furderer says...
I don''t agree with a suspended anything. If any player is found guilty of fixing - even if just a specific event like a no-ball - they should be banned for life - from any involvement in cricket as there is something deeply amiss with having selectors or coaches who were previously banned as players. Sad if it is at 18 but unless the message gets through it will just keep happening.
Posted 10:51 2nd September 2010
Brian Rickett says...
I cannot understand these suspended sentences, anyone who breaks the rules should be banned for life period. Unfortunately all people think about is how to make a quick buck. At one time you could tell cheats from Asian countries, they chopped off their Hands. Drastic I know but it worked. As for the KP affair, I think think the old school ties at work again. We play these games to win, does it matter what school somebody went, and from which walk of life. Not all good sportsman come from public schools.
Posted 10:51 2nd September 2010
David Lapping says...
I disagree with you, if he plays for a bottom team then the opposition is stronger. If he plays for the best team the opposition will be weaker. Hope he doesn''t score to many against Glamorgan.
Posted 10:22 2nd September 2010