Ricky Hatton is back out in Las Vegas preparing for another crack at the pound-for-pound title.
In the build-up to May 2 you can follow the Hitman's every move with his exclusive fight diary on skysports.com.
Scroll down for Ricky's latest entry as we take you right behind the scenes...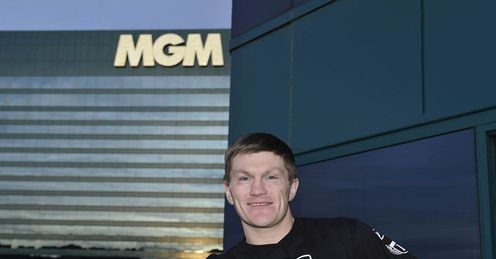 Saturday, April 25
After a hard week the weekend is here, and a good lie-in is welcome. I went for a stroll to Caesars and had some lunch with the lads, then into the casino to play some roulette. Nothing serious.
I have a masseur who calls on weekends, and both me and our Matthew had a good massage.
At weekends we eat out, so we went up to the Palms casino where I bumped into my mate Michael Greco, who is now in charge of entertainment.
Gene Kilroy told me that Tom Jones might be singing the British national anthem on fight night. I hope he does - he's brilliant. Whenever I'm in Vegas I like to try and catch his show.
Ricky Hatton.
Quotes of the week
HATTON v PACQUIAO
MGM Grand, Las Vegas
Saturday, May 2
Live on Sky Box Office, Ch743
Live on Sky Box Office HD, Ch 752
Call 08442 410888
Click here for details
We had a great meal in the NOVE restaurant. It's at the top of the Palms overlooking Vegas. The Palms is a great hotel, and it's where I went to watch Oasis after the De La Hoya-Pacquiao fight.
After the meal, it's back to the apartment to watch some DVDs and get an early night.
Sunday, April 26
This is really the start of fight week as the Brits start to come into town. The British press are starting to come over now, too.
Jennifer, my dad and my solicitor and partner in Hatton promotions - Gareth Williams - arrived on the Manchester flight. BMI are stopping the direct route from Manchester to Vegas - I can't understand why.
My television company hattonboxing.tv arrived and I did an interview around the pool at my apartment.
I went into the MGM and noticed they have put some fight merchandise in the shops. You can tell the fight is only a week away as the hotels are busier than normal. It will be crazy on fight night.
I met up with Jennifer and my dad at their hotel, it's great to see the family again after being away for what seems like ages. Mum arrives in the week with the rest of the family.
I went with Jennifer and my dad for a meal at the studio cafe at the MGM. After dinner it was back to my apartment for DVDs and another early night.
Monday, April 27
The first day of the last week in training camp. I am training earlier in the day this week as Manny is sharing the same gym in the afternoon. I worked on the pads with Lee on technique and went through some moves with Floyd.
Gene Kilroy called by the gym. Gene used to work for Muhammad Ali back in the day, and he is a mate of Tom Jones as well. Gene told me that Tom might be singing the British national anthem on fight night. I hope he does - he's brilliant. Whenever I'm in Vegas I like to try and catch his show.
After training I went for a brew at Starbucks and then for a haircut and a pedicure. It feels good getting the blisters and hard skin removed after running up those mountains in my boots.
We called over to the MGM for a Starbucks. They have put a ring in the entrance to promote the fight, and even more Brits are arriving.
I went for a nice jog around Sunset Park and then down to the MGM to meet all the British journalists for a press conference.
Comments (1)
Jonathan Bussey says...
Come on Ricky! Ee are all behind you mate. Lets have him!
Posted 09:43 28th April 2009