Boxing is rarely simple - and in many ways that's what makes our sport so intriguing. At the moment most of the fighting aces - Floyd Mayweather, Shane Mosley, Juan Manuel Marquez, Ricky Hatton and Amir Khan - all seem to be up in the air! The world boxing picture is a quite complicated jigsaw.
We are all watching closely to see where the star names will fall, and against whom! The political wrangles, constant speculation, whispers and half- truths are, as always, floating around.
'There are a fair few sharks out there!', Ricky Hatton joked on his new life as a promoter when my wife Jo and I joined the Hitman and his fiancée Jennifer for an Italian on Saturday night in Manchester.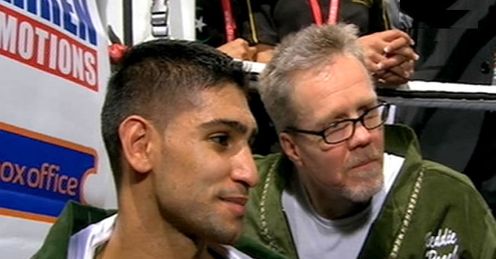 After we kicked off our New Year with an atmospheric first Friday Fight Night in Altrincham, I stayed up north for the weekend and we enjoyed a 'spoily' meal out - Ricky's treat. We had lots of laughs and a good catch-up amidst plenty of boxing and non-boxing chat away from the camera. We also bumped into Kerry Kayes, who I've always got on well with.
Amir Khan will be matched harder in America so there's always the possibility that he'll come a cropper again, but his defence looks better, he's maturing into a strong light-welterweight, and might have the smarts to really cope. Especially under Freddie. Increased sparring with Pacquiao will help, too.
Adam Smith
Quotes of the week
Ricky indeed craves another fight, and he is doing it for one reason only - himself.
As Hatton has publicly stated, he felt his preparation leading up to the Manny Pacquiao fight was a shambles (what I saw certainly backs this up) and whether or not he would have won the fight if things had been different , he wants to return - with a smoother camp, and to try and remove that image of him lying flat on his back.
Not that there's any disgrace losing to the Filipino sensation. Or Mayweather. Yet Ricky very much fights for the people, and you can sense his pride is still hurting. In my eyes Ricky Hatton has nothing left to prove. But he feels he does.
The Hitman's thrilled us over the years, and while there are obvious concerns - particularly with his choice of opponent - we wish him well. Ricky Hatton's certainly our most popular fighter of all time; the fans love him, and we'll miss him when he's gone.
Ricky heads off to Australia this week but will be announcing his trainer and comeback opponent on his return in mid-to-late February. I think we're looking at a June date at the earliest.
If Hatton's comeback was the British boxing story of last week, the weekend saw another explosive revelation.
Motivation
Amir Khan has left his long-time promoter Frank Warren, taking Khan Promotions into association with Golden Boy. This of course paves the way for a future British superfight between Hatton and Khan, because both fighters now have their own promotional companies. However, I'm not sure these two friends will meet unless the pressure becomes huge - and the money, the major motivation.
This change in camps is nothing new. Warren has long built up his star recruits (very successfully, may I say), matching them well, and generally guiding them through a steady rise.The elite names, though, tend to move on; Naseem Hamed, Ricky Hatton and Joe Calzaghe all left.
Their relationships very rarely end amicably which is, of course, a shame. But this is a cruel business. A fighter has a short career; he's the one entering the ring alone; vital decisions should ultimately come down to him.
Families are more involved than ever before, and many have tended to go different routes, and move things their own way - with mixed success.
Amir Khan's decision is interesting, and I am not in the least bit surprised. Golden Boy are the new force in world boxing and I think Oscar De La Hoya sees many similarities between Amir and himself.
Is it the right time to go?
Amir has made no secret of his desire to fight in the USA, partly because of his very successful training base in Hollywood under Freddie Roach. Khan's popularity looked to be increasing here when he destroyed Dmitriy Salita in Newcastle, so maybe he should have continued his career in Britain for a while. Still, there is no reason why he can't chop and change either side of the Atlantic.
Charismatic
Khan's career has turned around amazingly since Breidis Prescott tore him apart; maybe it's a case of strike now while the iron's hot. He will be matched harder in America so there's always the possibility that he'll come a cropper again, but his defence looks better, he's maturing into a strong light-welterweight, and might have the smarts to really cope. Especially under Freddie. Increased sparring with Pacquiao will help, too.
May 1st was being mentioned in New York against the charismatic, skilled but light-punching Paulie Malignaggi. That looks the right sort of American introduction to me.
The latest in the ever-changing daily gossip though is that Khan may indeed meet his dangerous mandatory challenger, Argentinean banger Marcos Maidana, maybe as early as April!
Golden Boy have the David Haye-John Ruiz date in April and seem to be staging Bernard Hopkins-Roy Jones shortly after. Khan could potentially appear on either. Who knows? What we do know is that there aren't too many major matches which are concrete.
Manny Pacquiao will tackle the teak-tough Joshua Clottey in Dallas on March 13th. We were initially told that Floyd Mayweather will box on the very same night - in Vegas. Now I am hearing that Mayweather might wait until May 1st, for a mega-clash with long time rival Shane Mosley.
Unfortunately Sugar Shane's welterweight unification fight next week was called off after his young, precocious opponent Andre Berto (pictured) sensibly withdrew, mentally and physically exhausted from concentrating on the battle for survival in his family's native Haiti.
Andre represented Haiti at the 2004 Olympics and like so many, has been utterly devastated by the earthquake. He has lost several family members, and has seen his sister Naomi and her daughter Jessica left homeless. This catastrophic event has left Andre shattered. So Mosley-Berto's off and the entire show has been cancelled because of the timescale.
It's good to see that Mosley and Mayweather have both spoken out - largely ignoring the boxing angle - with thoughts and sympathy for their compatriot Andre Berto in his time of need.
Massive
Still, the sport will of course go on, and the attention has now turned to Mosley's next move. Richard Schaefer of Golden Boy is currently working on the massive fight between the three-weight champion, and the five-weight king. This is a far easier match to make than Mayweather-Pacquiao because of the promotional tie between Floyd and Golden Boy.
May 1st could be a very busy night for Golden Boy. They have announced that Juan Manuel Marquez will be making his comeback. There's Mosley/Khan/Malignaggi/Maidana. Anyone else for the mix? Mayweather would argue that all roads lead to him, and no-one else matters anyway!
Britain's mini-Mayweather is back this Friday. I really like the defensive whizz that's Ian 'Dappa' Napa. The tiny Hackney bantamweight's a great example as to how careers can be turned around by re-application, dedication and willpower.
Touted as a future world star, the wheels came off early for the talented Napa - and he ended up in a bad place. After three years out a tremendous revival began, which ultimately saw Napa win the Lonsdale belt outright, and become European king. A blip last year - when he lost his European crown rather tamely - meant Napa again had to re-build and he did, regaining his British title by outclassing Gary Davies.
With another European bid in France next up, Napa can't afford to make a mess of this British defence against the skilful but so-far underachieving young Jamie McDonnell. Plenty of good critics were raving about the lanky Doncaster lad a couple of years ago, but Jamie looked to lack maturity in fights with Chris Edwards and Lee Haskins. This might be a better time to rise up now.
In what should be a classy affair, I fully expect the taller, younger and fresher McDonnell to make it tough - especially stylistically early on. Yet it's a question of experience and levels. Napa to retain his British Bantamweight belt for me.
A packed card sees the latest appearances of hopefuls Ashley Sexton, Travis Dickinson, Akaash Bhatia, Michael Maguire, Tony Hill and the red-hot prospect George Groves. Huge heavyweight Larry Olubamiwo has a good one against Scott Belshaw and the improving heavyweight, Tom Dallas, starts his quest for a big 2010.
Boxing aside, the horrendous earthquake in Haiti make us all aware of the dangers in life, and the quality of human spirit. Our hearts go out to Andre Berto and everyone who has been so tragically affected by the awful recent scenes.
We should get behind Andre - and other champions like Chad Dawson - who are doing everything they can to assist the poor people of Haiti. Boxing's always had a community feel and it's great to see our proud fighters digging deep to try and help the world recover.
Another sad note to end on; my co-commentator Jim Watt will be at the funeral of his former manager Terry Lawless before the show on Friday. Jim's always telling me how his career would have been nothing without Terry. May he rest in peace - and long be remembered.
Comments (4)
Greg Doyle says...
Graham Kerry Kayes has gone on to say he will never work with Ricky unless Billy Graham has something to do with Ricky. I hope Ricky comes back but gives his body enough time to become really healthy without a struggle. If Ricky was hitting the form of which he once did against Kostya Tszyu then Amir Khan would not dare even mention Rickys name. I Hope and Pray that Ricky comes back and shocks the world.
Posted 15:49 22nd January 2010
Matthew Coole says...
I'm loving Khan's improvement under Roach. I know everyone still has their doubts about him after the Prescott match and to be honest I have my doubts to but give him a chance. Any boxer can be knocked down if caught cold by a big punch early on, look at calzaghe against jones and hopkins, had khan had a little more experience he might have been able to muddle through the first round and get himself back into the fight, who knows but don't count him out until he's at least had a chance to prove himself on the world stage, he's certainly got the boxing skill. I certainly hope the pacman mayweather fight happens as it's the fight the whole world wants to see. Pacman is almost certainly going to destroy whoever else he faces and I'm sure mayweather will out box and out point anyone he faces, even mosley. The only fight either of them could be in where you wouldn't really be sure of the winner is against each other, because of that for me it's the only fight I'd be interested in seeing either of them in.
Posted 12:57 22nd January 2010
Edward Usher says...
I will look forward to seeing Amir Khan fight a live opponent in America.This parting from the protective cloak of Frank Warren should remove all doubts about his ability to deal with a puncher. his only meeting with someone with a punch ended in disaster.If he fights Ricky Hatton and it goes the distance Amir Khan will win. Ricky will have to stop him early to have a chance.
Posted 21:11 20th January 2010
Graham Collins says...
Very interesting blog as usual Adam. I'm just wondering again about the training camp of Hatton. Do you think we will ever find out everything that happened? and how much of it do you think contributed to Ricky's defeat? Also, I've followed Rickys career for a while and i always thought Kerry Kayes was instrumental in making the most of Rickys physical advantages. I think that once Kayes departed Ricky lost a major part of what made him so successful (smother opponents for every minute of every round) The difference Alex Ariza had made to Pacquiao speaks for itself. Surely it was a major mistake to not have someone like Kerry Kayes for one of the biggest fights of his career. Do you think Kerry will be involved with Ricky now that Mayweather Snr is gone?
Posted 17:38 20th January 2010