In my blog last week I addressed the burden and responsibility of being a favourite for the Tour de France, as Bradley Wiggins has become.
This meant dealing with the thorny topic of doping, and the suspicion, rumours and innuendo that shroud a Tour contender as inevitably as white chiffon on a bride.
I also suggested that, with the proliferation of social media, this has become an ever greater challenge, since there is "a forum for gossip, whether informed or not, to reverberate and echo and gain traction."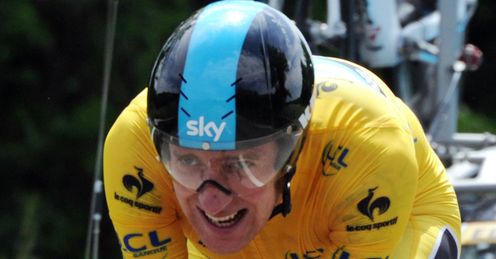 The reaction to the blog proved the point. It was the line, buried deep in the story, about Team Sky making a recent presentation to the Tour organisers, during which representatives from the team used Wiggins' training data to explain his performances, as a means of seeking to demonstrate that he is clean.
Some welcomed this as a positive, pro-active step by Team Sky. Others were suspicious, describing it as a "pre-emptive strike." Then came a claim that wasn't in the blog: that Team Sky had also made a donation to ASO.
Suspicion, rumours and innuendo shroud a Tour contender as inevitably as white chiffon on a bride.
Richard Moore
Quotes of the week
This claim - with perhaps intentional echoes of Lance Armstrong's infamous donation to the International Cycling Union - was passed on ('re-tweeted') by some farily influential people, and quickly became accepted as fact, and was taken by some as evidence that there was something to hide.
This in turn prompted a spokesperson for the team to confirm to Cyclingnews.com: "I can categorically and 100 percent deny that Team Sky has ever made any form of donation to any organisation involved with the running of the sport, nor would we ever do so."
But the timing of the blog coincided with another event: the news that Armstrong and members of his former team have been accused by the US Anti-Doping Agency of a range of alleged doping-related offences.
Perfect storm
This and the Twitter chatter seemed to create a perfect storm of implied (but, let's be clear on this, groundless) suspicion around this year's favourite, renewed condemnation of the sport's biggest name, and a sense that, once again, cycling is in the dock, teetering on the brink, engaged in a battle for credibility.
Then I was made aware of a blog entitled "Richard Moore and the propaganda machine," which suggested - on the basis of last week's blog, plus the fact that I contribute to skysports.com, plus, rather more tenuously, my disqualification from a race in Ireland in 1996 (for holding on to a car after a crash) - that I am part of a Murdoch-orchestrated conspiracy to cover-up doping in cycling in general, and Team Sky in particular.
All because I was interested in how Wiggins would deal with questions about doping not if, but when, they arise, and because I had heard (from a journalist from a different news group, as it happens), about the presentation to ASO, and made a phone call to Team Sky about it.
It would be funny - it is, really - were it not for one thing. How do I go about proving that I am not indeed part of a conspiracy? By even mentioning this here am I putting the idea to bed, or engaging in an elaborate double-bluff? (Thinking about this gives me a headache.) Most likely it is all quite futile. When minds are made up, and opinions are then reinforced by idle and unchecked gossip, or outright falsehoods, it can be difficult to change them.
It does, however, offer the smallest of insights into what professional cyclists, and Tour contenders in particular, have to deal with on a daily basis, in their case multiplied and magnified by about 1,000. I can see why they avoid (or say they avoid) social media.