In part two of his Louisianian roadtrip, skysports.com blogger Alex Ferguson makes the trek to Baton Rouge, to watch the showdown between LSU and Alabama.
Check out part one here as our man enjoyed art galleries, jazz, culinary excellence and the company of some passionate New Orleans Saints fans.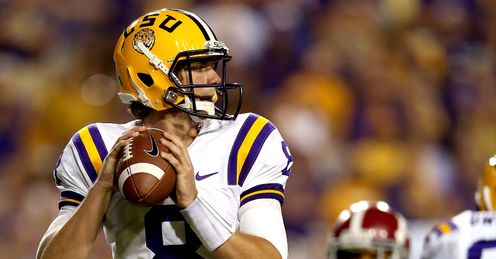 And then read on for pat two as Alex recalls the highs, lows, and tailgate parties - and a contest that turned out to one of the games of the college football season...
FRIDAY
Laissez les bon temps rouler - Old Louisiana expression, meaning 'Let the good times roll'
A note to all: waking up to bright sunshine and grabbing brunch in 'The Joint', a small meat place based in what is not one of New Orleans' nicest areas (remember what we told you about everything in this city being on top of each other?), is a very good way to start the day.
LSU has a pet tiger: Mike. Thankfully for the Tigers fans taking his photo, there's about half a foot of Perspex between him and purple and gold dinner.
Alex Ferguson
Quotes of the week
In the restaurant, we come across four guys from Utah who are here for the game. They aren't your typical Latter Day Saints - they have tattoos, skateboarder caps, and big beards. One of them looks like Gimli from Lord Of The Rings.
They assure us that beautiful Mormon ladies do indeed exist. And they are happy to follow our lead and indulge in beautifully-cooked brisket (a cut of meat from the cow's breast), too.
With full hearts and stomachs, we leave for Baton Rouge (pronounced 'Batun Rouge' in Louisianan). I'm hopping off the car doors.
We take one of the longest bridges I've ever been on through the Louisiana swampland - uninhabitable by man but a wonderful enclave for all kinds of wildlife, including the alligators. Sadly, we don't see one, but as we arrive at LSU, we take a deep breath.
Louisiana State University has one of the most beautiful campuses we've ever seen, seemingly built in between beautiful old oaks. Picturesque sorority and fraternity houses line one of the lakes, imploring fans to support the Tigers.
The lunatic fanbase that's going to invade paradise hasn't arrived just yet, and there's calm before the storm feel in the air. Students mill around in shorts - as they should do bearing in mind that the temperature is in the 80s.
And then I see Tiger Stadium. It's monstrous and beautiful. I get like this with big college football stadia (see my trip to Austin, Texas for details). On the outside, it's a fortress to King Tiger, it's steepened sides ready to eat foes and their fans. We can almost hear the roars of the Earthquake Game, when the stadium was so loud that the winning touchdown registered on the Richter scale. We wonder what might happen on Saturday night.
And LSU has its own pet tiger: Mike. He's a very fat and happy Bengal tiger. Thankfully for the Tigers fans taking his photo, there's about half a foot of Perspex between him and purple and gold dinner.
In the athletic building, I'm warned by Michael Bonnette, LSU's sports information director, not to have 'too much fun' at the tailgate before the game. You get the feeling that drunk journalists and press boxes aren't a good equation (although we've never seen it before). As we don't drink, there's not a problem.
I start to think about Tyrann Mathieu, who gave LSU football great things on the field in 2011, but took it away off the field 2012. He's had drug problems over the last few years, and we wonder if he'll ever be back. We also wonder if LSU's going to miss Mathieu on Saturday night. Either way, he's given Bonnette and his team some adventures.
Outside, I come across one of our favourite sports writers, Wright Thompson, and become a complete fanboy. He manages to escape me. Just. As the night starts to close in, we start realising how excited the LSU fanbase is for this game. The answer? Very.
David's brother, Matt - who played for LSU's baseball team and actually got to play in the major leagues for a game or two - and David are preparing the tailgate. They've already paid up for a certain spot, which is a good thing.
There are going to be around 150,000 people coming to Baton Rouge this weekend, and all of them will be looking for a spot, a beer, a brisket, and some bourbon.
SATURDAY
"Fight for LSU" - Words in the LSU fight song
We arrive at the tailgate at the horrifically early time of 9am. The campus is silent apart from the tailgaters building their dinners, and the odd frat boy - bedecked in ties and khakis - setting up for the parties. They are looking a little worse-for-wear after last night. This is the calm before the alcohol storm.
Some fans are clad in shirts saying beat "O-Bama" (nice take on words, folks). There are going to be other things to think about than college football on Tuesday, we think. As the sun evaporates the mist on its way up, the roars from where ESPN is taping College Gameday get louder as the hosts take their picks.
Everyone's picking Bama, which doesn't go down well with a chap bedecked in purple and gold checkerboard suit (we're serious) and sipping on a bourbon and coke. Well, it's 12 o'clock somewhere, I think to myself.
As the hours roll by, the noise of LSU tailgating builds. I walk around a bunch of tailgates being introduced to all and sundry by LSU superfan Mr Robert. I'm offered everything from bourbon (I decline) to beer (I decline) to food (I accept). In minutes I'm eating fried oysters, shrimp, alligator and crawfish. All of them are delectable.
We stumble on a tailgate in which the scene is really like Alice in football land - an LSU sorority gal has arranged brownies and cupcakes out the back of their car. "One of my daughters goes to Alabama", says her slightly despairing LSU father. Her daughter with 10 Girls Of My Dreams in tow in short, red dresses and badges all telling you that it's Bama, not LSU, you should be supporting. I think of changing allegiances. Immediately.
I chat to two LSU students - one from a small town in Texas and one from California - who have come here to study kinesiology. I gave them American travelling advice as well as some spots in Europe.
They are pleasant and advise them to get a placement working on the Premier League and in rugby. They advise me where they are sitting. As it's the student section and I've got a press pass that gives me the freedom to roam.
Do they think LSU will upset Bama? "Well, it's night time in Tiger Stadium and we're 36-1," says one of the ladies. This is a good point and one that's been repeated 401 times to me over the course of the day.
As the sun starts to go down, the tension starts to build. The smell of frying and booze that filled the air is suddenly diminished by the smell of worry and mistrust. You can almost feel the prayers going up to the Purple and Gold God in the sky.
THE GAME
If there's one person who's despised at LSU, it's Alabama coach Nick Saban. Saban's sin was to leave LSU to go to the pros and return to coach at the school's most hated rival. They'll be some language directed Saban's way from the student section throughout the game. It's not nice, but it's hardly surprising.
Before the game, I'm in the press box, trying to be restrained. I manage about five minutes. I'm out of there and plunge into the LSU student section. The pass has worked its magic, and I'm suddenly 21 again.
The LSU sorority ladies I'd chatted to are about 30 rows below me, and are as excited as I am, although they probably believe in LSU quarterback Zach Mettenberger more than I do. The students around me are passionate, all believers in the cause.
The two teams come out. The student section - given 'Terrible Towels' by the school for the game (frankly, we don't think towels should be anywhere other than the bathroom, beach and Pittsburgh Steelers games) - whirl them around passionately, driven by a sense of revenge... and a few drinks to go with it.
As the first half unfolds, the belief in the team starts to fade. LSU takes a 3-0 lead but then go 7-3 down and after missing a field goal, Alabama go up the field with a few seconds left of the first half to make it 14-3. Death Valley is going deathly silent. After all, 10 quarters without scoring a touchdown against Alabama will do that to you.
But the second half is a different story. As LSU's defence begins to make the all-important stops and the offence actually starts to improve, the belief starts to whirl around the students. Jeremy Hill scores a touchdown run with three minutes left in the third, and the student section explodes again.
The belief starts to run through its veins. The noise starts to get louder as the wheels on Alabama's own offensive juggernaut start to mud, and Alabama looks confused. Still, we can't understand how the refs haven't given a holding call on Alabama's offensive line (a question that would remain with us all game long).
The fourth quarter comes along. LSU drives again. Zach Mettenberger - who is finding his own redemption in the Game Of The Year - hits Jarvis Landry from 14 yards out.
The student section explodes. People throw their drinks up in the air. I end up wearing someone else's bourbon. I bounce around like a kid, and very nearly slip and take a row of students in front of me out. It was actually the bourbon's fault, I surmise - it's turned my bench into an ice-skating rink.
LSU has the chance to stretch their lead to 20-14, but miss a field goal. With around 1.38 to go, Alabama gets the ball. AJ McCarron engineers a drive which takes the Crimson Tide to the promised land.
I want to give everyone a hug and tell them that it's going to be okay. After all, they could be QPR fans, I think. All I know is: This has been one of the greatest experiences of my life, and any self-respecting sports fan HAS to go to a game in Tiger Stadium.
POST-GAME
"Your boldness stands alone among the wreck" - 'Little Lion Man', Mumford & Sons.
"I'll never watch a LSU game where Les Miles is coaching ever again" - LSU fan on Postgame chat on local radio
As we leave Tiger Stadium, one of the tailgates is playing "Little Lion Man", replete with the lyrics: "We [screwed] it up this time". We smile a little at the irony, and wonder if it's played every time LSU loses. The LSU band is also playing on after this titanic loss, which deserves a round of applause in itself.
On talk radio, LSU fans are blaming Les Miles for coaching decisions that cost them the Game Of The Year/Decade/Century. And although Miles would later say in a press conference that he also regretted some of his calls, the fans seem to want blood now. "I can't watch LSU any more with him in charge" says one of the fans, seemingly forgetting Miles' 82-20 record at LSU.
And although it would emerge that the last-minute touchdown was a matter of a blown defensive assignment by a player who couldn't hear his instructions over the deafening noise, everyone seems - once again - to blame The Mad Hatter.
But one thing everyone agrees on: It was a hell of a ballgame which someone had to lose. It was a pity that it was LSU. That said,150,000 livers were united in thanks to the football God, who right now, seems to be wearing crimson and white colours.