It was late in the second half at Stamford Bridge and a grimace of personal disgust shot across the face of a mild-mannered Brazilian in a demonstration of personal frustration at surrendering the ball.
A tackle-back and possession was immediately regained in a snapshot of the mindset of Kenny Dalglish's revolution. Amid the focus upon the act of fate which saw £50million striker Fernando Torres making his Chelsea debut against his former club, the man in question was Lucas Leiva. Liverpool's No.21 demonstrated why he has emerged as a lynchpin.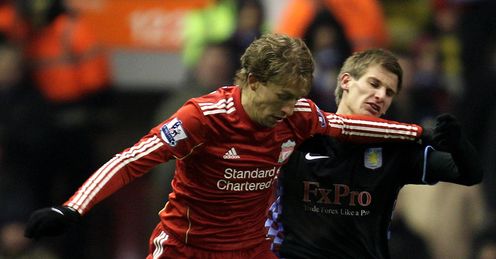 Martin Kelly, Dirk Kuyt, Daniel Agger, Raul Meireles and, of course, Jamie Carragher and Steven Gerrard are to list six names from the 13 heroes for those in red on Sunday, when Torres was brutally outplayed in the wake of what has been labelled an act of treachery. But the transformation of Lucas deserves special mention.
The 2007 arrival from Gremio is often used as a label for the faults in the Liverpool reign of Rafa Benitez; a mistake in the transfer market; a square peg for a round hole. But the former Anfield boss was always rigorous in his defence of a player upon who he spent £6m and once announced that 'people just don't know how good Lucas is'.
SKY SPORTS ON SKY
There's more live football on Sky Sports than ever before, including the Barclays Premier League, UEFA Champions League, Clydesdale Bank Premier League, England away Euro 2012 qualifiers and La Liga. With four live Sky Sports channels, as well as Sky Sports News, you'll never miss a moment on Sky. Click
here
for more.
General consensus is that among the wretched 12 months that was 2010 for Liverpool, Lucas was the man who stood out as the club's best player. While team-mates and managers wilted around him, the now-24-year-old showed spirit for the fight as sceptics and opponents circled like vultures.
Trust
The man from Dourados, a city in the south west of Brazil, had presumably been hardened by the barrage of negativity he had been forced to shoulder since crossing the Atlantic almost four years earlier. Lucas himself told skysports.com in an interview conducted in March 2010: "I don't know why the criticism started with me, but some people just do not like me."
Lucas arrived at Anfield as an attacking midfielder, who made late runs into the box and essentially represented a Brazilian version of captain Gerrard. But Benitez decided he would be best deployed in the responsible holding role, having never trusted Gerrard to fill such a position. The 2007 Merseyside derby at Goodison Park was famously an illustration as the hot-headed Gerrard was substituted by Benitez in favour of Lucas, who went on to secure a match-winning penalty.
The sale of Xabi Alonso to Real Madrid led to a regular first-team role for Lucas alongside Javier Mascherano, who has since joined Barcelona. However, the arrival of Roy Hodgson in the summer of 2010 seemed set to spell the end of his Liverpool career. He was told he could leave if he wanted and did not seem to feature in his new manager's plans. But the fighting spirit, which is not always evident in South American imports to the Premier League, again shinned and a first-team place was reclaimed.
Hodgson has gone, Lucas remains. He is clearly an integral part of Dalglish's plans, as well as inheriting Brazil's famous No.5 shirt under former Gremio boss Mano Menezes. The transformation from boo-boy to midfield engine room has been remarkable and it now appears that the much-sought-after commodity of time in football was the vital element. Lucas needed to settle, especially after arriving on a foreign continent, just out of his teenage years, and being deployed in a different position to that which earned the Bola de Ouro, the Brazilian Footballer of the Year, in 2006. A look at the Chelsea team-sheet on Sunday provided a perfect example of how difficult it can be for South Americans to find form and avoid injury in the rough and tumble of the Premier League as Ramires was not even named among the substitutes, despite costing three times as much as his compatriot.
There is a need to not to get carried away. The frustrating elements of Lucas' game remain evident; he started slowly against Chelsea; he can get caught in possession; he can give away clumsy free-kicks. But, as demonstrated by his tackling back in a direct duel with Michael Essien, there is the pride in personal performance that is rated so highly by Dalglish and mistakes have significantly decreased in frequency. 13 Premier League points have been collected under Dalglish in the process of close to 400 minutes without conceding a goal.
Argument
A look at Lucas' Opta statistics during his 90-minute, plus injury-time, outing against Chelsea demonstrates his improvement. His overall pass completion rate was an incredible 88.89 per cent, 81.82% when in the opponents' half of the field. These figures are very similar to his contribution for the 2010/11 campaign to date, with an overall pass completion of 84.02% and 81.08% when in the opponents' section of the field. One goal has been assisted and 14 chances created from a total of 1133 passes.
The obvious argument would be to suggest that the majority of passes have been simple 10-yard side-foots when under no pressure. But there is a skill to decision-making when doing the unsung task. Ask Sergio Busquets. A destructive force has also been added to Lucas' game. Ninety-nine tackles have been made throughout the season at a success rate of 66.67%. Four yellow cards have been collected. The second booking earned in the defeat to Stoke in November was an act of petulance, but also a reflection of new-found aggression. Seven tackles were made against Chelsea. This may not sound a lot, but that is one player recording exactly one third of Liverpool's entire tackle count at Stamford Bridge.
Lucas does not possess the natural pace, power and overall athleticism to dictate midfields, but he is beginning to patrol in front of the defence, whether it be three or two centre-backs, with brilliant effect.
He deserves immense praise amid the clamour for Dalglish to be given a permanent contract and the dissections of Torres' terrible 65-minute Chelsea debut. Lucas embodies what Dalglish seems to be trying to impose upon his team - a personal freedom within a team responsibility.
Comments (90)
Kris Brown says...
Lucas is a good player for 45 mins of every game. he can't play well for 90 mins his football brain is not quick enough. gives the ball away too often. can't control it well. not strong passer of the ball. definitely not a lynchpin. punching above his weight at liverpool.
Posted 16:06 8th February 2011
Espen Solberg says...
Spot on - he has been our best player this season. He is improving game by game and silly freekicks are more rare nowadays, as THEY ARE what the team really needs to avoid. BUT, this should also be made clearer to a certain Mr. Skrtl as well - not to forget that often Alonso had that habit. The team needs someone able and willing to keep the ball and not just lump it forward, but find his teammates. Thats why we need to accept that he sometimes looses the ball. SG is more aggressive and attacking minded but never given us the upper hand in keepin the ball in the team, and its wonderful to see that as his confidence rises he is able to 30-40 yards good passes as well. Keep going! Support him! - he would never been in the national side if crap, besides, Charlie Adam would never play that holding role for Liverpool, and probably not fit into our first eleven.
Posted 15:28 8th February 2011
Greg Thompson says...
Scott Meikle. You are an idiot. Plain and simple
Posted 10:38 8th February 2011
Shabbz Miah says...
Lucas is average! Yeah he wins tackles but he will not be able to get in any one elses team in the premiership!! we have downgraded from Alonso & javier to Lucas & poulsen! Im not hitting out on him hes good but hes not good enough to be in the liverpool team
Posted 10:33 8th February 2011
Ed H says...
I'd like to apologise to LL. I was always a fierce critic of his up to this season but to date he has been immense and has more than compentently filled the gap left by Mascherano. He's now showing great positional play, grit and determination, a strong tackle and making decent passes and runs. Once again, sincere apologies LL and please keep it up!
Posted 10:18 8th February 2011
Mohammed Foysol says...
Steve TUrner, are you a liverpool FAN? The person who passed to Torres in the starting stages of chelsea v liverpool game to nearly score a dream start, was MAXI not LUCAS!! Shut up and watch the game properly!!!
Posted 10:09 8th February 2011
Stuart Mitchell says...
Great story. Lucas was bagged when he first came but we have to remember he was only 21 and had a lot to learn about the English game. What has always been clear is a great passing game, tremendous work ethic and a commitment to the Liverpool shirt. Sure he still has a bit to learn about his defensive work but he is definitely improving. Its incredible that he cost only £6m and was the best player in Brazil before being signed. I would certainly take 6 of him over 1 Andy Carroll!!! Also shows what a dill Roy Hodgson was. Signed Paul Konchesky and tried to get rid of Lucas?? Genius (not). Go Lucas, you deserve all the success you can get. Just don't come out and tell us how committed you are to Liverpool FC and want to spend the rest of your career at Anfield! We all know what soon follows this. Don't we Fernando??
Posted 09:59 8th February 2011
Mac Ambali says...
To be honest despite his workrate he gives away silly balls, sometimes silly tackles, we need a better player on that position is so delicate..but that doesnt mean he should go
Posted 08:59 8th February 2011
Vaios Pringas says...
What on earth are you all talking about.........lucas is an average midfeilder for west brom ,west ham...or maybe the championship.....liverpool need quality expecially in that position,lucas you can try as much as you can.....but the truth is he is not good enough for our liverpool ambitions and i think time will tell that kenny will find and lOok for better playes than him.
Posted 08:42 8th February 2011
Scott Woods says...
am glad to see lucas getting the praise he deservesthe lad has been outstanding this season and last.yes sometimes hes clumsy but if we can defend freekicks somethin we couldnt do last season. he breaks up so much of opponants play .he will be an ever present in the mighty reds team for years to come
Posted 08:37 8th February 2011
Ahmed Bahannan says...
What i have always liked about Lucas is the way he performs in the crunch matches, he always comes out tops!!!
Posted 07:13 8th February 2011
Raj Pahal says...
It's really stupid to compare Xabi, Masch and Lucas! Alonso only really peaked after arriving at Liverpool, his days at Sociedad defined his role, which developed with us. bearing in mind he was no great household name, or a regular in the Spanish team untill he was 27(ish) AND only after he emerged as one of the best central midfielders in the professional game. This only happened as he was clearly given the chance to improve and build confidence game after game and playing regularly.. has this happened with Lucas, no.. not really! how can you expect someone to improve if they are constantly told they are useless, not wanted and not given a chance to prove thier worth!? that aside to actually getting a decent run in the team. King Ken has obviously seen what Benitez did and given the boy a chance and rightly so.. Lucas may not light the pitch up and may still put in a wrong pass, or give away a free kick... So what!?? nobody's perfect.. unless you are given the chance to be! As for Mighty Masch, strange that he couldn't even get onto West Ham's match day squad list, yet he also arrives at Liverpool and is made famous!!.. again, given an opportunity to be that way.. I'm sure Lucas can continue to develop and become a much better player than he already is, whether his fortunes lay at Anfield or not, he is a great talent and we can't afford to waste that.
Posted 07:02 8th February 2011
Chinonso says...
I think the way torres lived is perfect for liverpool, now we are more united no more rumors of big boy's living no more long balls anyway he's gonna be a flop to them and i pray for him or better go back to A/m...
Posted 06:13 8th February 2011
Scott Meikle says...
First of all he has 88% pass rate because his passes are no longer thatn ten yards,then i watched him on the weekend all i could see is him wavering in midfield not marking or tracking anyone,if he does loss the ball he doesnt chase it down,I cannot see why he is in the side as he is not worthy of wearing a football top nevermind a liverpool top!
Posted 04:45 8th February 2011
Ne Ou says...
Lucas is who we have to keep in our squad. He is the only nice one we currently got at holding role that Gerrard can't play well. Keep Lucas and we have to look ahead as Gerrard is getting over 30. Shelvey may b the one who is going to fill Gerrard's boot in future.
Posted 04:07 8th February 2011
Chad Hall says...
Well written. I was an aforementioned boo-boy but have been won over by his work ethic and never quit attitude. He deserves more plaudits than are given him and I will take him over Torres, Xavi and Javier any day, mainly because he wants to be here. YNWA
Posted 04:00 8th February 2011
Beetlebum Vegas says...
2 seasons ago, i shudder when i see Lucas on the team sheet... that was when we had Alonso, Marsch, SG.. 2 years on, i finally recognise Lucas as one of the first name of the team sheet... It took Christian Poulsen to show me what a player Lucas is... Lucas positional play makes it unnecessary to lunge into last ditch Marsch style tackles... a bit like Alan Hansen not tackling :) Lucas do not play Alonso Style passes as that is not his strength, he ensures possesion is not lost and moves to make himself available... pass and move Lucas do not play like SG as he is not as powerful physically.. He does the job for the team.. and Lucas does his job well... Very Well for the past 2 seasons Take a Bow Lucas, YNWA.
Posted 03:39 8th February 2011
Shane Hegarty says...
Great read. Some of the comments on here are jumping the gun though, better than Mascherano, Alonso-esque passing? The lads improving but his defensive ability is still not at the level of Mascherano although his work rate is as good if not better. His passing ability is still quite poor and to compare him to Alonso one of the best passers of the ball in the world is getting way ahead of yourself. He's been great for us this season and really happy to see he's getting the credit he deserves but if he wants to be a world class DM he'll have to keep his head down and keep improving like he has been the last year or so.
Posted 01:25 8th February 2011
S Bruce says...
Good article. Agree with everything. Lucas has not been outstanding but has been very consistent and that's what a team needs. As for the whole tevez /Lucas award, they both won it. Tevez in 2005 and Lucas in 2006.
Posted 00:59 8th February 2011
Jimmy Shoe says...
i do agree lucas plays the role very well and hes been excellent for a long time now and he puts his heart into every game even with the knowledge there's a few fans who have no time for him but one player who loses the ball frequently doesn't have a great deal of ability and who i think is clearly overrated is dirk kuyt he may work hard but that's not enough to merit a place in a team of Liverpool caliber its ridiculous and i feel im the only one who thinks it, the media love him i will never understand why theres players work hard with huge quality for instance tevez and to those who are pointin out hes playing out of position he got 4 goals when playin up front a few years back over the course of the season hes awful and if inter milan offered 15 mill last summer i dnt undertant why we never took it and invested in some young talent
Posted 23:40 7th February 2011