Novak Djokovic will be a noticeable absentee when the Madrid Masters gets into full swing this week.
The 22-year-old says there isn't a simple solution to the allergy problem that forced him to pull out of this week's Serbia Open in Belgrade and so long as his breathing problems continue there will be a question mark over his ability to challenge the best.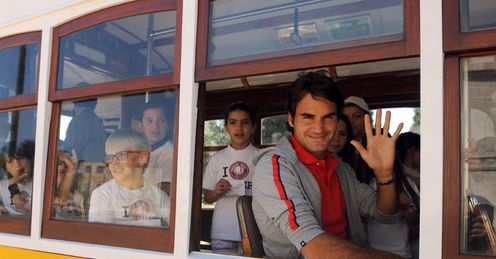 This isn't the first time he's had such an issue - it seems to affect him every now and again, he has also been affected with other health issues as was the case last year when he pulled out of the Australian Open against Andy Roddick with heat exhaustion.
He has received some criticism in the past for ducking out of various matches but I think it's now clear that this is a real problem for him.
Federer has to put a dent in the Spaniard's confidence ahead of the French otherwise if the two meet at Roland Garros I can only see one winner.
Barry Cowan
Quotes of the week
If a reliable remedy can't be found then presumably it is something he may well have to live with for the rest of his time as a pro player.
First
Djokovic's absence means that should Nadal win in Madrid (a victory that would make him the first player to win all three Masters 1000 clay court tournaments in the same season) he will climb up to second in the world rankings behind Roger Federer.
If those positions stayed the same ahead of the French Open then Nadal and Federer could not meet until the final but, in all honesty, I don't think such things affect either player.
Nadal knows that if he's fit and plays his best tennis he will win the French - no matter who he is up against and Federer, defending Champion in Madrid, will take the view that he's won the title before and will presumably have to play Nadal at some point to do so again.
If the potential change in rankings affects anyone, it is Andy Murray and Djokovic himself because ideally they'd both like Nadal and Federer to be in one half of the draw with them in the other.
Peak
Given how Nadal played en route to victory in Monte Carlo and Rome, I can't see anyone beating him in Madrid this week or the French, for that matter.
The confidence is clearly back now and he is justifiably the overwhelming favourite. What's more he will have benefitted from having a break and not playing in Barcelona.
In contrast Federer played Estoril - a tournament he should have been more than capable of winning, given that the standard of the field was average.
He insists he is unconcerned by his form, though, and that's because he's aiming to peak at the Grand Slams. By definition that means you have to go through certain periods where you are doing a heavy block of training and don't necessarily get the results expected of you.
Federer won't be happy losing to Albert Montanes but he'll know that even as great as he was four or five years ago he did often struggle but came through when it mattered. These days the overall standard of the men's game has improved and there are more tougher matches.
I actually think this is a massive week for Federer because he has to put a dent in the Spaniard's confidence ahead of the French otherwise if the two meet at Roland Garros I can only see one winner.
Barry answers your questions...
Got a question for Barry? Then send it in here or use the feedback form below, and then look out for his answer next week.
KING OF QUEEN'S

Hi Barry, enjoy the column. There were some nice pictures in the paper this week of Andy Murray at Queen's. Is he trying to tell us the grass court season can't come quickly enough? Cheers, Adam, Putney
BARRY REPLIES: Hi Adam, while it's good news Andy that is going to defend his Aegon Championship title I'm sure his focus is still fully on the clay. If it wasn't that would certainly be a massive negative, not least because no player can afford to write off a Grand Slam. If he did give up on this part of the year he'd only go into the grass-court season with a lack of confidence. It's much better that he continues to apply himself as he is doing. His form showed a slight improvement against David Ferrer in Rome but he's still well off the level that he was at the start of the year. He simply needs more matches to build confidence and get back into that winning mind-set.
Comments (4)
Michael Greenwood says...
Well the king will return to Roland Garros to reclaim his thrown & begin his 2nd reign of domination. Barry hits the nail on the head, if Nadal is fully fit he is simply unplayable on clay & it is doubtful even the brilliance of Federer can tame him. Personally even if Federer were to win in Madrid & beat Nadal it would have more of a positive effect for Roger than a negative for Rafa. The altitude in Madrid makes the ball travel quicker & Nadal has already acknowledged that this makes things more tricky & could be percieved as a leveller. Nadal will by nature look for the perfect preparation for the French Open & go for the win. The most interesting story hear however is far more romantic as nearly a year ago Nadal's world crumbled & many feared he was finished. The press, bloggers & fans said he'd never come back & be the unbeatable force he was. Yet the Mallorcan has returned & although it's early days the signs are ominous. He may not have the natural ability of Federer & many feel that his strength is his fitness & competive spirit but this masks his true gift. Nadal keeps demonstrating & amazing ability to adapt his tennis through adversity, he conquered Wimbledon after losing to roger in two finals, he conquered the hardcourts after never going past the semi final stage to win the Australian Open & now he returns after the knee problems and has adapted again. He has changed his approach to the busy tour schedule and although he's still covering ground to win points he has also worked on his volleying so he can shorten points & limit the physical demands on his body. It is a pleasure to see Rafa back near top form & breaking records again, we will now hopefully see the best of Federer as their tennis rivallry is the greatest in world sport & never fails to deliver.
Posted 20:51 13th May 2010
Adam Whiteley says...
Kane Miller, i think your forgetting already that nadals injury started in the french and got progressivly worse as the weeks went by thus pulling out of wimbledon, so it wasnt really a shock he went out to soderling who is more than capable of exploiting weaknes in his opponants, nadal is back fresh and i belive he will regain the french, easy.
Posted 17:10 13th May 2010
Kane Miller says...
I wouldn't say Nadal is unbeatable, although it can certainly feel that way at times. However we have to remember that Roger beat him last year in Madrid and then went on to win Roland Garros, sure his form hasn't been great since australia but he is still capable of pulling out some pretty incredibly tennis. I think on the case of Nadal, it's all about whether his body can take the strain. We all saw the effects of over doing it last year with his knees, for me it looks as if he has realised he IS human and so isn't pushing himself so hard, I reckon Nadal at his best is probably the best clay court player there has ever been, but you DO have to take in the psychological aspect of all of this. Nadal knows his body can't handle too much pressure or he'll end up injuring himself (regardless of what you say, that will be a thought in the back of his mind). Now we all know how driven Rafa is and I don't really think it will put him off too much at Madrid and the french, but when Federer peaks, he's going to be going for the kill and would probably prefer it being Rafa. If Federer can put the doubts in Nadal's mind and remind him (and the rest of us!) that he isn't unbeatable then I think Federer has a good chance of defending the french and carrying that on into Wimbledon. Alas this does all depend on whether Nadal can contain himself all together, he still is a freak of nature when it comes to fitness so he can probably still push his body to the limit, but whether he will allow himself to or not when it comes up to Roland Garros (Especially after the shock exit last year) will be a different matter entirely. I see it as Federer (Hopefully) beating Nadal in Madrid to set up for a very close and extremely exciting French, which if Federer defends Madrid, could go either way.
Posted 18:51 12th May 2010
Adam Whiteley says...
every time i see nadal play on clay, it really winds me up. i say to my girlfriend, who ever he faces is wasting their time. one round he makes you think you have a chance, and then the next round he makes you look like you've never played the game before. he is awesome on that surface, and his victories, not only on all the surfaces, but on all the surfaces over fed too, only suggest to me, than when fit, the guy is simply in a class of his own, he is built like a super middleweight, his presence alone must scare other player to death, what do you think barry? do you think at his best when is fit he has them beat before they even step out on court, purely because of his presence?
Posted 08:05 10th May 2010