I would like to thank France for putting England out of its misery.
This has been an appalling World Cup for England from first to last. They have become one of the most disliked teams in New Zealand for a whole host of reasons. To challenge Australia in the unpopularity stakes is going some but England has achieved just that.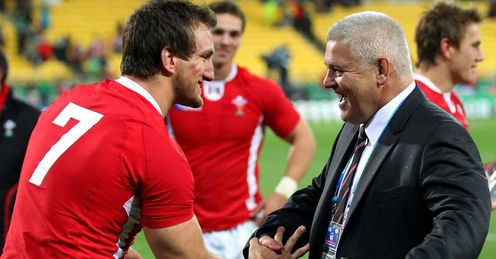 They have not achieved anything else. Indeed had they been in drawn in the pool of death with Wales and Samoa (taking South Africa's place as the seeded nation), I think they would have failed to qualify for the knockout phase.
Yet Martin Johnson told the world less than 24 hours after England had been eliminated by a French team that had been humiliated by Tonga a week earlier, that, given the opportunity, he would have done nothing different.
The Welsh team are not doing it for Britain but their own country. That should not stop the rest of us Brits cheering them on, though. I am a bona fide Francophile but the heart is with Wales all the way.
Stuart Barnes
Quotes of the week
Rob Andrew says a 'robust' review will be undertaken. No such thing is needed. The inability to see what an erroneous path England has taken serves notice enough.
In another age, Johnson would have seen it as his national duty to resign. These are different times and England is no longer a country where those in charge take responsibility for failure so do not expect a show of integrity as displayed by South Africa's Manager, Pieter de Villiers, who resigned in the wake of defeat.
Chaos
Andrew himself and the management board that has wreaked such chaos within the English game in recent months should be looking in the mirror. How could England have appointed a man with absolutely no management experience whatsoever as national manager?
No other country has attempted anything so remotely hare-brained. Great World Cup-winning captains do not automatically metamorphose into great managers. Who knows, Johnson may one day be as good a manager as he was a skipper, but he should not be allowed to learn on the job.
His many defenders point to the comparison with Clive Woodward, who failed in 1999 only to succeed four years later. But Johnson has had far more time at the helm than his old boss ever did and in that time has done little to change the structure of a struggling team.
He stayed with the wrong captain (Steve Borthwick) and the wrong centre pairing (Mike Tindall and Shontayne Hape) for far too long. When Tindall was adjudged unfit for duty, Johnson gambled on playing Toby Flood at centre, a gamble that came horribly unstuck as France waltzed around the England midfield. The arch conservative ended up taking his best strike player, Ben Youngs, off and bringing Richard Wigglesworth on. The Saracen scrum-half is many decent things but an impact player he is not.
It was a frenetic and ill-conceived end to a one-paced campaign where only the cheerleaders within the national media saw improvement that was never coming. England arrived in New Zealand respected but not loved. They leave neither, but with a 'robust review'. Much else could be written about this England team but most of it is best forgotten.
Focussed
On a happier note, Wales continue to march on. They were the team of the weekend in their 22-10 victory against Ireland. Two matches from the end of the tournament and people here are taking note. Warren Gatland has his men in prime condition and utterly focussed on rugby. The young players have cast off the fear of failure that has haunted many a talented but mentally-weak Welsh team.
In Sam Warburton, they have the captain of the tournament to date (although the magisterial performance of David Pocock in the epic Australian defeat of South Africa takes the performance of the tournament award to date) and in Jamie Roberts, they have another of the players of the competition.
They must attempt to do what England never looked like doing: beat France. It will not be easy. France will have drawn confidence from the quarter-final but Wales is the superior team. Having come this far playing the rugby they have, Wales has to reckon this tournament a failure if they fail to make the final.
Having lived most of my childhood in Wales and been reared in rugby there, I have never denied my soft spot. Those Englishmen who (often rightly) point out how Wales would support anyone but England in this situation (and I saw the multitude of Welsh fans wearing Aussie shirts in Sydney 2003) can make a statement for Britain by supporting Wales.
The Welsh team are not doing it for Britain but their own country. That should not stop the rest of us Brits cheering them on, though. I am a bona fide Francophile but the heart is with Wales all the way.
Dwindling
In the other semi-final, New Zealand face Australia and confidence is dwindling. The Wallabies, inspired by Pocock, toughed it out with only 24 per cent of possession to beat South Africa, while the All Blacks thrash around in the midfield without Dan Carter. Australia will need more possession and some sort of return to form for Quade Cooper. Maybe he should stop Twittering and focus on his day job.
New Zealand has to do nothing less than change its entire team structure. In the game against Argentina it was noticeable how everything went through scrum half, Piri Weepu. Not so long ago he was scrapping for the No. 9 shirt. He has played well and earned it, but now he has to cope with the pressure of becoming the tactical linchpin and goal kicker. I'll use a word much beloved in this lovely land; it is an 'awesome' responsibility and should the Wallabies get to him or should Weepu crack, they will see the link between forwards and backs eradicated.
Colin Slade limped off injured and the youthful talent of Aaron Cruden emerged from the bench. He appeared a cooler head and far more capable of handling the pressure as Carter's back up. Even so...
Perhaps Graham Henry has something up his sleeve. If he does not, Australia has a great chance. If he does, they still have a chance. The aura of invincibility has gone with Carter and the fact that Richie McCaw is playing his way through pain. With Carter gone, a man-to-man mauling at the hands of Pocock might just tip the All Blacks over the edge. It is Monday morning as I write this (Sunday night BST) and I am already excited by the weekend ahead.
Should Australia battle through, how much would they have left for a final? If the All Blacks prevail I will be shocked if they lose the tournament but I can see Wales, first beating France, and then Australia, should they be the finalists. This is a time to dream those old rugby dreams all the way from Llanwern to Llanelli.
Comments (15)
Chris Greaney says...
Hi Stuart, Now that the World Cup is almost over,who do you think should Manage/Coach the British Irish Lions in 2013 and what players look likely to go. Should players that can play heads up rugby only players that should be considered enjoy the colum as alway regards Chris Greaney
Posted 22:52 16th October 2011
Andy W says...
I have a simple view, England should be the best team in the world. we have the resources the clubs etc. However having seen how the county, divisional and higher levels are structured, I state that they very carefully filter out some of the best and naturally gifted players. How and why, simply county is dominated by a club coach and the coach's team will feature strongly, The divisional coach will most likely be from a specific type of school and the players that do not fit, not the players that are out played/ poorly assessed, are not carried forward. So the naturally gifted are carefully filtered out. I know that people will disagree, but I have seen this all at first hand as a coach, travelled around the country and found exactly the same when talking to other coaches.
Posted 19:22 14th October 2011
David C says...
I suggest England need a committee meeting, following by a strategic review, following by a focus group study, followed by a business planning meeting, followed by Rob Andrew changing his job title again. Thankfully, the RFU are past masters at such decisive action so the game is in safe hands.
Posted 21:00 13th October 2011
Oliver Mclaren says...
Remember this is the same team that won the six nations for the first time in years against very much the same irish, welsh, scottish, french and italian teams...none of those teams have dramatically changed, nor has their coaching staff. so is it just the tiniest possibility that our players just weren't on form. we beat the same irish and welsh teams before the world cup...with the same manager, Barnesy you're beginning to sound like a football pundit, as soon as things go wrong you blame the manager. had we got rid of Clive Woodward after the tour from hell several years prior to the world cup do you think we still would have won it. your opinion changes faster than traffic lights, no doubt you were praising the team after a warm up game or two, yet now you're all over there back, a little support for a struggling team would be a refreshing change.
Posted 23:44 10th October 2011
Phil Nicholson says...
Two comments based on reactions etc. Firstly as an avid Irish supporter, my disappointment was tempered by the realisation that this was the twilight of Ireland's golden age and the resurgence of the flair that made Wales such a joy to watch during the era of Phil Bennett, JPR and co; faster, quicker to the ball (it was like Brian Moore's commentary of the Grand Slam decider at the Aviva except we were on the receiving end). That style of rugby deserved what it got and I will be cheering on the Welsh. Secondly, England had the potential to do great things; look at world class players like Foden and Ashton who when they get the ball are exceptional. Then think about how they are managed. Yes go out and enjoy yourselves but bear in mind that events occurred and were magnified because of a failure to deliver. Would people have cared if they had blown other teams away; I dont think so, therefore there is a big attitude realisation required IMHO. I feel sorry for Johnno who was a brilliant captain; his players let him and the country down.
Posted 21:00 10th October 2011
John Taylor says...
What's frustrating as an England fan is knowing that we have some world class players only to watch the RFU and Jonno try and emulate the 2003 squad and tactics. Imagine what the England squad would look like and play like if Gatland was in charge! Let's learn from Wales' example.
Posted 16:55 10th October 2011
Andrew Wood says...
I just want to throw one thing back to Matt Hill who commented a couple of posts earlier. Mate, what do you mean the worst thing that can happen is that Wales win the tournament? All I ever hear is calls of "remember 1966 (how long ago now?) and 2003!" that get rammed down my throat like a sandwich by Englishmen. And I also get reminded about how Wales have not won any major sport world cup yet England have. Please look at yourselves in the mirror before making such a bone and senseless comment like that! England were terrible in this years cup and I am glad that they will go no further. They are a disgrace to England. They lack the wrong mentality. In 2003 they were a different beast and were deserveded winners. In 2011 they lost sight of that and are deservedly on an early plane home. As for Wales, well whoever they play will have the match taken to them. If they come away empty handed, it will strengthen THIS sides resolve to become the best over the next few years...
Posted 16:16 10th October 2011
Antony Jones says...
martin hill, england are out of the world cup because they failed as a team, on and off the field!, and because they had players out of position, how can a coach bring on a second row to play in the back row and leave a back row on the bench?? england lacked creativity, passion and basic rugby skills. as for hearing about it for the next 100 years, if wales win world cup, thats all we hear from the english is about how we won the cup in 2003 and its even worse with the football!! get over it your out and yes if we win we will shout about it for a while!! COME on Wales
Posted 15:20 10th October 2011
Phil Lewis says...
Oh c´mon Matt is any country any different? 1966 and all that? Johhny´s drop goal is shown more than the "great esape" and MBE´s for cricketers that win series... England are still the most reported country on sky even in defeat and possibly disgrace. Look the difference is, should Wales win it .. (and we know that it´s a big ask) it will have been with the right style and dignity
Posted 14:38 10th October 2011
Mike Simmonds says...
For those of you who are not my age, I can remember what the Welsh were like in the 70¿s when they had arguably the best team in the world, and the thought of putting up with that again (despite the fact that I think they are playing the most attractive rugby in the competition) is filling me with mixed emotions! That said, if they get to the final and can beat New Zealand or Australia in there own backyard then they deserve it.
Posted 14:37 10th October 2011
Graham Richmond says...
As an England fan, your comments above and in your Sunday Times column and Sean Fitzpatrick's comments after the game on ITV are interesting. Did Manu Tuilagi's inclusion upset England's game plan, and throw the restricted, yet familiar, Wilkinson, Hape, Tindall axis into disarray? But they are not good enough in any event. Manu Tuilagi - at last, a shining mid-field light around which England can build their game plan; and so simple. First phase: a big, powerful man running into the mid-field, developing quick ball. Bring the back-row into play. Then as this puts the defensive line under pressure, the next phase should bring in the back 3, at pace and looking for miss-matches. I believe the game has moved past 10 man rugby. The strategy has to be to score tries. England have the assets in Tuilagi, Haskell, Foden and Ashton to do this now, but why did they not do so at the tournament? The game plan should be built around the players that you have, rather than being imposed from the top. As an inexperienced manager I think Johnson has relied heavily on his coaching staff. I wonder how influenced he has been by them in his team selections. In my opinion these guys have not got it right through previous managers Ashton, Robinson and now Johnson, and they should have gone at each re-shuffle. This is Rob Andrew's fault. Johnson remains a talisman. In my opinion Johnson may survive, but the coaches have to go. The players themselves have to look at their basic skills, which have been embarrassing. Passing and catching. Keeping your eye on the ball and adjusting to what's in front of you. But perhaps this demonstrates a lack of confidence in (or understanding of) the game plan being imposed on them, i.e. it is not coming to them naturally. Contrast Wales, who have built a game plan around their assets and personnel, therefore, every player is confident and thriving. Good luck to them.
Posted 12:30 10th October 2011
David Mckeown says...
Did you know England has an ' attack coach '. Just read that in the Times. Wow . Is it good money? Where do I apply?
Posted 12:08 10th October 2011
Matt Hill says...
Stuart I cannot agree with your opening line. No matter how badly we have played at this tournament, if we had won ugly in every game it would have been irrelevant. I for one am not glad we are out - just because we played badly. I cant help but watch wales vs france thinking that realistically england are better than both, Yes i'll be cheering on Wales against france, but the worst thing that could happen is for Wales to win the tournament, we'd hear about it for the next 100 years!
Posted 11:28 10th October 2011
Paul Eveleigh says...
Stuart - Good reading your thread as usual. As a born Welshman and bred South African (I know!) I have to say the loss by Wales to SA in their first game has given them a great platform to win the whole thing. If it came down to style of rugby they would have won already. As for England, they are much like SA, they need to take a long hard look in the mirror - the people tasked with keeping the game in good hands are the exact ones pulling it down. Both have players good enough to win a world cup and in SA's case specifically, had the keys to the kingdom after the 2007 World Cup but pawned them for an old caravan in a trialer park. C'MON WALES!
Posted 10:59 10th October 2011
Dennis Elliott says...
The one telling remark I picked up over the weekend by a pundit was that England were trying to play a game that was out of date.( Quick Ball and running angles is the new order.) Of course Leicester are missing half their team but it interests me to note that England richest club has apparently lost its crown and is still obsessed with bish and bosh over finesse. The interesting common theme is the coaching of these two teams is largely under the control of a group of former Leicester players who excelled at the old way and know no other alternative. Worthy as the ABC club was and what it did in its day the time has come for brainpower and an ambition to release a whole heap of talent that has been ignored by Jonhson and co. Please please for all rugby lovers lets get this fiasco ended.
Posted 09:40 10th October 2011