If you were disappointed watching what was a pretty average Six Nations (unless you were Welsh!) don't panic as this weekend sees the return of Europe's Heineken and Amlin Cup competitions.
For me there is always that feeling of something really special around the big European weekends. Where else do you get the opportunity to watch your club take on some of the established rugby royalty? And where else does your week to week clubman get to test himself up against the international elite.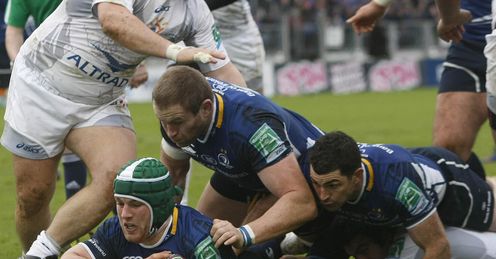 Put that against the contrasting back drops that can be anywhere from the Mediterranean coast to High Wycombe and it doesn't get any better for the armchair punter.
It all kicks off on Thursday evening with Rob Baxter's wonderful Exeter side gracing the European quarter-final stage against the Parisian heavyweights Stade Francais. Friday and Harlequins have to enter the bear pit that is the Stade Felix Mayol, home of big spending Toulon, and attempt to repeat their heroics of round four when they recorded a momentous away win in Toulouse.
Representatives from England and France argument that to have the most competitive tournament it is essential we have the best sides competing against each other.
Dean Ryan
Quotes of the week
Then Saturday kicks off with two sides, Wasps and Biarritz, both steeped in Heineken history but both having suffered their share of troubles over the past year. Wasps are fresh from a morale-boosting win over Gloucester in their fight for Premiership survival and looking to continue their resurgence against a Dimitri Yachvilli-inspired Biarritz, the Top 14 giants who have had their own season of staring at the relegation trap door. Next the Heineken Cup double header will see if both Edinburgh and Cardiff can upset the odds and come out on top versus European heavyweights Toulouse and Leinster.
On Sunday the all-Irish clash will see Ulster try to breach the stronghold that is Munster's Thomond Park, followed by England's flag bearers, Saracens, up against European underachievers Clermont. If that isn't enough, then you can round off watching George North and co return fresh from a Grand Slam as Scarlets attempt an away win in France against Brive.
Mumblings
Now I don't know anyone who won't get something from that sort of weekend, so why do we hear mumblings from both the English and French representative bodies that they want change.
Their concern is around the qualification process. This season the six Heineken Cup pools consisted of 24 teams. The English and French teams qualified by finishing in the top six in their domestic leagues and the top three finishers in the Pro12 from each of Wales and Ireland qualified irrespective of overall placing.
Meanwhile the two teams from each of Scotland and Italy have their entry protected. The two final slots go the winners of the previous year's Heineken and Amlin Cups, with the place going to the seventh place in that domestic league if that club has already qualified.
Representatives from England and France argument that to have the most competitive tournament it is essential we have the best sides competing against each other. And potentially the integrity of the tournament could be threatened if weaker sides gain automatic entry and eventually distort the knock out stages by giving those drawn in their pool a potential advantage.
This is pretty difficult to argue against but in the hurry to move forward we have to be very careful about what we may lose along the way.
Winds of change?
One proposal being mooted is to take a model where the top eight qualify from all three leagues, this way everybody will be treated fairly in their quest for qualification in the following year. If we look at this simplistically and take a snapshot of the current standings, we can see what the tournament potentially might look like.
In the Aviva Premiership we would add both Sale Sharks and Bath to the English contingent; in France we would add Stade Francais and Agen whereas; while we would lose Treviso, Connacht, Edinburgh and Aironi from the Pro12 representatives. The benefits for both the English and French are obvious. In fact exactly the same would have been the case from the Pro12 if we carried out the same exercise the year before just swap Edinburgh for Glasgow.
In truth it would be very difficult to see either the two Italians or Connacht upsetting the current status quo, with the final place likely to be fought over by one of the Scottish sides versus the bottom Welsh side. Potentially a European competition without Italian and Scottish participation becomes a reality.
We have to ask the question whether the addition of sides such as Sale and Bath on top of the existing six qualifiers (using the snapshot model) really merit what we potentially can lose.
The other key point of contention is where teams, specifically the Irish provinces who know they've qualified for next year's Heineken are, able to rest and peak for key games giving them an advantage in the latter stages. Whereas French and English sides are still fighting tooth and nail and will be doing so in the middle of the Heineken Cup to ensure qualification for the season after.
Doesn't stack up
I'm not so sure that this argument really stacks up as particularly Leinster and Munster have always qualified for the Pro12 or Magners play-offs since they've existed and I can only recently remember a blip in 2009/10 when Munster came fifth. I'm not sure what exactly they would change in their approach by having to qualify in the top eight, as things seem to be working okay as they are.
So when looking to the future I suppose we have to ask the question: what is the tournament most likely to gain from?
The argument put forward of getting the most competitive teams playing against each other having qualified through the fairest of systems seems an obvious one, but are we in danger of losing some of the fantastic diversity and contrast that this tournament can offer with all countries having their part to play.
Whichever side of the debate you come down on - looking at this weekend's line-up you can't argue there is too much wrong.
Dean Ryan's Sky Bet Predictions
Heineken Cup
Edinburgh v Toulouse Home win
Leinster v Cardiff Home win
Munster v Ulster Home win
Saracens v Clermont Home win
Amlin
Toulon v Quins Home win
Stade v Exeter Away win
Wasps v Biarritz Away win
Brive v Scarlets Away win
Bet on the Heineken Cup
Comments (4)
Michael Finlay says...
A sound case well put. The simple fact is, of the Premierships top six, only one was good enough in the group stages to qualify and if the meritocracy argument was to hold, Ireland's big three and Cardiff would still be there. What we would lose is Edinburgh, who have been a revelation in the competition and I hope they and the 30k plus at Murrayfield enjoy their deserved day in the limelight.
Posted 09:05 6th April 2012
Nick Lewis says...
The real proof of whether the best club are playing in Europe can be gauged by the record of the Pro teams against the Big 2 this season. The system works very well and encourages competitiveness in each respective league plus a little incentive for Amlin teams. It sound like a case of The Big 2 stamping their feet and telling the Pro 12 that "if you want to play with our ball........" They better start beating the Pro 12 teams and dominating Europe first !
Posted 14:58 5th April 2012
Mick K says...
Maybe increase the number of pools from 6 to 8 , that way England and France get extra places , Scotland and Italy keep their 2 places and maybe incorporate other European nations . That way make it a more European competition rather than squeezing fringe countries out. There will be weaker teams involved but Italy grew stronger when allowed into the 6 nations. Also the winner of each pool qualifies for the last 8 rather as it is where the best 2 runners up teams usually come from a pool with two weaker teams .
Posted 14:03 4th April 2012
Nick Manning says...
Lets not forget as well that quite often it is the "smaller" french sides that have failed to pay the tournament the respect it deserves. Bourgoin shipping 90 points versus Leinster in Lansdowne road a few years back. Castres, Racing, Brive, Agen, Montauban, Clermont, and Toulon have all been guilty of fielding weakened teams at times in order to focus on their domestic campaigns. You then have Connacht beating Harlequins to deny them a place in the knockouts and pushing Gloucester close twice. Aironi usually manage to grab the scalp of a heavyweight each season. Then you have have Edinburgh who can claim wins over Toulouse, Wasps, Leinster, Stade Francais, Leicester, and Northampton. Not many sides in Europe can claim a similar record.
Posted 11:37 4th April 2012