Leicester Riders 'one of the great defensive teams in BBL history'
Leicester are a great defensive team, says Daniel Routledge, but are they the best in BBL history?
Last Updated: 30/04/13 11:38am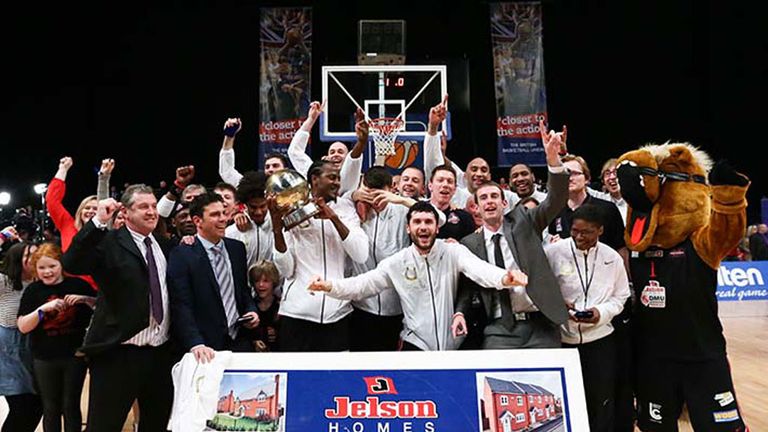 I'd perhaps want to give myself the perspective of time before I make my mind up, but make no mistake about it, the 2012/13 Riders would certainly be in that conversation.
What struck me about their 68-57 victory over Newcastle Eagles in the BBL Play-off Final was actually how unsurprising it was. Not necessarily that Leicester won, I thought it was a coin-toss going in, but the manner in which they won.
They won the game by keeping a team who averaged almost 90 points per game to only 57. But that wasn't a surprise, because the previous weekend they'd kept Plymouth, the only team to beat Newcastle in the scoring charts this season, to only 60 points.
And that wasn't a surprise because they conceded less than 70 points in 25 of their 47 games, less than 65 in 16 of them and less than 60 in eight. That almost needs repeating: in one in six of their games this season, their opponents didn't even reach 60 points. The league average this year was 82 points per game, Leicester gave up 82 points or more only four times, they won two of those and a third was when they rested six players having already won the league. That is mind-boggling.
Exploits
If you'd asked me about the great defensive teams in BBL history last summer, first in my mind would be Sheffield in the mid-90s and the recent Newcastle teams.
The Eagles' success was built on defence, but they had phenomenal offensive power to go with it, which is why in the top 10 all-time lowest points per game against averages list, the best you'll find them is ninth, last year's team averaging 75.48 points against.
In first and third on that list, either side of this year's Leicester squad, is Sheffield from 1994/95 (67.33) and 1995/96 (69.69). The Sharks won the league and cup in that first year, but didn't pick up a trophy the following season.
On those measures, I'd lean towards that first Sheffield side as the better defensive unit of the two.
Those averages are league-only, as it is the measure the BBL uses. If you counted every game in the season, Sheffield of 1994/95 gave up 67.90 points per game, Leicester of 2012/13 conceded 67.87 points in all competitions.
Riders also scored three points per game more than Sheffield in that season, so had a bigger average winning margin.
The other thing to remember is Sheffield's exploits were the days of a 30-second shot clock. Those six extra seconds equates to roughly 20 more plays, 10 more defensive stands that the current Leicester squad will have had to face to come up with better averages.
Those numbers may lead you to edge towards Leicester, but to me judgments like this require the eyeball test, which is why I'll wait a bit before making a decision. I have distance from the Sharks of 1995 and my memory of them is enhanced by that, I need some distance from the Riders of 2013 to be certain they were better.
That play-off final though will certainly linger as a case for the defence as far as Leicester is concerned. I certainly enjoyed being back at Wembley, a place where I have many memories as a youngster watching the climax of the season. It was a great atmosphere in front of a sell-out crowd of 8,500.
Hope
To all the fans, players, coaches, volunteers and club staff who have welcomed me and the Sky Sports cameras this year, who've entertained us all, I say thank you, enjoy the off-season and I'll see you in September.
Before I go, I feel I should mention the big NBA story of the week. I've agonised about it, because I'd like to think in 2013 that Jason Collins talking about his sexuality is not really a story. By talking about it here, I am perpetuating the fact that it is very much a story.
To me it's weird because I've had colleagues who are gay, lesbian, bi-sexual and trans-gender. They weren't a story, their sexuality wasn't something to write about in a blog, so why should this be? Also I said nothing about Britney Griner a couple of weeks ago; why is this a different story? And yet it is and he admitted as much in his wonderfully written article in Sports Illustrated.
Maybe he's a modern day Jackie Robinson breaking down the last repugnant barriers or maybe he's just a journeyman NBA telling his story, I honestly don't know. Whatever, he's just another guy on a team trying to win games, setting picks, grabbing rebounds, making the occasional shot, that's all I care about.
So there we have it, an openly gay active professional male athlete in American sports, can we move on now? My one hope is that his story will mean those openly gay sportsmen who follow him are not a story.