Tyson Fury admits he felt nervous in his comeback fight and was left disappointed by the performance of his opponent Sefer Seferi.
The former world heavyweight champion marked his return to the sport with a one-sided stoppage win over Seferi, who retired on his stool after the fourth round.
Despite Seferi's lack of ambition, Fury revealed that he needed a few rounds to conquer his nerves in his first fight since a world title triumph over Wladimir Klitschko in November 2015.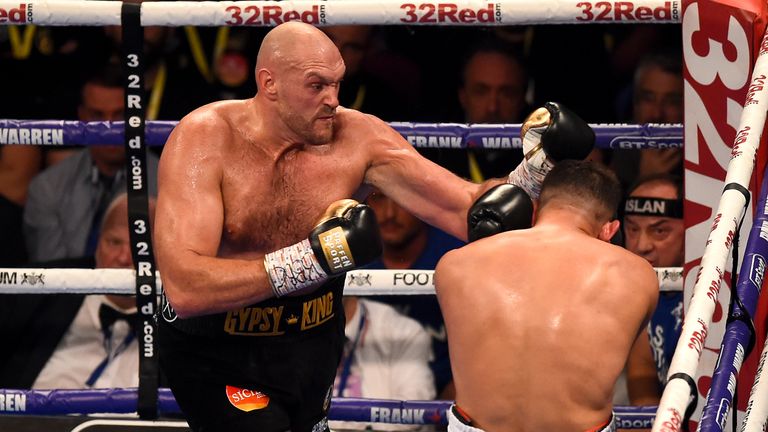 "It's a long time, nearly three years out of the ring," Fury told a press conference ahead of his next fight in August at Belfast's Windsor Park.
"It was a sell-out stadium, all the pressure was on me, I was a little bit nervous. It took a couple of rounds to get settled in, but once I got settled in, perfect, no problem."
Tony Bellew has stirred up his rivalry with Fury by suggesting the 29-year-old is 'not ready' for a domestic clash.
But with three further fights expected this year, Fury hopes to receive a more physical challenge from future opponents.
"It was disappointing to say the least for me, because I trained for six months," he added.
"I hoped he would take me a bit longer and give me a better fight. It was what it was. I can't complain.
"I came out unscathed, still good-looking as ever, still got my senses and I'm here, roll on Belfast. Come on, let's go.
"I hope this time I get someone back who can have a fight with me, punch me in the face a couple of times, give me a busted nose, and a busted mouth, and I hit him back and I knock him upside down."