Floyd Mayweather and Logan Paul's exhibition match could end in a knockout but will not include judges or an officially announced winner.
The Florida State Boxing Commission has confirmed the ruleset for the match on Sunday at midnight, live on Sky Sports Box Office.
No judges
No official winner read
Knockouts legal
KO up to referee's discretion
No headgear
12 oz. gloves
Eight three-minute rounds
Sky customers: Buy Mayweather vs Logan Paul
Non-Sky customers: Buy Mayweather vs Logan Paul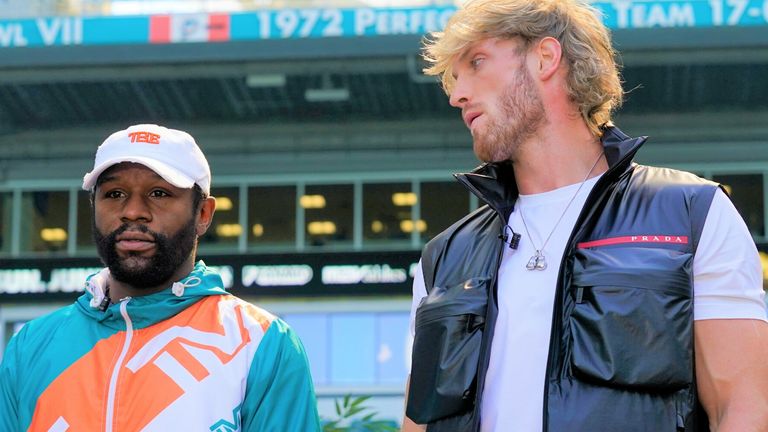 The rules for the weigh-in have yet to be officially confirmed - Logan Paul towered over Mayweather during their first face-off.
But Logan Paul has claimed on social media that he must weigh-in at 190lbs and Mayweather 30lbs less. For every pound overweight he is, he claimed, he will be fined $100,000.
In Mayweather's previous exhibition match, against Tenshin Nasukawa, the rules also stated no winner would be officially recognised - but Mayweather knocked him out in one round.
Previously, his 50th and final professional boxing match against Conor McGregor came after a dispute over the glove size.
McGregor had insisted on smaller gloves that the Nevada Athletic commission usually allowed but Mayweather agreed to it, and again emerged with a stoppage victory.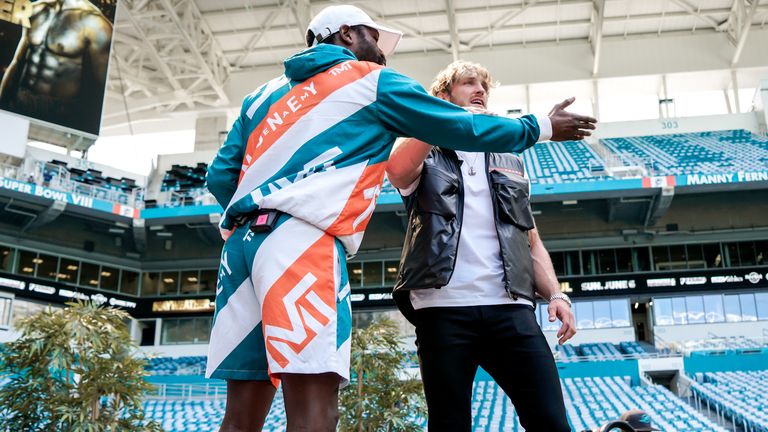 Logan Paul has said: "I'm 30 pounds heavier, I'm like six, seven inches taller. Half his age and I'm hungry, and I've got nothing to lose.
"I'm going in there with that energy, and he's got everything to lose. There's a lot on the table for him, not a lot on the table for me, and that's a dangerous man.
"It's a fight, so anything can happen."
Logan Paul's former trainer Shannon Briggs, the former heavyweight champion, told Sky Sports: "He's going to shock the world.
"You know what, keep your eyes on this guy.
"I felt his power before. Listen to me, he can hit. I'm telling you, the boy can hit.
"Be careful. This might not be what you all think it is. The boy can hit.
"It is the great Floyd Mayweather, but this kid is bigger, and he's got some quick punches."
Watch Mayweather v Logan Paul on Sunday, live on Sky Sports Box Office, from midnight. Book it via your Sky remote or book it online here. Non-Sky TV subscribers can book and watch it here.