Amir Khan hits back at Floyd Mayweather after Danny Garcia demand
By Richard Damerell
Last Updated: 08/08/15 11:14am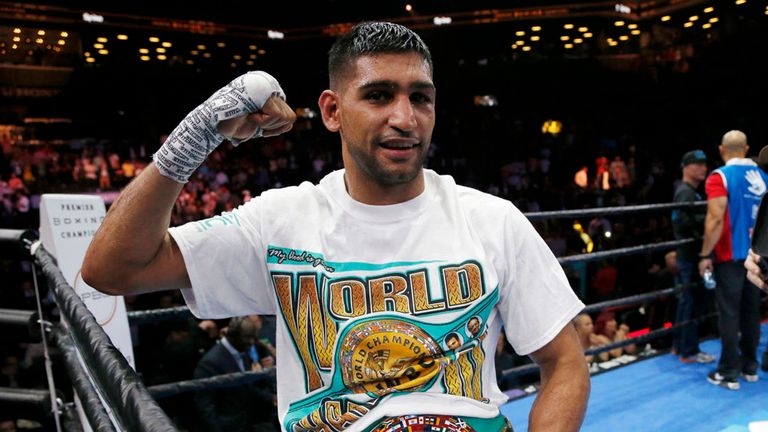 Amir Khan has branded Floyd Mayweather "childish" and believes the American star will not be remembered as a great fighter.
The two-time world champion has again been frustrated in his attempts to land a fight with Mayweather, who instead selected Andre Berto for his 49th bout in Las Vegas on September 12.
At the press conference to announce the Berto fight, Mayweather was asked about his reluctance to battle the Bolton man and suggested that Khan could earn a shot if he avenges his 2012 stoppage defeat by Danny Garcia.
This fresh demand from the sport's biggest star was shrugged off by Khan as he feels the 38-year-old is continuing to tarnish his reputation by avoiding him.
"He's just putting all these obstacles in front of me, because he knows that obviously I'm a big threat to him," Khan told Sky Sports.
"Work it out. Look at my last few opponents and he's fighting Berto, no disrespect to Berto, who is a friend of mine, but obviously there are levels in boxing. I think he's just being a little childish and he knows that Amir Khan will give him a tough fight and he's kind of avoiding it.
"If he's not going to man up and fight me, then I'll have to fight Manny Pacquiao or someone like that. Someone who would fight me.
"I think even though Mayweather is a great champion, I don't think he will be remembered as a great fighter because if he's not fighting the top guys then he's waiting until they get old when he knows the guys in front of him would give him problems. He's cherry picking his fights.
"All the very best to Floyd Mayweather, if the fight happens between me and Mayweather it happens."
Khan expects to return to the ring in late November or December and still has plenty of exciting options to consider. WBA welterweight champion Keith Thurman is calling for a clash, while Khan is confident that a thrilling showdown with former gym-mate Manny Pacquiao can be agreed.
"I really believe that fight can be made quite easily," he said. "I think Manny is a man and he would definitely take the fight." 
A Wembley clash with Kell Brook, the current IBF king, also appears to be part of Khan's future plans after he held talks with the Sheffield fighter's promoter Eddie Hearn last month.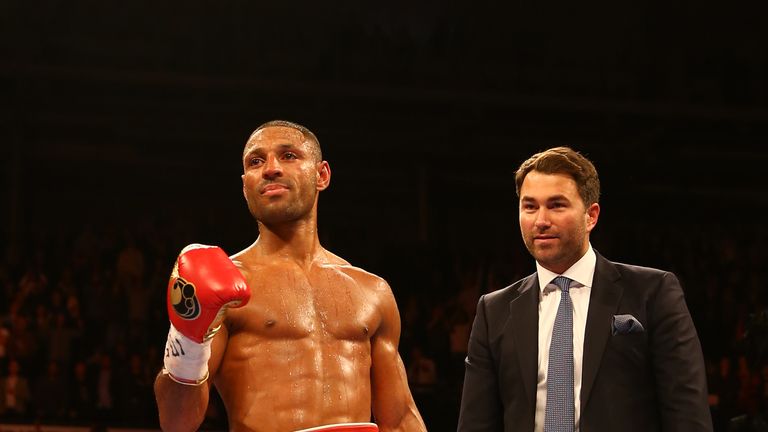 It's a fight that everyone has wanted for years and years. It can potentially be one of the biggest fights in Britain.
Amir Khan on Kell Brook fight
He would relish the prospect of settling their long-term rivalry in front of a huge audience at the national stadium.  
"That's a fight I would love to have in the future," said Khan. "Somewhere like Wembley would definitely sell out for that fight.
"It's a fight that everyone has wanted for years and years. It can potentially be one of the biggest fights in Britain.
"That's the reason I want the fight is to prove a point and give him a beating and put him in his place really, so then everyone in the UK knows who the best welterweight is."
Amir Khan was speaking at Gamescom ahead of the launch of Destiny: The Taken King that is available on all major platforms on 15th September 2015.
He said: "It's an amazing game. Obviously I play a lot of games at home or after training. It takes my mind off all the hard work that goes into preparing for a fight.
"I'll definitely be getting the game because it's a great way for me to spend my down time." 
Find out more information at www.destinythegame.com