Deontay Wilder hopes to fight former sparring partner Wladimir Klitschko next year after securing his 34th stoppage victory on Saturday.
Wilder (35-0-KO34) dominated Frenchman Johann Duhaupas in Birmingham, Alabama, finally stopping his foe after landing a flurry of successive punches as the fight was nearing what would only have been the second points decision of his explosive career.
The 29-year-old now faces a mandatory defence of his WBC heavyweight title against former champion Alexander Povetkin, but he is very keen to take on Klitschko, who was forced out of a clash with Britain's Tyson Fury next month because of a calf injury.
Klitschko (64-3, KO54) easily beat Povetkin in one of his 18 title defences in 2013, and Wilder thinks he might be the man to end the Ukraine fighter's time at the top - he holds the WBA, WBO, WBO and IBO belts.
"Hopefully, sometime end of next year," Wilder said. "We got to get these mandatories out of the way.
"People gotta understand. They got to stay patient. This is a process and a business.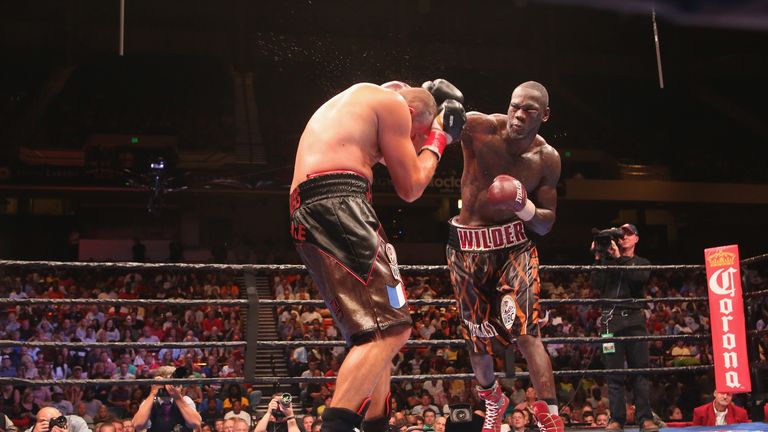 "But as long as I keep winning, which I will, and he keeps winning, that should come around real soon, and we can have an undisputed heavyweight champ of the world, which is me, baby."
Duhaupas believes Wilder could challenge the likes of Klitschko, but hinted that fight might not prove as straightforward as many of the unbeaten heavyweight's victories so far.
"Wilder is a good fighter. I think he is tough and hit me with some good shots, but I also think he should have more preparation to go to the next level," Duhaupas said.
"He can compete with Klitschko and Alexander Povetkin, but he needs to train hard and have a strong game plan."