Joe Gallagher says Oliver Harrison's mask is slipping ahead of Callum Smith v Rocky Fielding
Last Updated: 31/10/15 2:34pm
Joe Gallagher believes rival trainer Oliver Harrison's 'mask is slipping' ahead of the Liverpool derby dust-up between their two fighters, Callum Smith and Rocky Fielding.
The trainer of Smith came under attack from his counterpart, who says he 'talks too much' and was handed, rather than created successful fighters like world champions Scott Quigg and Liam Smith.
Gallagher responded by saying the relevant fighters chose him, not the other way round but also believes Harrison's words are showing he is cracking under pressure as he prepares Rocky Fielding for Saturday's British super-middleweight title showdown, live on Sky Sports.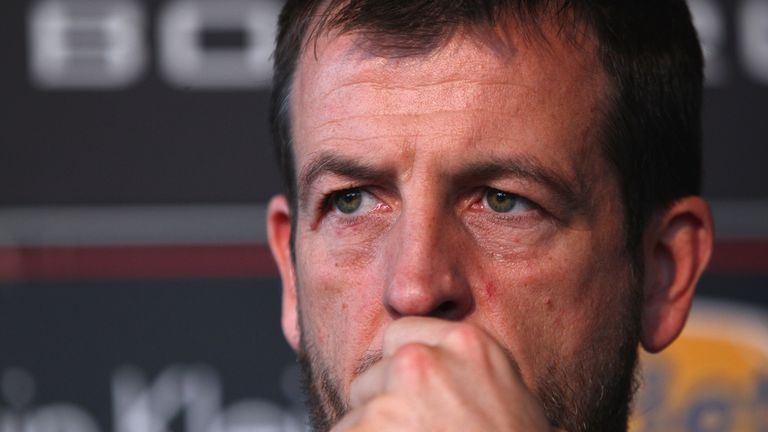 The mask is slipping. I know Oliver and he says: 'it's all about the fighters not about me' and 'I'm camera-shy' but that is just a facade
Gallagher on Harrison
"If I am talking too much don't be worrying about it Oliver needs to concentrate on his own job," he told Sky Sports.
"Look after your own garden Oliver, stop looking over other people's fences, because I am not looking over anyone's fence. I am concentrating on what I have got to do.
"The mask is slipping. I know Oliver and he says: 'it's all about the fighters not about me' and 'I'm camera-shy' but that is just a facade.
"He used to champion that cause, that it was the fighters that mattered, but we can see what's happening. The mask is definitely slipping."
In regard to his current fighters, Gallagher pointed out that Anthony Crolla 'came to him' after losing to Gary Sykes (November 2010), while Scott Quigg joined him after original trainer Brian Hughes had retired while newly-crowned world champion Liam Smith, turned to him after drawing with Terry Carruthers (September 2010).
The trainer turned the tables suggesting that Martin Murray, who challengers WBO super-middleweight champion Arthur Abraham on November 21, live on Sky Sports, would be as good, even without Harrison in his corner.
"When he turns round and says I was given fighters, I haven't been given anything," he said.
"These kids have come to me from their own accord. He was given Amir Khan at the start of his career. One of the most exciting talents fresh from the Olympics - he was given him. 
"And when he says 'they wouldn't have won anything without me', Martin Murray must be sitting at home thinking 'What? Hang on, I was a really good amateur' - and Martin was a very good England amateur.
"I think it's a bit out of order saying they wouldn't have done things if it wasn't for him. I'm sure Martin Murray would arguer the point that he was talented and would've got where he is, with our without Oliver."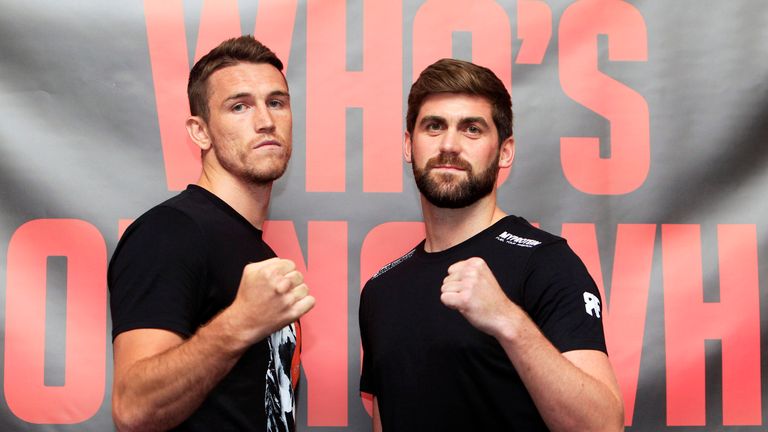 Gallagher has also expected for more fireworks in fight week, when a new promotional video will come out.
The trainers will come together for the first time in ages at the pre-fight press conference on Thursday but one of them is already looking forward to seeing more of what has already been said.
"You will see an interview in which he declares he is the best coach in the world," said Gallagher.
"Wow!I always thought it was Floyd Mayweather Sr and he's not shy in coming forward and telling everyone that! 
"Ane when he reminds you he is training the best pound-for-pound fighter in the world you put your hands up and say 'yes, you are'. 
"I will look forward to seeing Floyd Sr next time and saying: "Sorry Floyd, you're wrong there, there's a fellow called Oliver Harrison in Salford."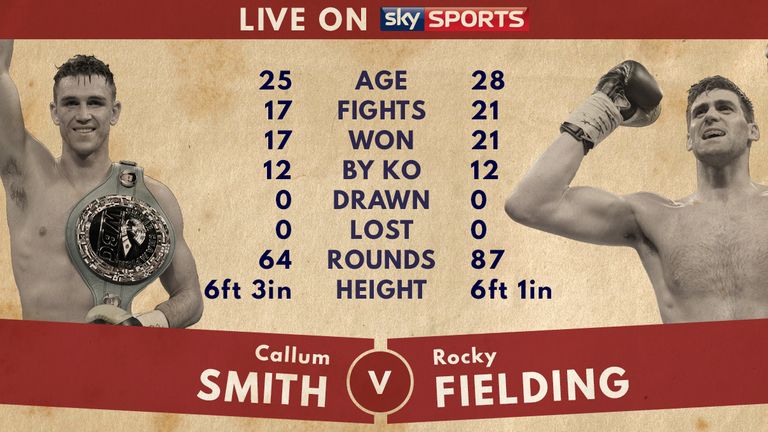 You can watch Callum Smith v Rocky Fielding from 8.00pm, Saturday, Novembebr 7, live on Sky Sports 1.