Anthony Crolla says he never lost his belief despite the newly-crowned world champion being left with a fractured skull when confronting burglars at a neighbour's house last year.
Crolla fulfilled a boyhood dream by becoming WBA lightweight champion at the second attempt after knocking out Colombian Darleys Perez at the Manchester Arena on Saturday night.
Such a feat seemed like a remote possibility less than 12 months ago when Crolla was hit over the head with a concrete paving slab, leaving him with serious head injuries and an ankle fractured in two places.
"Honestly, I always believed I would get back here and I made a promise when I was in my hospital bed that I would come back bigger and stronger and I believe I have that's what I have done," Crolla told Sky Sports News HQ the morning after becoming world champion.
"You must never stop believing and if you never give up and you work hard then it pays off.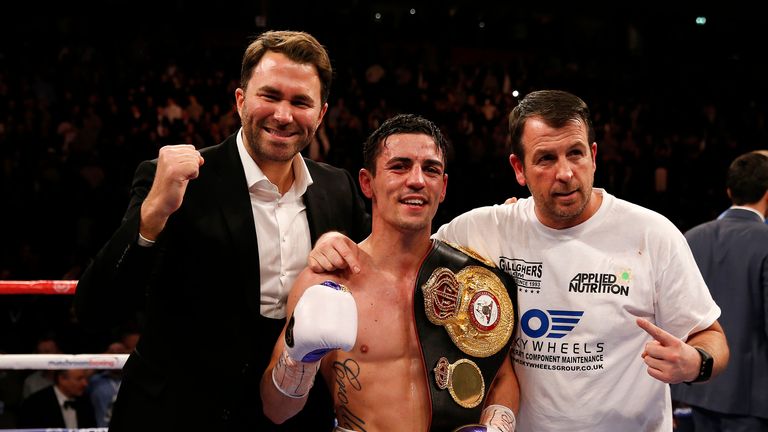 "With my injuries, the fractured skull was my main concern and getting over that. I had to tweak training a little bit because I had a broken ankle and there was a mental thing about getting back in there and getting punched with small gloves, but I think having my team around me has really helped.
"And like in any sport - you can be as fit as you like but if you're not right mentally it doesn't count for a lot so I just had to make sure I was mentally very strong and that's what I have done."
On Saturday, Crolla's promoter Eddie Hearn said the 29-year-old has life-changing bouts ahead of him, while trainer Joe Gallagher revealed he hopes to see his charge headline a mega-fight at Manchester United's Old Trafford Stadium next summer.
"I've not had a chance to speak about names for the next one," Crolla added.
"But I'm sure there are some huge showdowns, whether they are domestic showdowns or unification showdowns against other world champions. I'm sure there will be a few packed out arenas."
Crolla is a huge Manchester United fan and revealed he has been inundated with congratulatory tweets and messages from a number of current and former United players.
"It means the world to us and it's a bit crazy that a few of the players have tweeted us; Ashley Young, Wayne Rooney, Gary and Phil Neville," he said.
"It's a bit mad really that the players I have watched week in week out for years have taken the time out to watch the fight. It means a lot to me."
He added: "I don't think it's quite sunk in but it's an amazing feeling. It's a dream come true like I said in the ring last night. I'm just looking forward to it all sinking in and realising the achievement."