Amir Khan has denied "middle men" prevented a fight between himself and Manny Pacquiao, claiming the Filipino avoided the bout because it was "very dangerous".
On Thursday, Pacquiao told Sky Sports News HQ a fight with Khan fell through because of a collapse in negotiations with the British fighter's "middle men".
Talks between the Khan and Pacquiao camps began in September, with Las Vegas and Qatar earmarked as possible destinations for their proposed bout. 
However, Khan's hopes of landing a clash with Pacquiao were dashed when it was announced that American Timothy Bradley would face the eight-weight world champion in his final fight on April 9. 
Khan has labelled Pacquiao's claim as "inaccurate and false" and suggested the 37-year-old has taken an easier option by facing Bradley instead of him.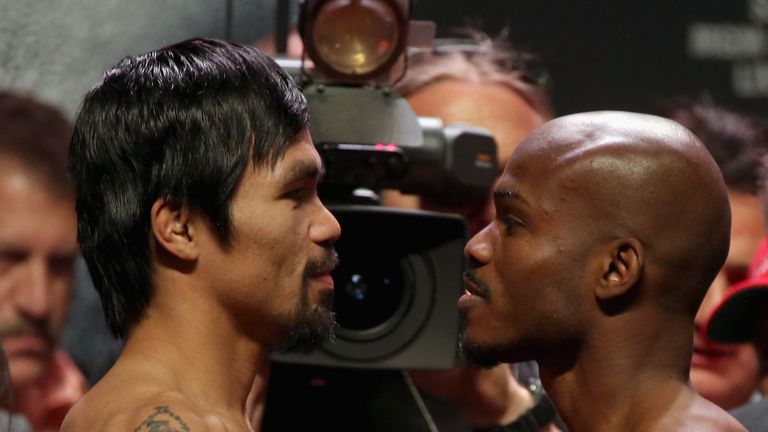 "I have read recent comments by Manny Pacquiao stating that the reason a fight between us never happened was because of 'middle men' in my team - this is totally inaccurate and false," Khan said in a statement. 
"The only people negotiating on my behalf, as with all my fights, were my father Shah, uncle Taz and lawyer Robert Davis. They dealt directly with Manny Pacquiao's promoter Bob Arum and adviser Michael Koncz. 
"An initial meeting took place last September between Bob Arum and my uncle and lawyer in London. This was at the direct request of Bob Arum. The negotiations went well to the extent that a 'Heads of Terms' was signed and sent from my lawyer to Bob Arum.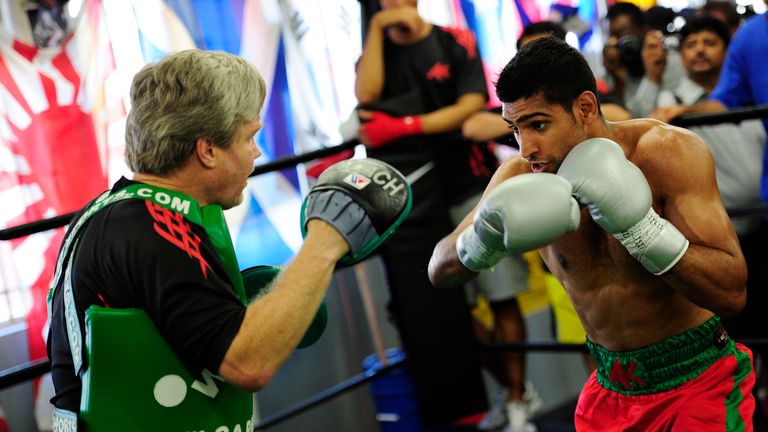 "My team was told by Bob Arum that it was a choice between either Terence Crawford or myself and dates in April were being explored with the fight to take place in Las Vegas or Qatar. 
"Since September of last year my team had been in direct contact with Pacquiao's team, spoke with them and met them face-to-face, so to state that middle men prevented the fight from happening is not true at all. 
"Rather, having seen comments from Pacquiao's trainer Freddie Roach saying that HBO were not interested in the fight - yet are seemingly happy to broadcast a third fight between Pacquiao and Timothy Bradley - makes clear the contradictions and the fact his team knew a fight between us would be a very dangerous one for him and best avoided. 
"Freddie, who has trained us both, knows how our sparring sessions used to go and with me having filled out more now as a welterweight, getting bigger and stronger, makes a fight with Bradley - who Pacquiao in most opinions has beaten twice - a much easier option. 
"I want to make the best fights for the fans and it was neither my team nor a lack of desire from my end which prevented a fight with Pacquiao from happening - that rests squarely on Team Pacquiao."