Tommy Martin is a rising super-lightweight, so here's the lowdown
By Isaac Robinson
Last Updated: 28/01/16 12:58pm
Tommy Martin faces John Wayne Hibbert for the Commonwealth title on Saturday, so Sky Sports sat down with the 21-year-old super-lightweight...
Tell us a bit about your background...
I was born in Chelmsford in Essex but then my family moved to St Neots in Cambridgeshire. That's where I had most of my childhood but I'm based in east London Monday to Friday for my training.
How did you get in to boxing?
My brother is going to kill me because he hates this story... I used to play for Peterborough United as a youth and was training three or four times a week. He'd follow me around the country with my Mum and [in order to get him to come] she'd have to bribe him with McDonald's. He put on a lot of weight!
Then my Mum wanted to sort it out and took him to the boxing gym. She said I should go and watch him as he'd followed me so much. I only went because of the guilt trip but as soon as I stepped in there - blood, sweat and tears, I loved it. I thought: 'I want a bit of this.' I started doing it, got back on a cold, muddy football pitch and realised I didn't want to be there. I was offered a scholarship by Peterborough United but I wanted to be in the gym punching someone's head in! My heart was in boxing and my parents supported me.
Were you handy in the playground before that or was it all stored up for discovering boxing?
I had a lot of amateur fights but people know me for being a nightmare before boxing. People used to tell me to calm down at football all the time because if one of my team-mates was having a ruck, I'd be the first one over there.
I've calmed down a lot and grown up as a professional fighter.
What's your trademark shot?
Everyone knows I've got a good jab and a lovely left hook but my right hand is coming into play now so I don't know.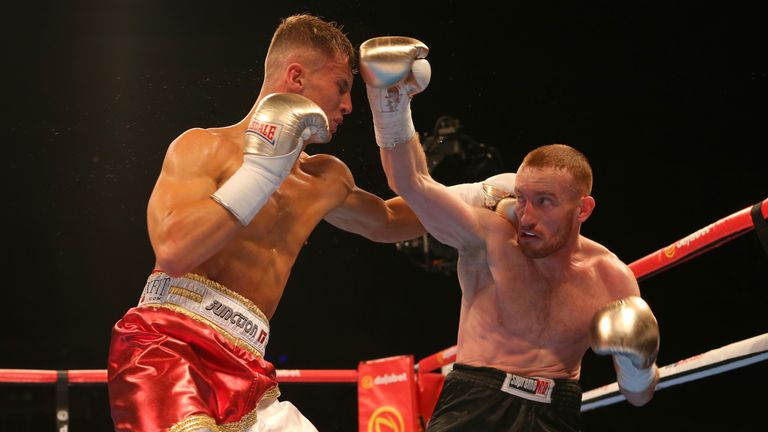 Any weaknesses you're working on?
For some reasons, I always think I could be fitter. I don't know why. I'm mad into my fitness. I just listen to my coach Barry Smith and whatever he says, goes.
With five knockouts from your 13 wins, are you still waiting for your 'man strength' or do you think you're more boxer than fighter?
In my last four fights I've knocked three of them out on the big stage. When it comes to the occasion, I rise to it and the longer rounds help because I'm a fitness fanatic.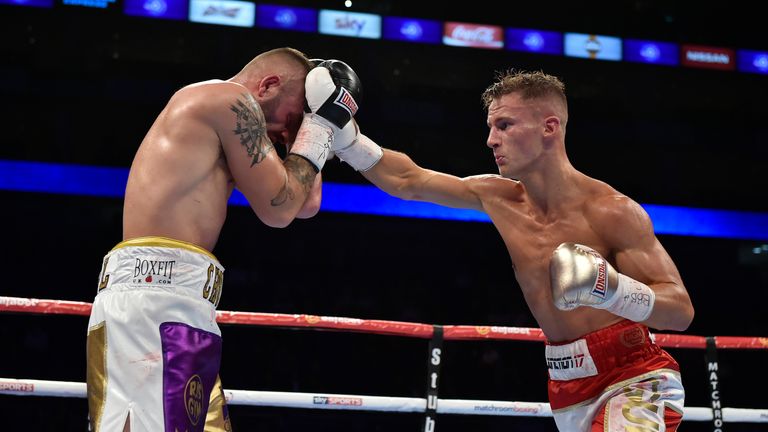 As time goes on, I'll grow in to my body more. I'm getting the results in the gym and it's just about putting it into practice.
Who are the top three UK super-lightweights right now?
That's tough. Tyrone Nurse you have to put in there because he's British champion. I'm not sure whether I'll put Wayne in there or not but I guess I have to because he's Commonwealth champion. Those two plus Ashley Theophane.
And what about the best super-lightweights in the world?
Garcia is gone from the super-lightweight scene - for now
My favourite fighter at 140lbs was Danny Garcia because he was so exciting, but now he's gone to 147lbs.
Terence Crawford is another dangerous operator. He's one to look out for.
Like Garcia and Amir Khan, are you planning to move up to welterweight for bigger pay days?
Definitely. I could even move down to lightweight. I've got my new strength and conditioning coach Leon Price involved now and he's with me every day in the gym. He sorts all my meals and preparation out, with mad water-loading diets.
We've been on 10st comfortably for weeks just by being natural and eating, drinking at the right times. If lightweight is an option, it'll be good for my team to have a look at it.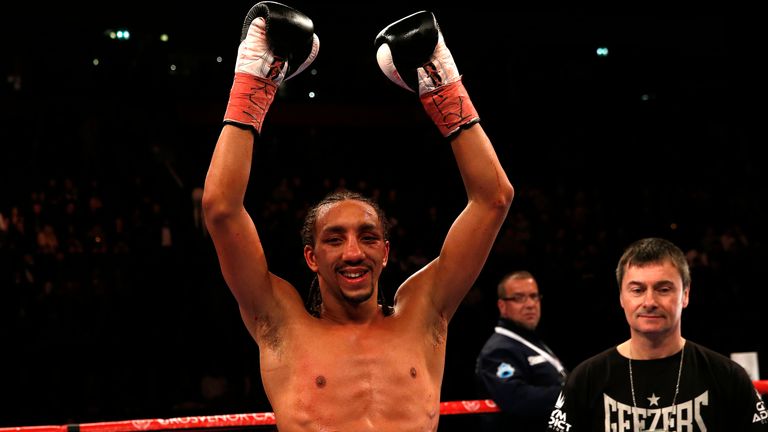 What are your personal goals for 2016?
I want to get Hibbert out of the way and then move on for a European title shot and then see what's out there.
Who's your best friend in boxing?
John Wayne Hibbert! He's a good mate despite the fact we're fighting each other. Barry Smith too; my trainer. He loves me like a son so that's all I could ask for.
As for you, Danny Connor - quiet down and sit in the corner for now!
Worst habit?
My mum, missus and brother say I tap a lot of things. I don't know why I do it. I do it all the time.
Dream girlfriend?
The one I'm with. She's my wife to be...
If you could fight anyone in the world, boxer or not, who would it be?
Adrien Broner. I want to smash his face in! I really want Broner. I'll just keep climbing the ladder for now but I just don't like him as a person. I can't stand him.
Hibbert v Martin for the Commonwealth super-lightweight title is part of a big night of Sky Sports boxing with John Ryder v Sergey Khomitsky also supporting George Groves against Andrea Di Luisa.