Anthony Joshua could face Charles Martin on April 9, says Eddie Hearn
By Isaac Robinson
Last Updated: 10/02/16 6:31am
Anthony Joshua could find himself fighting for Charles Martin's world heavyweight title on April 9, Eddie Hearn has revealed.
Although Hearn claims the IBF champion initially demanded an 'extortionate amount of money' to bring his title to The O2, the Matchroom promoter has confirmed negotiations are continuing.
Martin (23-0-1-KO21) won the vacant title in January when he benefited from an early knee injury to Vyacheslav Glazkov, but he did enough to impress the likes of trainer Peter Fury and would represent an ambitious step up for British and Commonwealth king Joshua (15-0-KO15).
Hearn told Sky Sports News HQ: "We were due to announce his opponent today. There have been a lot of people calling Anthony Joshua out, claiming they want to fight him and we need to find out which of those are real.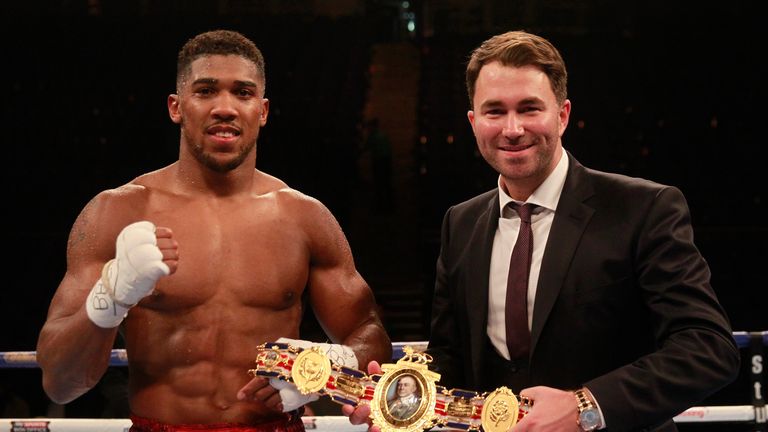 They both punch with immense power. It's one of those you might have to watch through your fingers.
Eddie Hearn
"There have been some big opportunities that have been bandied around, some of which I think people felt we wouldn't be willing to take but after speaking to Anthony and his trainer, he's more than willing to take.
"Now it's a case of flushing out the people that aren't real and focusing on the ones that are and April 9, if we get our way, is going to be a night to remember at The O2.
"He's IBF world champion and he's been calling Anthony Joshua out. It shows the size of Anthony Joshua, you've got a world champion there calling Anthony Joshua out.
"He's made some noise saying: 'We've offered Anthony Joshua the fight.' It doesn't really work like that. You phoned us up and told us you want an extortionate amount of money and then you'll fight him so we're working the numbers on that fight.
"It's the 16th fight of Anthony Joshua's career. Is it too early? It's a huge gamble. Two relatively inexperienced guys. I think Charles Martin is 6ft 5in and Anthony's 6ft 6in. They both punch with immense power. It's one of those you might have to watch through your fingers.
"Anthony Joshua wants the challenges. Sometimes it's difficult to win a world heavyweight title. Now you have a guy who appears to be prepared to come to London on April 9 so we have to take it seriously.
"He's not our only option. We've got three or four others that we're looking at but over the next 48 hours, we'll find out exactly where we're at. Could it be a shot at the world heavyweight title? Just maybe..."
Joshua was last in action in December when he beat long-time rival Dillian Whyte via seventh round stoppage in a thriller at The O2.