WBC president Mauricio Sulaiman horrified at plans for professional Olympic boxers
By Mark Ashenden
Last Updated: 29/02/16 3:45pm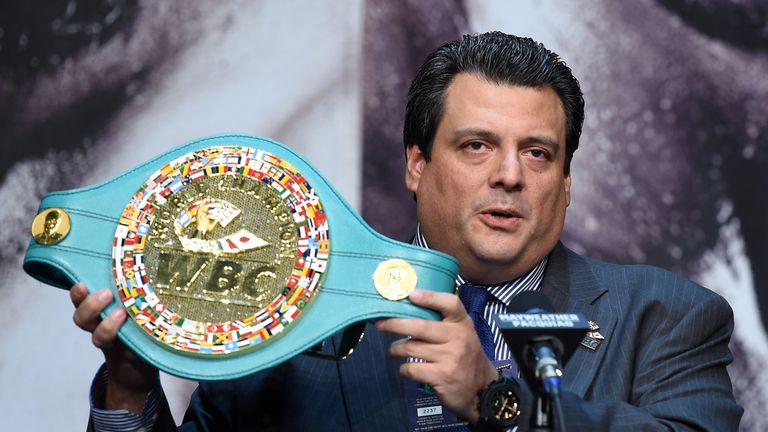 The proposal to have professionals boxing at the Rio Olympics is "horrible" and "dangerous", the World Boxing Council president Mauricio Sulaiman has told Sky Sports News HQ.
A radical proposal to change the selection criteria is being pushed through swiftly with International Boxing Association (AIBA) president Dr Ching-Kuo Wu saying the prospect of having full-time pros competing in Brazil is "absolutely possible".
Sulaiman, elected to lead the WBC following the death of his father Jose in 2014, said: "To take such an action four months before the Olympics and to say they are willing to have them compete at an Olympics is just a tremendously horrible way of looking at such a great competition.
"The way AIBA has brought down boxing to the lowest level is embarrassing because it is very unsafe.
"Can you imagine a WBC world champion or a fighter that has been competing professionally fighting against these kids that usually participate in the Olympics? It will be harmful and dangerous."
Former world heavyweight champion Lennox Lewis described the proposal over the weekend as "preposterous".
The 1988 Olympic champion said: "Olympic boxing is built for amateurs and is the highest achievement you can get, alongside being world amateur champion.
"All of a sudden you could have a scenario where someone like [former world heavyweight champion] Wladimir Klitschko, who won Olympic gold in Atlanta and has so much experience, could go up against a kid of 18 who has had just 10 fights. I don't think it is fair."
Wu, AIBA president since 2006, was in Manchester last week for an AIBA Commissions meeting with changes in the existing eligibility criteria top of the agenda.
Wu said: "We want the best boxers to come to the Olympic Games. It is AIBA's 70th birthday and we want something to change - not after four years, but now.
"It is an IOC policy to have the best athletes in the Games and of the international federations, AIBA is probably the only one without professional athletes in the Olympics.
"We already have our own professionals, APB and WSB boxers, in the Games - and we will go further."