Charles Martin claims pre-fight distractions caused his defeat to Anthony Joshua
By Isaac Robinson
Last Updated: 15/04/16 1:23pm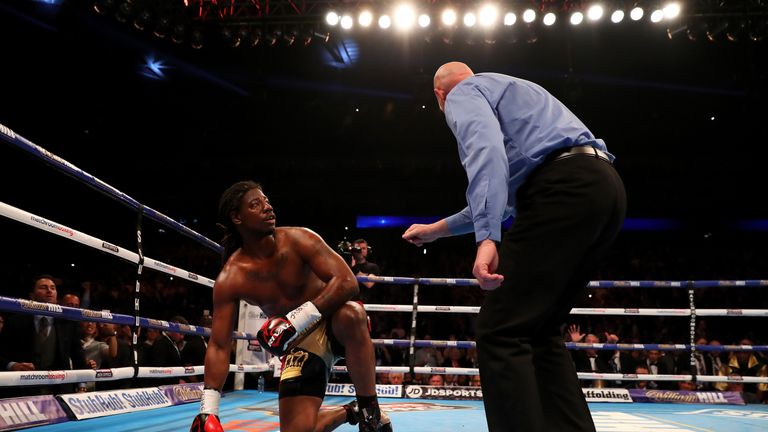 Charles Martin has blamed pre-fight problems for his IBF world heavyweight title defeat to Anthony Joshua on April 9.
The American (23-1-1-KO21) handed over his crown to Joshua (16-0-KO16) after being blasted out in the second round at The O2.
In a series of social media posts, the 29-year-old said: "Everyone, the fight was not rigged, he was the better man that night. I was dealing with many distractions prior to it and my head was not there.
"Plain and simple I will be back. I am the real deal, just that night didn't prove it. My body was in the ring but mentally I was not there - sorry.
"And for the record anyone could have beat Charles Martin that night - sorry everyone."
Martin later clarified his comments in further posts, which gave credit to Joshua, and 'Prince Charles' vowed to regain a world title.
He wrote: "No excuses. I don't want to take away from Joshua but it just wasn't me and everyone can see that. Maybe I just took the fight too soon.
"My head was somewhere else. But I ain't crying over spilled milk. Congrats to Joshua but I'll be back. I will prove that was a fluke and gain another belt and see Joshua again soon.
"Nothing I can say will change people's minds that was not me in there - I beat myself - but I'm not one to make excuses so I'll be back."
Martin, who hails from St Louis, won the vacant title in January when a knee injury forced fellow challenger Vyacheslav Glazkov to pull out in the third round.
The belt became available when the IBF stripped it from Tyson Fury just weeks after the British fighter ended the reign of long-time lineal champion Wladimir Klitschko in Germany in November.