Amir Khan was knocked out in brutal fashion by Saul Alvarez in the sixth round of the stellar Las Vegas showdown on Saturday night.
A single overhand right left the Bolton boy flat on his back and his dream of producing one of boxing's biggest shocks was shattered with 30 seconds of the round remaining.
Khan couldn't even try to get back to his feet and even Alvarez, and the sold-out T-Mobile Arena, delayed their celebrations following a vicious shot.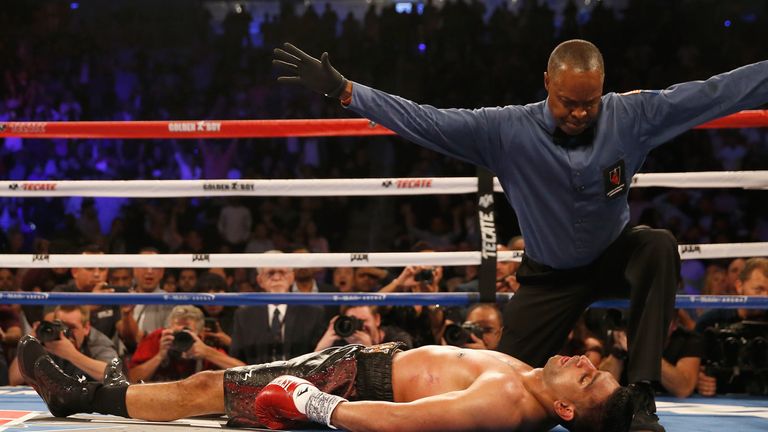 WBC middleweight king 'Canelo' was the first to the British star and kneeled down beside him before the doctors and Khan's corner came in and thankfully, he regained his focus and eventually got off the canvas - albeit in defeat.
It was a frightening end to a fascinating fight that saw Khan defy the bookmakers' odds early on and might have been ahead on the cards before disaster struck. With victory, Alvarez remains champion and could now face Gennady Golovkin, who was ringside and later said on Twitter: "Big respect to all fighters tonight. I am ready, @Canelo."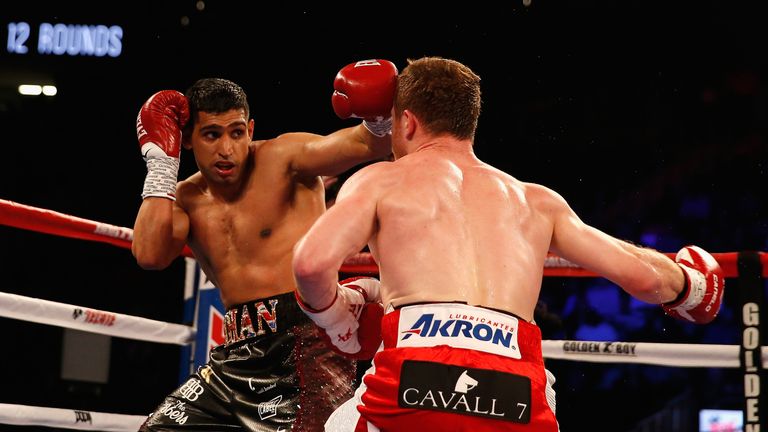 Khan was risking everything moving up almost two weight classes to take him on yet out-boxed the Mexican favourite for the first four rounds, only for a cut to his right eye in the fifth to signal the beginning of the end.
He had started the fight brilliantly, staying out of range and using his speed and precision to pick 'Canelo' off with his trademark rapid combinations.
Several punches seemed to frustrate Alvarez, who took to the centre of the ring as expected, but he seemed intent on landing single shots and making the sort of statement he is known for.
Even when the Mexican did put punches together, Khan responded straight away; a fantastic five-punch barrage in the third suggested speed not power could be the deciding factor.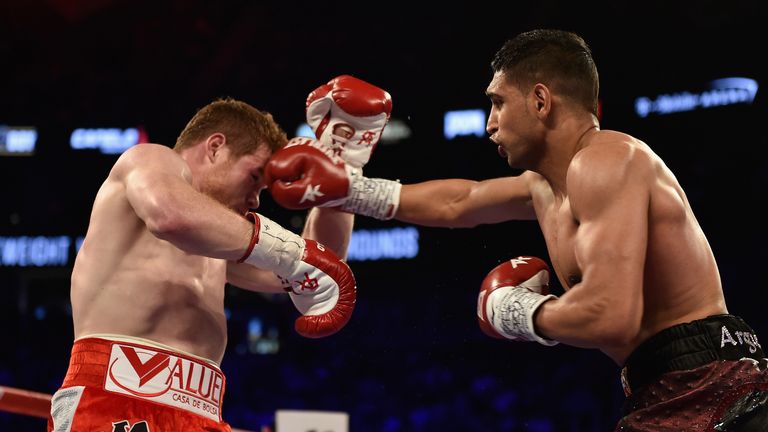 But the fourth round saw Alvarez step it up himself, cutting off the ring realising that he needed more than single shots to succeed, with his head finally moving and his angles opening up.
A ramrod jab seemed to be the shot that caused that cut in the fifth, and that ultimately changed the way the biggest fight of the year was going to go.
Not only did it give Khan something else to worry about, but it sent his timing slightly off and for the first time in the fight 'Canelo' closed the gap leaving him with little room to manoeuvre. The Mexican then took control.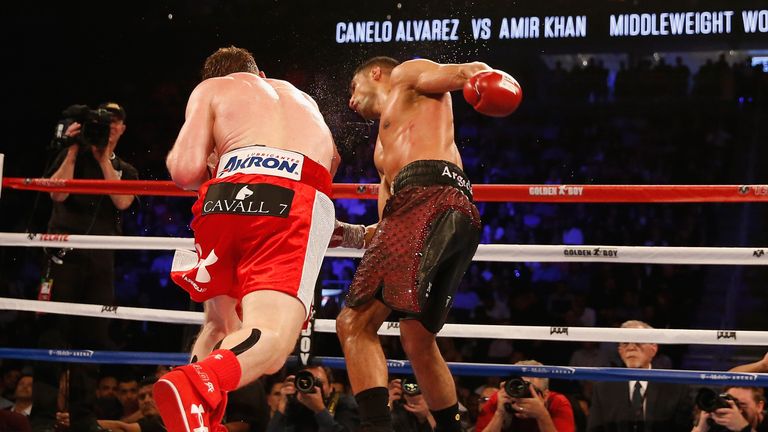 The decisive sixth saw Khan miss with his first attack and he was picked off with a left-right to the ribs that might well have been range-finders, but still landed flush.
To his credit, Khan always likes to return the compliment but as his jab fell short, 'Canelo' leaned in and landed the most vicious overhand right you are likely to see for a long, long time.
"I didn't make it to the end, but I tried my best," said Khan, who also insisted he will return to the welterweight division where he is the mandatory challenger to WBC holder Danny Garcia. 
"I want to be the best, and I want to fight the best. That is why I took this fight."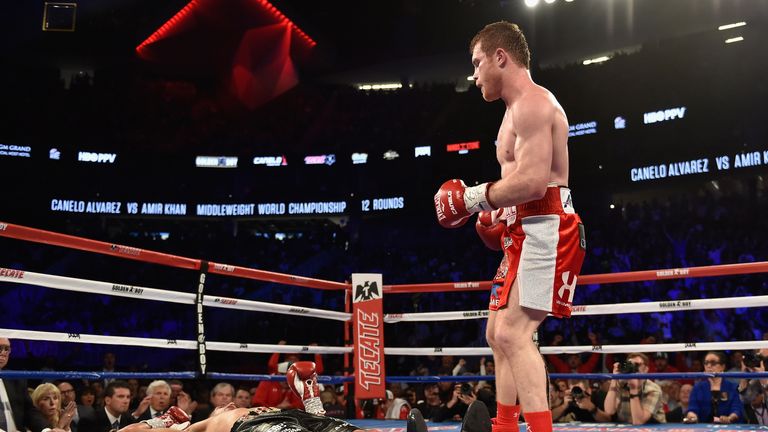 Alvarez was full of praise for Khan, but felt he had also proved that he is more than just a knockout specialist.
The 25-year-old moved to 47-1-KO33 with Floyd Mayweather the only man to beat him.
"He is a fast fighter, and I knew things would be complicated in the beginning, but I knew they would come to my favour as the fight went on," said Alvarez.
"People have known me only for my power, I have many more qualities in the ring and I showed that. I think people saw more of me tonight."