Mauricio Sulaiman: WBC are trying to protect Olympic amateurs
By Lyall Thomas
Last Updated: 03/06/16 6:55pm
WBC president Mauricio Sulaiman says the governing body is setting an example to protect amateur fighters by banning their top-15 athletes from competing in the Olympic Games.
The World Boxing Council announced on Friday that they will suspend any fighter that decides to compete in Rio this summer from their jurisdiction for two years, following the International Boxing Association's (AIBA) rule change earlier this year.
Ninety-five per cent of Olympic member federations are in favour but Sulaiman insists to pit an amateur fighter against a professional, purely for commercial purposes, is "against the principles of the sport".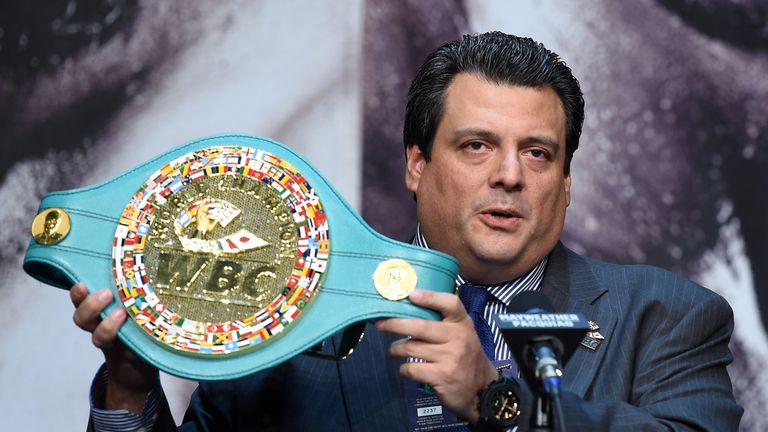 He told Sky Sports News HQ: "This is a decision that AIBA has taken which puts the health of the fighters in jeopardy.
"A professional boxer - a world champion - to compete against an amateur fighter in the Olympic games, purely for commercial purposes, disregarding the health problems this could lead to, is a decision that is completely against the principles of the sport.
"In boxing, you don't score baskets or goals. You punch your opponent. To have in the ring two fighters with absolutely different levels of competition is criminal.
"So the WBC has decided to put this ban out for any top-15 fighters because these are the elite of the sport that could hurt an amateur boxer. Simply, the ban will apply for two years from any WBC activity because that's our only jurisdiction.
"We are putting an example out to all our fighters. I've spoken to many current fighters and they agree, and are completely against competing in the Olympics because they could possibly hurt one of the kids.
"I've spoken to David Haye and Lennox Lewis and they say if I was that kid who fought in the Olympic games and I was facing my own self as a champion, I would be hurting myself."
Sulaiman also rejected the idea that it is up to amateur fighters whether they want to get in the ring with a professional, insisting that governing organisations are put in charge to protect their athletes.
He said: "A fighter will fight whoever is put in front of him. They have hearts of lions and are very courageous. They do not choose who to fight. If you ask them to fight 100 rounds, then they will fight 100 rounds.
"It's the responsibility of the organisations to protect the fighters. You cannot leave it up to the athletes to choose to do whatever they want. That's why rules exist.
"There was talk about Manny [Pacquiao], Wladimir [Klitschko], Andre Ward, AIBA has been fishing around, trying to put out news of those fighters just to create news. Most of the fighters themselves do not think it is a good decision. They are aware that it could be very harmful."