Demetrius Andrade puts Willie Nelson down four times to win WBC eliminator
By Tim Hobbs
Last Updated: 12/06/16 11:02am
Demetrius Andrade looks ready to live up to Floyd Mayweather's 'second coming' billing by stopping Willie Nelson in the final round of a classy return to the ring.
The former WBO world super-welterweight champion impressed from start to finish of the WBC title eliminator, putting his opponent down four times - in the first, 11th and twice in the decisive 12th round - to cash in at the Turning Stone Resort & Casino in Verona, New York.
Andrade (23-0-KO16) proved his reactions and speed are still there despite boxing only once in the last two years since stopping Britain's Brian Rose in his last world-title fight, due to contractual and promotional problems.
Andrade was forced to give up the WBO title that now belongs to Liverpool's Liam Smith but Saturday's dominant victory means 'Boo Boo' will now set his sights on WBC world champion Jermell Charlo or twin brother Jermall, who is the IBF holder.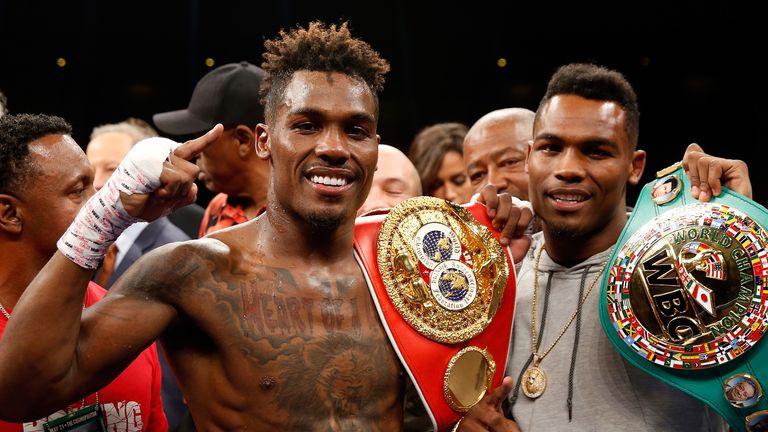 "I am still tall, black and handsome," he told Showtime after the fight.
"My reaction time is still good and I've got to say Willie Nelson is a true champion. He pushed me to my limits and I had to dig in and figure out which punches would work because he has a good defence.
"But I put the pieces of the puzzle together and we got the knockout, baby. I am stronger, me and my team have worked out what we need to take it to the next level and get knockouts and stoppages like today.
"I am ready for those Charlo boys now, baby."
Andrade might have been paying his own tribute to the late Muhammad Ali and keen to live up to Mayweather praise, but the 28-year-old certainly made a mockery of any suggestions of ringrust to become the first man to stop Nelson (25-3-1-KO15) - albeit just 98 seconds before the fight went to the scorecards.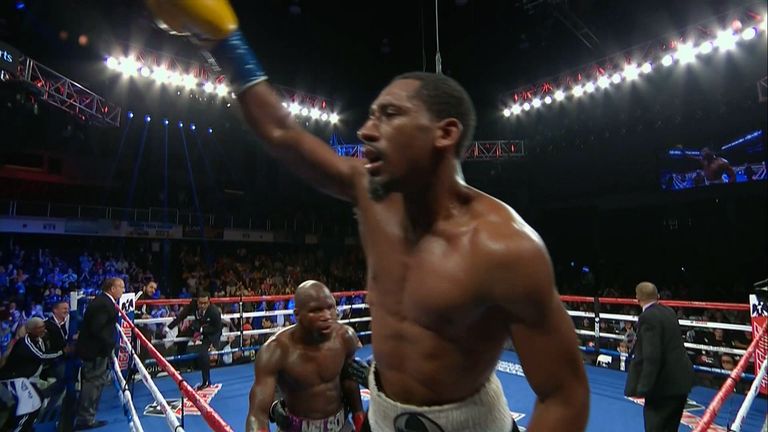 I am still tall, black and handsome
Demetrius Andrade
Within two minutes of Andrade's first fight for eight months, it had looked like it might be an early finish.
A ramrod left started it off and a silky six-punch combination had Nelson in trouble and as he came forward in response, 'Boo Boo' swayed back out of range then launched a counter right to score the first knockdown of the night.
From then on, Andrade showed his full arsenal remains in fine working order, going up and down with his left and right and causing the experienced and taller Nelson all sorts of problems.
The first five rounds saw Andrade in dominant and at times dazzling form and it was hard to see, never mind count the amount of shots that landed on-point. One left checked-hook in the fifth stood out, simply because before Nelson could hit back, Andrade almost sprang behind him, spinning him round 180 degrees and attacking again.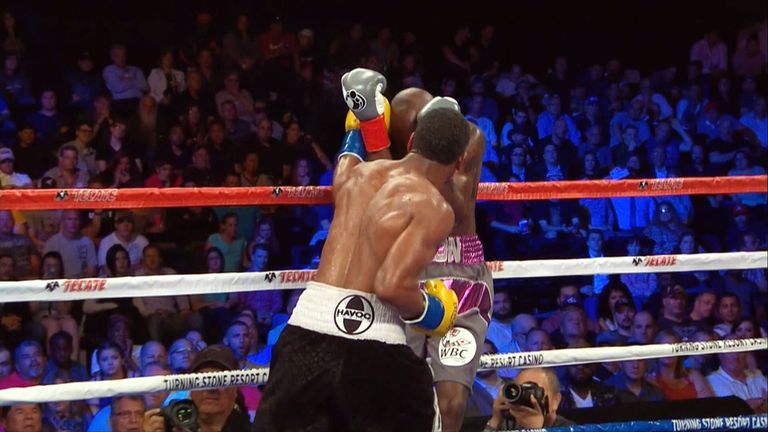 Maybe Andrade's flashy first five rounds caught up with him later in the fight but with father and trainer Peter on his case, he got going again, giving Nelson's survival skills their toughest test to date.
Landing a low blow in the 11th might have bought Nelson some precious time but it also riled Andrade and two left-rights, the final one connecting flush, brought the second knockdown of the night.
Then in the final round, a vicious six-punch combination put Nelson down. He managed to beat the count, but it would be the last time he would do so. A further battering left him unlikely to get up, as referee Dick Pakozdi stopped the fight.