Anthony Joshua to face Wladimir Klitschko rather than Joseph Parker, says Eddie Hearn
By Isaac Robinson
Last Updated: 02/10/16 10:08am
Promoter Eddie Hearn is confident Anthony Joshua will take on Wladimir Klitschko rather than Joseph Parker on November 26.
Parker (21-0-KO18), who is mandatory challenger to Joshua's IBF world heavyweight title, demolished Alexander Dimitrenko inside three rounds on Saturday but Hearn has issued a positive bulletin on the ongoing negotiations with former divisional supremo Klitschko (64-4-KO53).
Asked about the possibility of Joshua (17-0-KO17) facing Klitschko, Hearn told Sky Sports: "Percentage wise, I think it's 60-40 yes, something like that. Klitschko wants the fight, AJ wants the fight. That's always a great sign.
"For Klitschko, sometimes it's not necessarily about the money. It's little things of principle. He's made plenty of money and half a million to him doesn't mean a row of beans but something in the contract might be very important to him away from home.
"I'm confident and I think it's the fight to make. Boxing is all about timing. Charles Martin came up and it was before our time. Now we've got Klitschko before Joshua's time. It's one or two fights before the plan but it's here and available.
"I always say to Joshua: 'You'll tell me. If you can beat Klitschko then we've got to take the fight.' He says to make the fight. He's so relaxed and will fight anyone. It's a huge fight and it's going to be the biggest fight in British boxing history, I think."
On Parker's performance, Hearn added: "It was a good performance, Parker doing what he does. He's a good mover and does what he does. Dimitrenko swallowed it - I don't think he fancied it too much in the third round.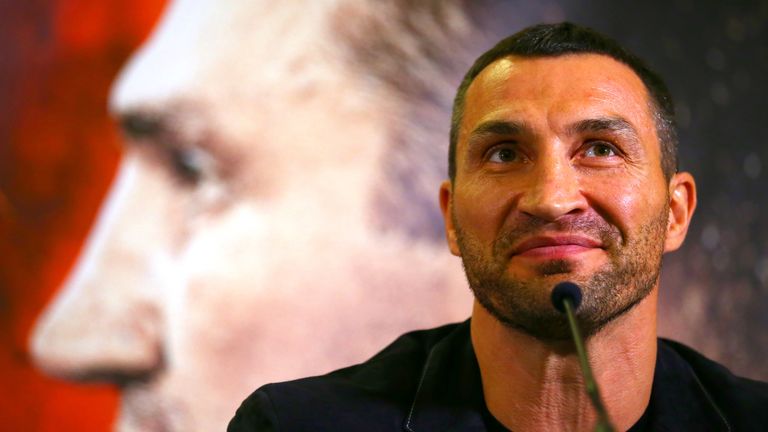 "Parker is No 1 in the IBF and No 1 in the WBO. Obviously, we've had some great chats with their team and it's a fight that can be made but I don't whether they'll be thinking to fight Joshua for the IBF or waiting to see what happens with the WBO.
"Will they fight Andy Ruiz? Maybe Wladimir Klitschko is talking to them as well. Our priority at the moment is to fight Klitschko for all the belts. Once we get a deal in place, which I'm confident of, then it's a case of going to the governing bodies and asking if they want it for their world title. I would think most would say 'yes please.'
"Parker has an interesting proposition. Does he hang tight? Does he wait? Does he take the fight with Joshua if we don't fight Klitschko? There are so many different connotations as always in boxing."
Parker's promoter Dean Lonergan issued a defiant message after seeing his man clinically finish Dimitrenko (38-3-KO24) in Manukau City.
Lonergan said: "It's been well-documented that the Anthony Joshua fight is down for November 26. The IBF is yet to order that fight. As Joseph is the mandatory, that would come out November 9.
"They're chasing hard for Klitschko so what would happen from here is we're going to fight either November 26 or December. We've got one fight to finish the year and I'd like to think it'll be for a world title one way or the other.
"Joseph put in a stunning performance today as he has for the last three and a half years. We've got him to a point where he's No 1 in the WBO and mandatory for the IBF.
"It's fair to say we couldn't be in a stronger position and going forward, we'll sit down as a team and see which way we go. I think it'd be fantastic to bring a heavyweight title fight here to New Zealand."