Bellew vs Flores: Tony Bellew says being the champion will make him even better
By Tim Hobbs
Last Updated: 14/10/16 7:37pm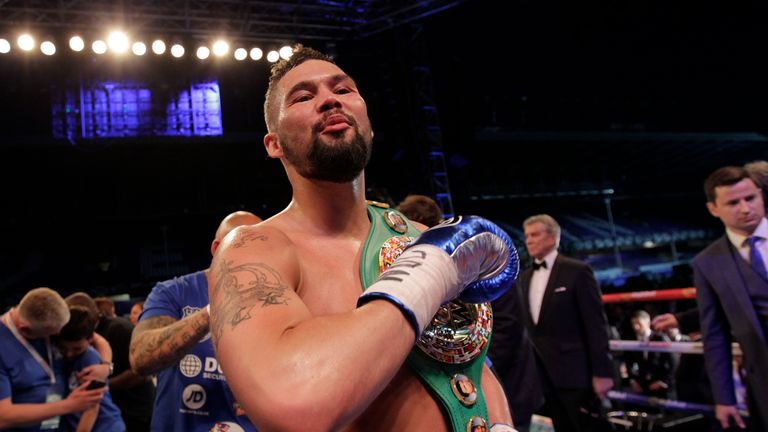 Tony Bellew promises to be even more vicious now he is the "hunted rather than the hunter".
The Everton fan puts his WBC cruiserweight word title on the line against long-time foe BJ Flores in Liverpool on Saturday night, live on Sky Sports.
Bellew will be making the first defence of the title he won in May at the third time of asking, having lost to Nathan Cleverly and Adonis Stevenson at light-heavyweight in 2011 and 2013 respectively.
Flores, who will be making his first world title attempt, has suggested the pressure will all be on the champion, but 'Bomber' insists being the champion will lead to the best performance of his career.
"I always train like a challenger, don't worry about that," he told Sky Sports.
"There is always pressure on you in every fight you're in but Saturday night does bring something new to the table. Where I've always been the hunter, always searching for the bigger fight, on Saturday night I become the hunted.
"I have got the prized possession and that may have changed but when it comes to me, nothing has changed, physically or mentally.
"I am ready for a war on Saturday, no matter what it takes, and I'll go to wherever I'll have to go to keep by green belt."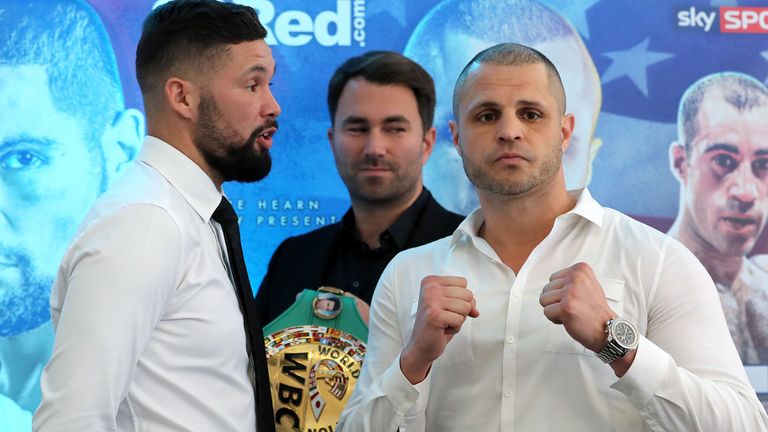 Bellew admits he got a lot off his chest at Tuesday's press conference when he and Flores went face-to-face for the first time after a two-year long war of words on social media.
Flores had been calling him out before he was a cruiserweight, never mind the holder of the coveted green WBC belt and the American challenger was unable to make the initial press conference when the world title fight was announced.
I told him you are going to hit the floor on Saturday night and the question I will be asking is how much do you want it?
Tony Bellew
Bellew was on the verbal warpath again, warning his opponent he will be put down for the first time in his career and questioned if he will be able to get up off the canvas.
'Bomber' admits "all the talk is done, we're down to work now". He made it clear that Flores is taking a step too far and insists he will not be able to upset the odds like he did when he took the vacant title by knocking out Ilunga Makabu in the third round.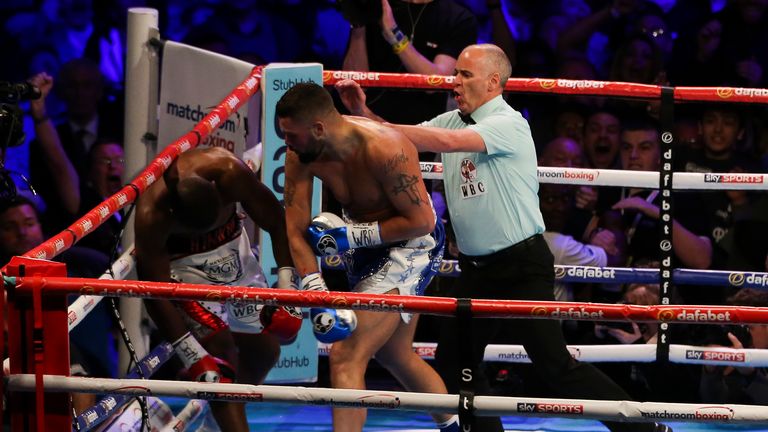 "I am not quite sure what it is going to take to go through this fight but if Flores wants it anywhere near the amount I want it, we are in for an absolute barnstormer - and for him, a bloody and painful one," he said.
"I don't underestimate him. I was in the same situation as Flores is, when I walked out at Goodison Park. I even had two failed world title attempts, I was the underdog and I had it all to do.
"He is in the same position so I understand more than anyone where he'll be coming from. But I won't make the same mistakes Ilunga Makabu made and if anything I am over-estimating Flores.
"I know what he's capable of, I've seen the best of him and then seeing him up close and personal and telling him face-to-face, everything that I'd said on social media I backed it up to his face.
"It's a whole different ball game talking in front of me than a few thousand miles away. Being a few millimetres away is completely different world.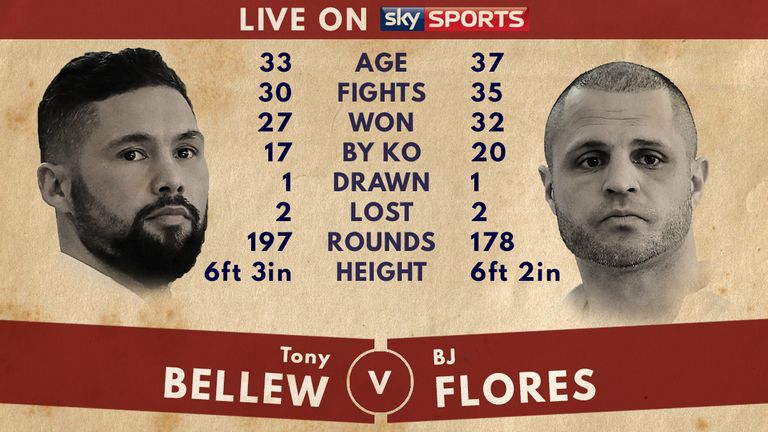 "I always find a way to win and that's what I told BJ. When all the chips are down, I get up again and fight and I told him you are going to hit the floor on Saturday night and the question I will be asking is how much do you want it?"
Watch Tony Bellew defend his WBC cruiserweight world title against BJ Flores live on Saturday night, from 8.00pm, on Sky Sports 2.
You can watch Liverpool v Man Utd, plus England's tour of Bangladesh and the British Masters on Sky Sports. Upgrade now and enjoy six months at half price!