Shannon Briggs claims David Haye backed out of a fight this year
By Richard Damerell
Last Updated: 26/10/16 6:44pm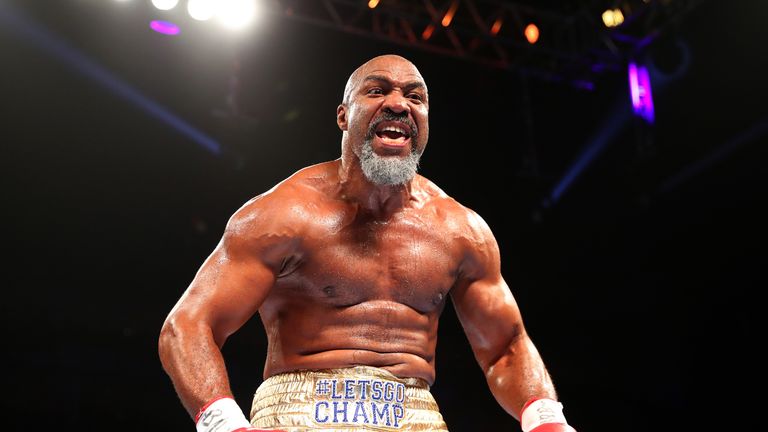 Shannon Briggs has claimed that David Haye "backed out" of their expected fight during a scathing verbal attack on the British heavyweight.
The 44-year-old former WBO champion travelled to England earlier this year to pursue a bout with Haye, even appearing on the undercard when the Londoner blasted out Arnold Gjergjaj at The O2 in May.
But Briggs has revealed how negotiations for a discussed September showdown suddenly went quiet and Haye is yet to announce his next opponent, despite admitting interest in future fights with Tony Bellew and Anthony Joshua.
In a recent interview, Haye told IFLTV that Briggs was only willing to appear on a pay-per-view channel, but the American has offered his own version of events.
"David backed out, he's not a man of his word," Briggs exclusively told Sky Sports. "It boils down to basically him being an opportunist.
"He took advantage of me fighting on his card. Then afterwards, he went looking for another fight, an easier fight and some would say a more lucrative fight. But the truth of the matter is, I don't think there's a bigger fight for him financially out there right now.
We know and I know personally that David is afraid of me.
Shannon Briggs
"I think it's simply down to the fact he doesn't want a dangerous opponent right now. He's going to pad his record, get a couple of wins, and hopefully get a title shot against Anthony Joshua.
"I built up a big event where a lot of people were interested, especially in the UK. The momentum was there. I fought on his card, I did as he asked, on my end. For him to back out, to pursue possibly a Tony Bellew fight, or I've heard he's in talks with Joshua.  
"We know and I know personally that David is afraid of me."
Briggs, who is well known for his 'Let's Go Champ' catchphrase, also failed to force a fight with Wladimir Klitschko after a similar publicity campaign and believes Haye has merely used him to build his profile.
"He's a hype man, a hype machine right now," said Briggs. "He's just riding the wave.
"I've caused a lot of commotion and a lot of people are now paying attention to him, who weren't paying attention to him before. No one was interested in David Haye.
"He's not the first person to do that, Klitschko did the same thing as well.
"These guys use the publicity train of the champ to make a name for themselves."
David Haye was unavailable for comment.
You can hear more of an exclusive interview with Shannon Briggs on this week's Toe 2 Toe podcast.