Joshua vs Molina: Dereck Chisora and Dillian Whyte press conference turns into chaos
By James Dielhenn
Last Updated: 08/12/16 6:14am
Dereck Chisora and Dillian Whyte's press conference erupted into another ugly incident on Wednesday, as a table was thrown across the room.
Insults had already been traded when Chisora hoisted a table and hurled it in Whyte's direction, sparking scenes similar to their scrap on 'The Gloves Are Off'.
Security were forced to intervene in front of on-looking cameras and media - Chisora was left shouting abuse towards his upcoming opponent, Whyte, from the other side of the room.
"Me and Dereck both know [what would happen] if we were left in a room with no security," Whyte had earlier said. "When I stepped to him and threw punches, he was scared.
"You have two security guards and they both got manhandled. You lost the battle already. In the Sky studios, you cowered away. The man bit me on my chest, who does that?
"I squared up, moving my head, expecting him to throw punches, and he didn't do anything."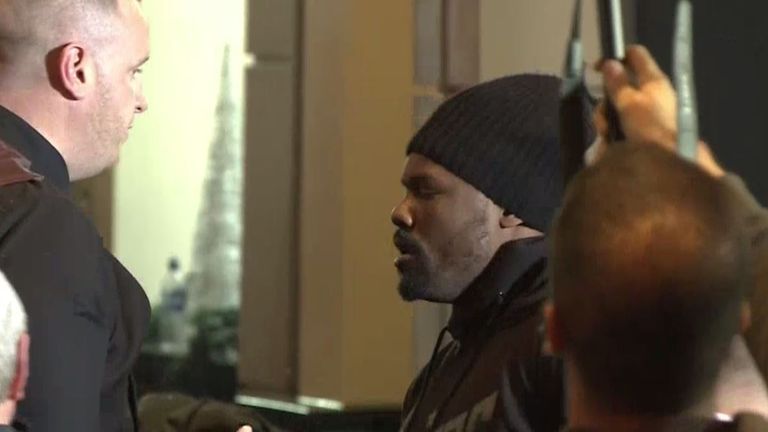 After insulting Whyte's trainer Mark Tibbs, Chisora said: "This is how it is, man. I do what I want, when I want. He might want to box instructions but I don't want to, I want to drag him into the deep end.
"Are you sure you want to kick-off right now, because if you want to - it can."
Chisora removed his sunglasses before chucking a table towards his upcoming opponent in the latest chapter of this rivalry.
Promoter Eddie Hearn confirmed on Twitter that Chisora and Whyte will weigh-in separately on Friday.