Joseph Parker's promoters hope beating Hughie Fury will set up Anthony Joshua fight
By Richard Damerell
Last Updated: 11/02/17 8:54am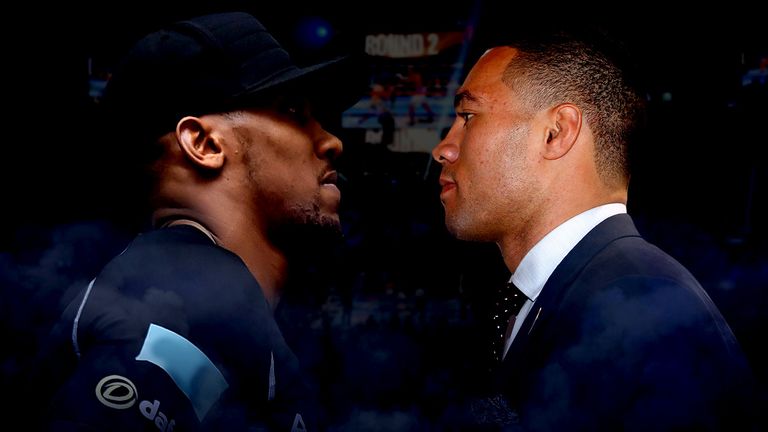 Joseph Parker's promoters hope a successful WBO title defence against Hughie Fury will set the scene for a unification clash with IBF champion Anthony Joshua.
The New Zealander will make the first defence of his heavyweight title against Fury, with a number of locations being considered for the fight, including Auckland and Manchester.
Duco Events, who promote Parker, are hoping to begin a series of fights against Britain's best heavyweights, such as IBF champion Joshua, David Haye, and Hughie's cousin Tyson Fury.
Joshua will face Wladimir Klitschko in front of 90,000 fans at Wembley Stadium on April 29, live on Sky Sports Box Office, and the Londoner's huge popularity has captured the attention of Parker's team.
David Higgins, a director at Duco Events, told Sky Sports: "Joe's stock - assuming he wins - will go through the roof in England, therefore it would make sense for Joe to probably target English opportunities next after Fury.
"For example, if Joshua won, that would be a better unification because Joe's stocks are high. It looks like we are heading down the UK route at the moment and then once you conquer that, the United States is the next logical step."
WBC champion Deontay Wilder has admitted he intends to target the WBO title, but Parker is more likely to pursue bouts in Britain before switching his attention to America.
Higgins said: "I think Wilder will happen, but my gut feeling is it's probably a bit further down the track, but not too far away.
"I think the belts will unify. I wouldn't be surprised if within two years' time there is an undisputed heavyweight champion among the crop we are talking about. One will rise to the top."