Anthony Joshua wants to see Tyson Fury return to boxing
By Jefferson Lake
Last Updated: 20/04/17 12:46pm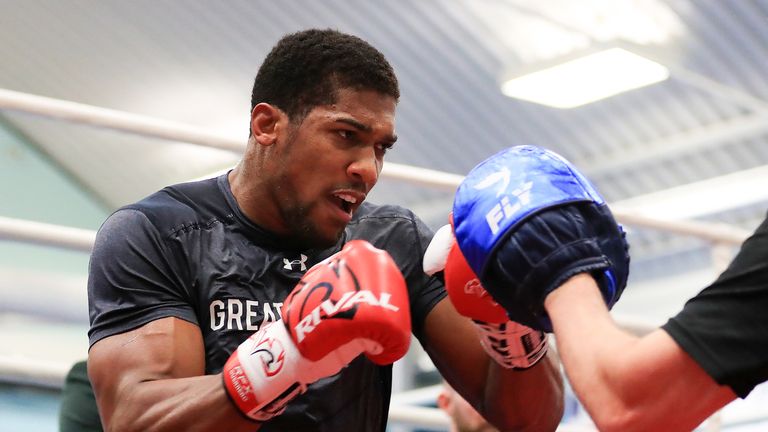 Anthony Joshua wants to see Tyson Fury return to boxing and is relishing the prospect of meeting him in the ring.
Joshua, the current IBF heavyweight champion, is preparing for a showdown with Wladimir Klitschko later this month live on Sky Sports Box Office and at Wembley in front of a record 90,000 crowd, but he took time out from his preparations to bite back at Fury's barbs on Twitter this week.
And while defeating the last man to beat Klitschko is not Joshua's immediate priority, the prospect of an all-British bout between him and Fury could arrive thereafter.
Shut up & give me a date when you'll b back! YOU'RE the only reason we haven't had a fight yet! b about what u say. I ain't going know where https://t.co/fgM70skdbl

— Anthony Joshua (@anthonyfjoshua) April 18, 2017
Asked who his biggest fight would pit him against, the 27-year-old replied: "I think Tyson Fury.
"I couldn't say what his plans are. I'm not going anywhere. I'm here as a fighter. I've been disciplined, I've stayed on track.
"If it were up to me, that would have been the fight happening this summer. That's what I thought. I was planning for a massive showdown with Tyson Fury, but he had other plans and I just had to carry on. When he returns, I'm sure I'll still be here.
"Do I want him to come back? Yes, definitely."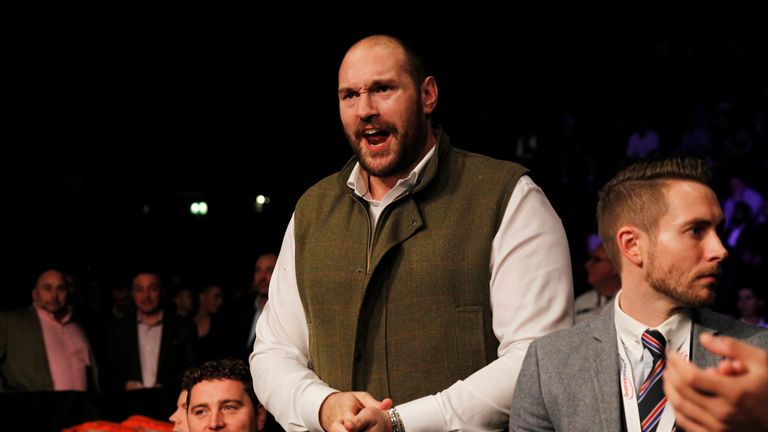 Joshua's ire was drawn on social media on Tuesday when Fury labelled him a "poor man's Frank Bruno", to which his subject responded with an offer of two ringside seats to his fight with Klitschko and reiterated that the only reason the two have not fought was due to his opponent, who is currently without a boxing license.
"It's quite disrespectful," Joshua said of Fury's tweet.
"If he's an all-time great then why is he worrying about who is behind him? You should focus on your future. I must be so relevant to these people that are in front of me.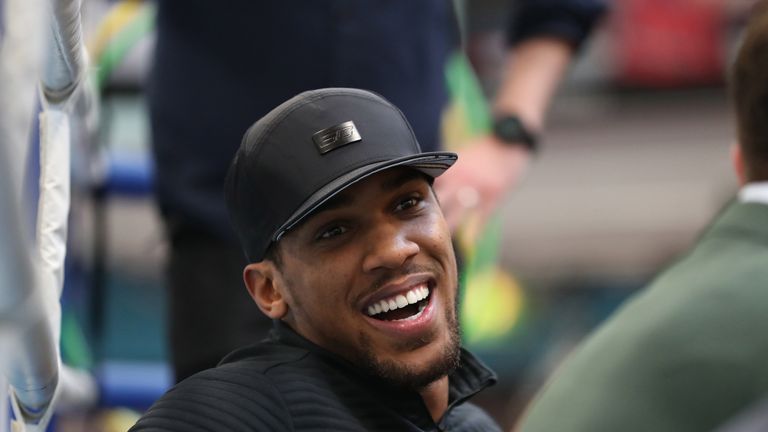 "I just find it so disrespectful. He calls himself the greatest of all time, 'the GOAT'. If I was 'the GOAT' I would never worry about who is behind me. I'm leading the way."
"Twitter is about communication and it's just communicating. He addresses me and tweets me quite often and I was just in the frame of mind where I thought me and Klitschko don't have many verbals, so let me respond to Fury."
The build-up to Joshua's meeting with Klitschko has been dominated by respect rather than resentment, with neither fighter renowned for trash talking.
Joshua admitted any preview to a fight with Fury could reveal a darker side to him, and brushed aside concerns that his social-media spat had taken his focus away from what lies in wait at Wembley.
"For the five minutes I was [tweeting] and then I had to go training," he said when asked if Fury was a distraction. "But I would have gone back and forth."
Watch Anthony Joshua vs Wladimir Klitschko at Wembley Stadium on April 29, live on Sky Sports Box Office. Book the event online here or via your Sky remote.