Tony Bellew is "most likely" to take a rematch with David Haye for his next fight, says promoter Eddie Hearn.
The Merseysider expects to return before the end of the year and a lucrative second fight with Haye would appear the preferred option following his stoppage victory in their British battle in March.
Bellew has voiced his desire to challenge for a world title, targeting WBO champion Joseph Parker and WBC title holder Deontay Wilder, but Hearn has suggested that a rematch with Haye will come first.
"I think the three options for Tony Bellew are Joseph Parker, David Haye and Deontay Wilder," Hearn told Sky Sports. "We'll be in meetings over the next few weeks with all those teams.
"For me, the biggest money fight out there, and the fight that the public seem to want the most is the David Haye rematch.
"It doesn't bring the world heavyweight title with it, which is of course a carrot in the other two options, but if Tony can beat David Haye again, which I believe he can, he can fight for the world heavyweight title after that anyway."
Hearn admits Bellew reluctantly accepted some of the terms for the first fight and will be seeking a more favourable contract for a rematch.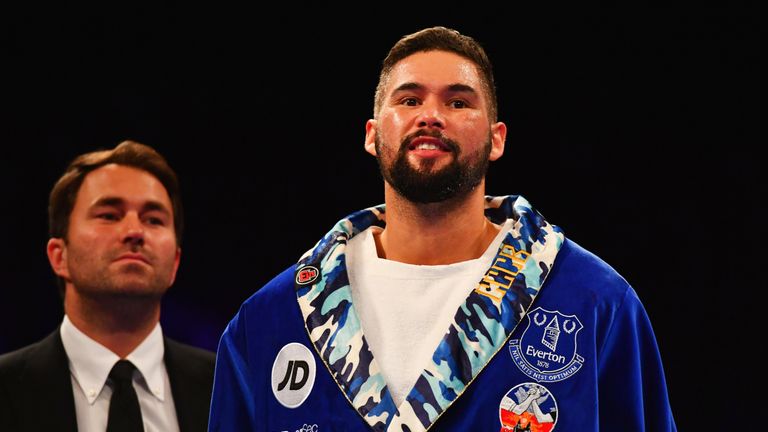 I think a lot of people would like to see Bellew-Haye II
"There's a lot of things in the first deal that Tony was not happy with and now he wants the respect in the next deal of some of those things," said Hearn.
"Providing he feels he's been given that and he should be given that, because he won the fight, then I think the Haye rematch is the most likely fight for Tony Bellew. But again, a long way to go.
"Tony does want to fight for the world heavyweight championship, but he also wants to give the public what they want. They have put him in this position and I think a lot of people would like to see Bellew-Haye II."