Robert Smith says Ryan Burnett-Lee Haskins judge 'wont be back'
By Stephen Turner
Last Updated: 11/06/17 12:22pm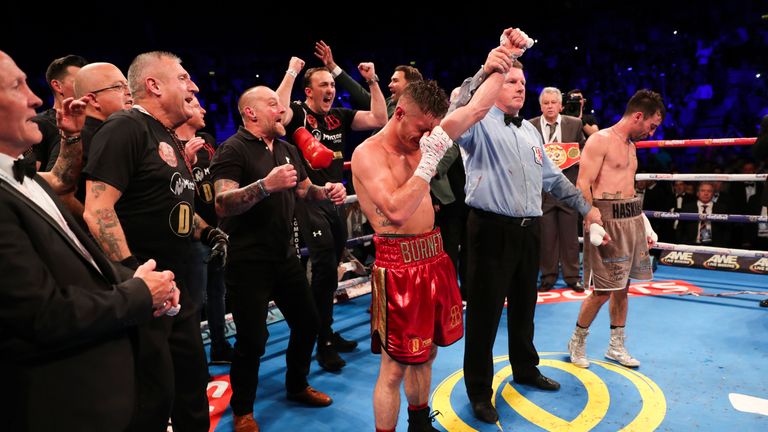 A judge who wrongly called Lee Haskins the winner against Ryan Burnett will never again officiate in the UK, according to British boxing's top administrator.
British Boxing Board of Control general secretary Robert Smith was ringside in Belfast as a brilliant Burnett display saw him take Haskins' IBF bantamweight title.
But the verdict briefly seemed in doubt as the scores were read out, Clark Sammartino handing it to Haskins 118-108 despite two knockdowns in Burnett's favour.
Eddie Hearn later claimed Sammartino had confused the two fighters and called on the split decision to be amended in the IBF records.
And Smith, speaking to Sky Sports afterwards, said: "I've certainly made my thoughts felt to the supervisor of the IBF, who is in agreement with me.
"I can tell you one thing - [Sammartino] will not be coming back to this country, and I will make sure the IBF are told of that.
"There's only one winner tonight, and I think Mr Sammartino and Mr Haskins will understand that. It's just disappointing. It was a good fight and this has kind of ruined it a little bit."
Promoter Hearn said: "Apparently the judge asked one of the photographers, 'Which one's Lee Haskins?' and the photographer said 'In the red corner'. I think he asked him a couple of times, and I presume he thought, 'The red shorts'.
"But frightening, frightening that your future can be put in the hands of someone like that. I don't mean to be disrespectful because he's an old gentleman and I'm sure he's judged many fights, but that could have gone horribly wrong.
"He scored two 10-8 rounds to Haskins! His scorecard was excellent: it was just the wrong way around. He's 80-odd; I've never seen anything like it. I presume the split decision will be revoked. It'll be a unanimous decision, it must be."
Sammartino began judging world title fights 30 years ago and was on duty the night Anthony Joshua stopped Charles Martin to win the IBF heavyweight belt last year.